Pats' Manes, Moody, shine in CIF opener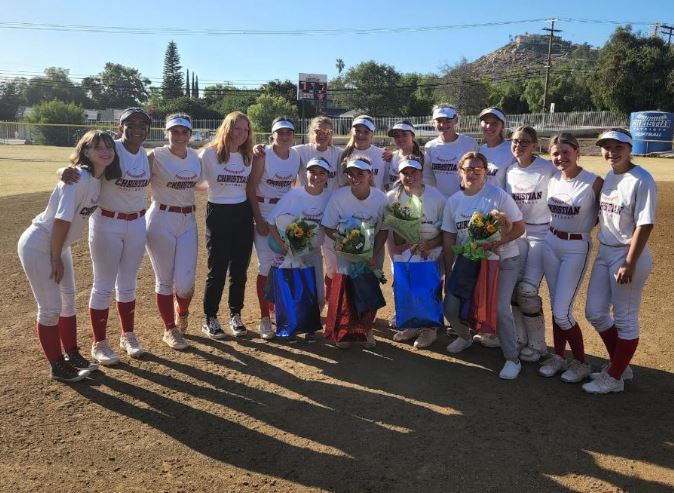 2022 EAST COUNTY PREP SOFTBALL
By Nick Pellegrino
ECS staff writer
EL CAJON — Christian High senior Kate Manes already has a collegiate scholarship on the table. However, the pitcher wants more, so she posted one of the best outings of her high school career in the CIF-San Diego Section playoff opener on Tuesday (May 17).
Manes kick-started the Patriots with a firs-inning homer run, launching the Patriots into the Division III tournament with an 8-2 pasting of Mission Vista at Dawson Field.
In addition, pitcher Allyson Moody fired six innings f shutout ball, allowing fiver hits with out issuing a walk. Moody, a junior smacked a homer along with a par of RBI for a career-best eight total bases against the Timberwolves.
"Katy already has a scholarship offer on the table from the University of Tulsa," said veteran Christian head coach George Gentry."But she would rather go to Baylor. I told her you'd need to get their attention and she really come through today."
Manes' mother is a doctor, so attending university at a school with a prestigious medial program like the one in Waco, Texas, would be a major step in the right director. Her father also works in the medical field, thus Manes has decided to go to Baylor and try to walk-on to the Bears softball program.
Meanwhile, Gentry cleared the bench to allow his younger players an opportunity to participate in a CIF postseason contest.
Moody started her performance by retiring the Timberwolves in order in the top of the first. Then in the half-home of the frame, Manes sent a one-out drive that nearly hit the scoreboard in center field for a homer.
"Katy's always wanted to goto Baylor since she arrived her for her freshman year," aadedthe coach added, who noted Manes owns a grade-point average of well over 4.30.
Christian shortstop Rachel Stephens also added a basehit, plus a pair of defensive stops to keep the shutout in tact.
With the triumph, Christian (19-11 overall) enters the main draw of the tournament, next traveling to Santee to meet Grossmont Valley League co-champion West Hills.
"It'll be a good experience with a little more pressure," he added.
Following the early Manes homer, junior Moody also went deep with a twwo-run shot to center field in the third. The Pats added five more in the fourth, including a run-scoeing triple by freshman first baseman Ashley Wood.
Moody, the center fielder, batted 3-for-4 with two RBI.
Mission Vista end its season with a 14-14 ledger.