D-5: Foothills earns title game berth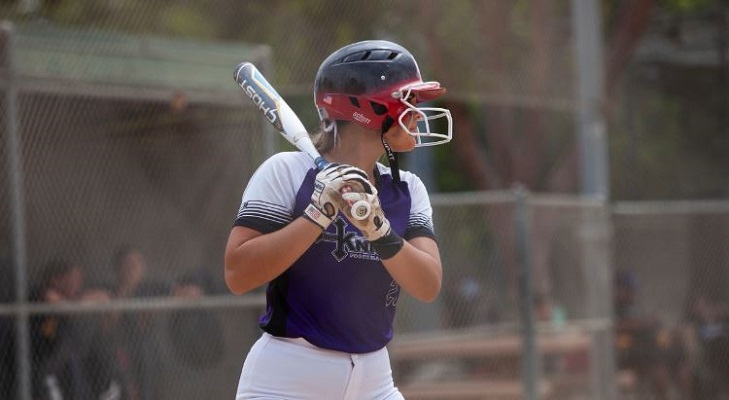 Foothills Christian senior catcher Carly Robbins / Photo by Jeni Bernatz
2022 EAST COUNTY PREP SOFTBALL
By Nick Pellegrino
ECS staff writer
POWAY — Buoyed by a shutout by freshman pitcher Emma Romeka, top-seeded Foothills Christian High will play for a CIF softball championship.
Although the Knights needed to take the back door to reach the title game, the Knights will gain a re-match with Fallbrook in Friday's title game, slated for UC San Diego at 4 p.m.
Fallbrook gained the first berth in the Division 5 finale by downing the Knights, 8-0, on a 3-hit shutout. However,the Knights immediately bounced back from just their second loss of the season by whipping Calipatria, 10-0, on a walk-off hit in the fifth inning.
"A lot of things went wrong in the first game — things just didn't go our way," said Romeka. "I wasn't very good and the team made a bunch of mistakes."
The setback snapped a 12-game winning streak by Foothills Christian (19-2 overall), but the ballclub didn't dwell on it.
"I was able to talk to my pitching coach, Michelle Eaton, between games," noted Romeka. "She was able to see me pitch the first game and definitely helped me make some changes."
The result: a 1-hit shutout of Calipatria, located in the Imperial Valley. Romeka struck out five Hornets batters without issuing a walk.
"In the second game, we got louder in the dugout and worked better together," she added. "We just encouraged each other and we put the ball in play.
Among the hits was a blast by Jada Hallahan, better know as a standout volleyball player — she's going to NCAA Division I Grand Canyon University in Phoenix this fall — who is one of a half-dozen FCHS student-athletes that agreed to tryout and help the ballclub despite never before playing the sport.
"Jada is a center fielder and she crushed one to the fense, over their center fielder's head — and she's never played before," Romeka recalled. "That was definitely a big confidence-builder for everybody."
Being a freshman, Romeka would typically not think about college — but she has.
IUf I had a chance, "I'd like to go play at Baylor," noted the right-hander. "Maybe even go to Baylor's medical school."
Being the grateful pitcher, Romeka offered props to her defense.
"Gabby Wolford, our shortstop, made some nice plays. And so did Reese Winchester at second base."
As for reaching the championship, if was still a goal even though the Knights were the top-rated ballclub inthe division all season.
"We worked hard for this," she added. "The team had definiately come far from where we were at the begining of the season."
"It was a whole team effort and great job of working together."
In Gme 2, Romeka also contributed three basehits, including a pair of doubles, while Winchester and Jenn Pollick add two knocks each. All three are freshmen.
Eight of the Knights' nine starters registered basehits against Calipatria (15-11), including Wolford, a fourth frosh starter, who finished with two RBI.
470 total views, 1 views today