Help Wanted at 'Summit,' 'Hen House'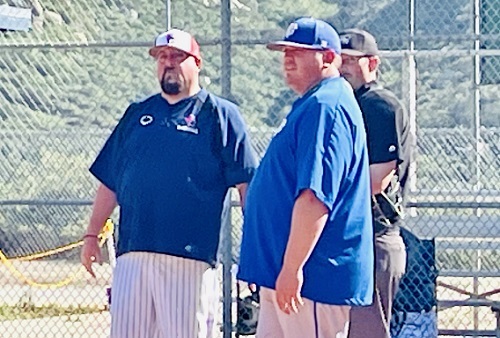 2022 EAST COUNTY PREP BASEBALL
By Nick Pellegrino
ECS staff writer
LA JOLLA — While Granite Hills was battling into extra innings for the CIFSDS Open Division baseball championship, word came across that a pair of East County baseball coaches will sidetrack their career plans for section titles.
Making an impact at local youth, high school and college levels, are Jordan Abruzzo, a two-time CIF champion at the "top of the Summit" for Grossmont, and Mount Miguel's Frank Coit announced their respective resignations.
Abruzzo plans to continue coaching but at adifferent level.
"I plan on coaching my kids' Little League Baseball teams next year," he added.
Meanwhile, Coit said he "stayed retired for about 10 minutes" and is entering the food services industry as the owner/operator of a new restaurant in Yuma, Ariz. — the Smokin' Hen House, located on the Colorado River at the Hidden Shores Resort. It just opened on Thursday,
The Abruzzo Files
Under the direction of Abruzzo, the Foothillers were the Open Division runners-up in 2021, then finished second in Division I this season with a spectacular conclusion to their schedule.
However, the prospects for 2023 are still pointed in the same direction,but will take a different route.
On Friday (May 27), Abruzzo announced his resignation from the Grossmont post following a successful 8-year stint.
"I couldn't be more proud to represent Grossmont the last right years," said Abruzzo. "I'm proud of the way we went about our business and it showed on and off the field."
Abruzzo's final season was as gut-wrenching as it was successful.
Following a 5-0 start and a tournament championship, the longest skid in Abruzzo's tenure saw Grossmont post a mere 2-17-1 over a 20-game stretch.
Then came one of his most pleasing moments when they closed the regular season on an incredible hot streak, taking down then second-ranked Santana and ninth-ranked Helix in the final weeks.
In the postseason, the Hillers also eliminated powerful ballclubs like top-seeded St. Augustine, then swept a pair from Cathedral Catholic by posting double-digit run totals in both ballgames before falling in 11 grueling innings against Eastlake in the section Division I finale.
Over his 8 seasons, Abruzzo captured 20 or more wins three times over seven full seasons, finishing with an overall mark of 143-94-2 (.603), including Grossmont Hills League crown crowns in 2016 and '21.
"The relationships with the players will continue on forever," he added.
Meanwhile, Jim Earley, the former Foothillers skipper (2009-12) and now the interim director of athletics,will be seeking a replacement to fill the vacancy.
Career head coaching record of
Jordan Abruzzo at Grossmont HS:
Season 

  Overall   

Pct.

CIF

2022
2021
2020
2019
2018
2017
2016
2015

12-17-1
29-7-0
4- 3-0
18-14-0
21-12-1
19-14-0
23-12-0
17-15-0

.417
.806
.571
.563
632
.576
.657
..531

D1/Second
Open/Second
—
D1/Second
Open/FIRST
D1/FIRST
Open/Second
D1/Ninth

TOTAL

143-94-2

.603
GHL Champions: 2015, 2021.
CIF Champion: 2007-08
CIF Runner-up: 2016, '19, '21–'22

Hen House
Coit, a general contractor and electrical engineer before entering baseball some 40 years ago, was well-known in baseball circles to be stepping down more than a month ago. At last check, Mount Miguel has four applicants fore the Matadors position.
"I stayed retired for about 10 minutes before my wife told me I was entering the restaurant business," mused Coit, who has worked the gambit of baseball from youth ball to summer collegiate leagues for more than 40 years.
Along with his brand-new restaurant, which opened entering the Memorial Day weekend, "we also operate a Texas Barbecue foot tailor," which can be utilized fr tournaments and other events.
"I started with my own kids in 1982, then helped run El Cajon National Little League and El Cajon Pony League for three years each.
"I learned from a lot of the old-timers in the area — people like Eddie Olsen and Mickey Deutschman," Coit noted.
His high school resume started at Granite Hills, leading the freshmen ballclub for one season, then moving to the junior varsity the following season.
"n 2001, I joined Granite in James Davis' second season. Except for taking a couple of years off to travel the country to watch my son, Johnny, play for (NCAA Division I) Cal State Northridge, I loved my time at Granite."
However, Davis, and predecessor Gordie Thompson, are considered "lifers" as head coach, but Coit also desired to operate his own program.
"I always wanted to e a varsity head coach, so I took the Mount Miguel position in 2016."
Interestingly, despite 22 seasons coaching high school ball, Coit barely played baseball as a youth.
"I played the outfield, but I couldn't hit — I could teach it, but I couldn't hit it," he recalled. "Instead, a was an all-state socce player in Maryland."
Coit led the Matadors to their first and only CIFSDS championship berth in 2019, holding a 5-3 lead before falling to neighborhood rival Morse, 7-5.
While many schools came out of the COVID-19 protocols in decent shape, it was tough at a school without many feeder leagues or an inconsistent JV program., making the work so much more tougher.
"It was time for me — I just didn't have the same energy level that I used top have," he added. "It was time for a change in leadership."
Like Abruzzo, Coit appreciates the contact from many of his former players.
"Whne I posted mt resignation on my Facebook page, I immediately heard from many of my former payers."
"One oif my joys as a long-time coach is many of my players are still remain in touch with me. That tells me I did something right. It warms my heart."
As for the restaurant, Smokin' Hen House is located in a resort of 700 new homes, but is open to all, including traveling baseball clubs visiting Yuma for tournaments.
968 total views, 1 views today