CIFSDS gymnastics: Silver for Haemmerle
2022 EAST COUNTY PREP GIRLS GYMNASTICS
ECS staff report
RANCHO PENASQUITOS — West Hills senior Easton Haemmerle captures two of the four disciplines, finishing in second place in the all-around at the 2022 CIF-San Diego Section Gymnastics Championships, held at Mt. Carmel High.
Haemmerle, who was later honored with one of eight berths on the All-CIFSDS First Team, claimed individual wins in both the beam and floor,posting a total score of 36.60.
The all-around champion was Camille Caires, who led her Westiew Wolverines to the school's first-ever section title.
Caires captured the other two events — vault (9,525) and uneven bars (8.875) — to barely nip Haemmerle for the all-around crown with a 36.775 mark. The title also gainer her the section's gymnast of the year award.
A pair of East County athletes also gained berths to the All-CIFSDS team: West Hills freshman Bhavanni Nayak, who placed second in the compulsory all-around, and Steele Canyon junior Melonna Zawacki, who placed third in the same category.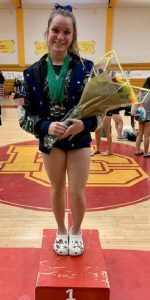 In addition, Jadyn Parga of Granite Hills was the individual champion in compulsory floor exercie with a scpre pf 9.775 points.
In optionals, rounding out the top five all-around podium were: Leiana Takeda of Rancho Bernardo (third) Mia Carpenter of Torrey Pines (fourth), and Ashley Carroll of La Costa Canyon (fifth).
Westview easily out-distanced the host Sundevils in team scoring by two full points 221.07 to 219.40
Lauren Magno of Mt. Carmel was the compulsory all-around champion with a score of 38.475.
This was the area's first high school championship meet in two seasons due to the pandemic.
— Compiled by Nick Pellegrino
---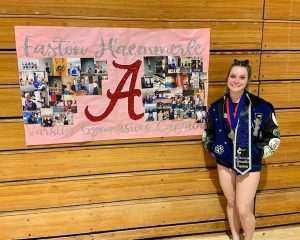 ---
West Hills head gymnastics coach Linnea Campbell submitted an application to nominate Haemmerle for consideration as gymnast of the year. The coach supplied what she wrote to  East County Sports:
EASTON HAEMMERLE, 4-year varsity optional gymnast

AS A PERSON: I have known Easton for almost 4 years when she tried out for the high school gymnastics team as a freshman. Within those 4 years, I have seen her excel in her gymnastics, balance her academics while also on the high school competitive cheer team & serving in student government, and coaching 2-3 days/ week at the Cameron Family YMCA.

AS AN ATHLETE: Easton is self-motivated and determined. She has pushed herself for the benefit of her gymnastics team & competed all 4 Olympic events to be in the all-around competition and supporting her team. She is our 2022 Optional AA Champion, earning a 36.6AA. She also 2nd on vault and 1st on bars, beam and floor.

AS A TEAMMATE: Easton is selfless, supportive, and has been leading our gymnastics team as their team captain in her senior year.

AS A COACH & ROLE MODEL: As a current gymnastics & tumbling coach of younger gymnasts, Easton is relatable, kind, and caring. She takes pride in her classes and feels a sense of accomplishment when her gymnasts learn a new a skill or master an old one.

AS A TEAM CAPTAIN: She will lead her team by example with her work ethic and takes pride in representing her school. She will go above and beyond what is asked of her and ensure all needs are met to prepare for practice or competitions.

As a gymnastics coach for more than 20 years, I have met a lot of very talented athletes. Easton truly stands out as one of the best that I have been blessed to work with. She is the kind of gymnast that makes you fall in love with coaching gymnastics. Although she is a very talented athlete, she works hard to get her skills. Her drive and motivation are key to her success.

After 15 years in the sport of gymnastics, Easton is excited to be starting a new chapter and will be attending University of Alabama in the Fall, majoring in Kinesiology, she will be carrying everything she learned from gymnastics with her. She said, "it will never be the right time to say goodbye to this sport but I am ready to flip the page to a new chapter."
---
CIFSDS Gymnastics Finals
At Mt. Carmel
Optional
All-Around — 1. Caires (Westview) 36.775, 2. Haemmerle (West Hills) 36.600, 3. Takeda (Rancho Bernardo) 36.050, 4. Carpenter (Torrey Pines) 35.225, 5. Carroll (La Costa Canyon) 35.050.
Bars — 1. Caires (WV) 8.775, 2. (tie) Takeda (RB) 8.600, Carpenter (TP) 8.600.
Beam — 1. Haemmerle (WH) 9.250, 2. Caires (WV) 9.050, 3. Selassie (Mt. Carmel) 9.000.
Floor — 1. Haemmerle (WH) 9.450, 2. Caires (WV) 9.425, 3. Carroll (LCC) 9.400.
Vault — 1. Caires (WV) 9.525, 2. Takeda (RB) 9.450, 3. Haemmerle (WH) 9.400.
Compulsory
All-Around — 1. Magno (Mt. Carmel) 38.475, 2. Nayak (West Hills) 38.400, 3. Zawacki (Steele Canyon) 38.150, 4. Hinrichsen (El Capitan) 38.125, 5. DeMesa (Eastlake) 38.050.
Bars — 1. Yoo (MC) 9.725, 2. Nayak (WV) 9.700, 3. Magno (MC) 9.675.
Beam — 1. Tran (MC) 9.725, 2. Baker (WV) 9.550, Nayak (WV) 9.525.
Floor — 1. Parga (Granite Hills) 9.775, 2. DeMesa (Eastlake) 9.725, 3. Lutz (WV) 9.700.
Vault — 1. Gaters (MC) 9.825, 2. Lutz (WV) 9.800, 3. White (LCC) 9.750.
---
---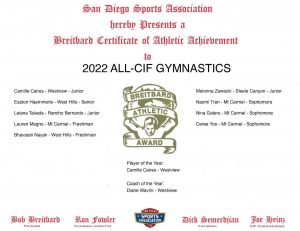 ---