Wilting Stars finish 9th at World Series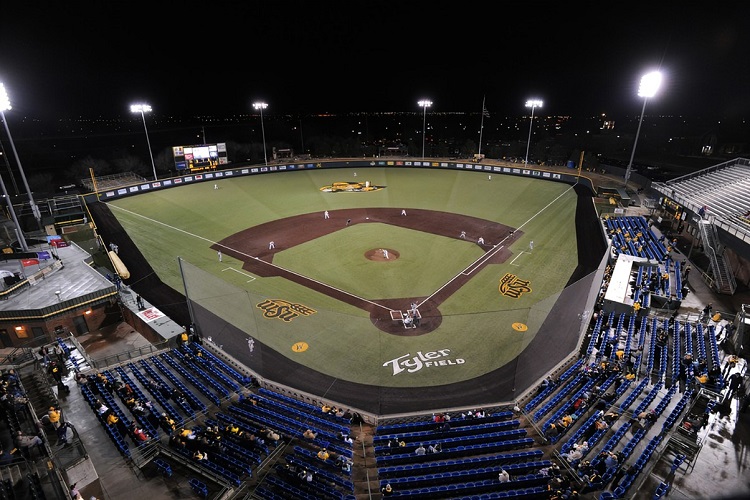 Eck Stadium, Wichita State University
2022 SAN DIEGO STARS SUMMER COLLEGIATE BASEBALL
By Nick Pellegrino
ECS staff writer
WICHITA, Kan. — The San Diego Stars summer collegiate baseball team bowed out of its fourth straight appearance of the National Baseball Congress World Series with a ninth-place finish in the 88th annual event.
The Stars had reached the National Quarterfinals in 2019, then the National Semifinals in 2020 before quickly sliding out in two straight last summer.
This summer, the ballclub surprised many with a 15-inning victory over the Denver Cougars, but then was eliminated on a pair of run-rule setbacks, including Tuesday's (August 2) 16-4 drubbing from the Haysville (Kan.) Aviators, played at Wichita State University's Eck Stadium.
From the Stars'pool, the Avs and the two-time defending NBCWS national champion Santa Barbara Foresters advance to the National Quarterfinals.
Following the victory in mild conditions in the opener, temperatures soared over 100 degrees, as the locals wilted in the heat and humidity.
Still, the Stars finished the summer season with an overall record 17-10 — better than many predicted — finishing second in the Western Baseball Association.
WBA titlist San Diego Waves of Escondido, which elected not to participate in the NBC World Series, will open play in the Gates World Series oin Kearns, Utah, on Wednesday, meeting the USL Stars.
386 total views, 1 views today