Montana State signs Givens for F.C.S. run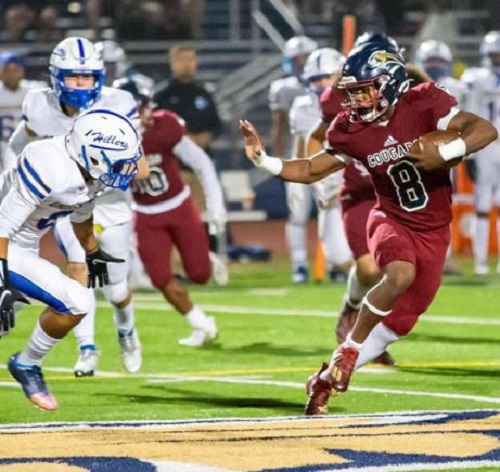 Steele Canyon running bacj Major Givens / Courtesy photo
2022 EAST COUNTY PREP FOOTBALL
By Nick Pellegrino
ECS staff writer
BOZEMAN, Gallatin County, Mont. — Steele Canyon High running back Major Givens, born in Texas, but raised in Southern California, believes a return to "cow country" will be good for him.
Givens, who rushed for more than 1,600 yards and 12 touchdowns as a junior in 2021, announced he will play his college football at national power Montana State.
The Bobcats (12-3 last season) holds two major chips on their shoulders. They fell one game short of capturing their first Big Sky Conference championship in a decade because they were the only school in the circuit not to play Sacramento State.
Montana State then raced through three postseason opponents before falling in the FCS national championship game to North Dakota State.
Givens believes he can be the perfect fit to carry the Bobcats go over the top on both fronts. Plus, he won't mind the area, which features several cow ranges — he told The Montana Standard newspaper that he rode cows "for fun" as a child before coming to San Diego at age 7.
"Some of them got spooked," Givens told Montana's 406mtsports.com. "But there was this one specific one that had a red tag with a red collar that liked me a lot."
Just for the record, Montana State does offer a collegiate rodeo team should he desire to try his hand at bull riding in the gold country in the southwestern Montana Territory (now America's 41st state.
Givens was recruited by several FCS (Football Championship Subdivision) schools, including Northern Arizona, Idaho State, Penn, Cornell and Georgetown. A proud member of a military family, all three service academies — Army, Navy and Air Force — also sought his services.
Among the honors for Givens last season was a second-team, all-CIF San Diego Section berth, and first-team recognition on the all-East County football squad.
442 total views, 1 views today