Griffins win second; Comets stop Jags
Updated: September 19, 2022
Grossmont College sophomore running back Keiyon Holloway. / P.J. Panebianco
2022 COMMUNITY COLLEGE FOOTBALL
East County Sports staff report
Grossmont College 31, Orange Coast 26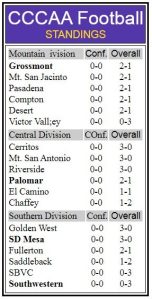 FLETCHER HILLS — The Grossmont Griffins used a pair of long touchdowns to gain the lead in the third quarter then held off the visiting Orange Coast Pirates, 31-26 on Saturday afternoon at Mashin-Roth Memorial Stadium.
After the Pirates'  Nathan Lyken intercepted a pass and returned it 57 yards for a touchdown just before halftime, giving OCC a 13-10 advantage at the break, the Griffins turned the deficit into a lead with the long scores.
Grossmont quarterback Elia Kirisimasi hit Dillon Gebase for a 70-yard touchdown completion just 1:54 into the third quarter, putting the Griffins ahead by a 17-13 score.
Following a Pirate punt, the Griffs struck again as running back Keiyon Holloway raced around the right side and out-ran the Orange Coast defense down the sideline for a 76-yard touchdown run, extending the GC lead to 24-13.
Grossmont added a score in the fourth quarter to make it 31-19 when Gus Espiritu had a 16-yard TD pass reception from Kirisimasi.
The Griffins had the first score of the game on an 8-yard rushing score by Holloway just 2:17 in the game.
Orange Coast tied the game in the first quarter on a 38-yard connection from quarterback Brandon Canella to Kaden Baptista with 4:48 left in the first quarter.
Grossmont kicker Jorge Aguilar booted a 27-yard field goal 2:43 into the second quarter for a 10-7 lead.
Baptista connected with Atkins on a 59-yard TD completion late in the fourth quarter to keep the Pirates' hopes alive but Grossmont recovered an onside kick attempt with just over a minute remaining in the game.
After a penalty gave Grossmont a first-down following a pair of OCC stops, the Griffs were able to use one kneel down to run out the clock.
Holloway rushed for 168 yards on 20 carries for Grossmont (2-1).
Kirisimasi passed for 201 yards but had two interceptions. Ten different receivers caught passes. 
Defensively, Grossmont had nine tackles for loss and four sacks, along with an interception by Payton Maull who returned it 35 yards to set up the game's first score, and ten pass breakups, including three by sophomore Aldo Owleny.
Sophomore Jagger Giles led the way with eight total tackles, including 4 solo.
Getting to the OCC QB were Ray Bernard, Tymon Palafei, Diego Piche, and Ulolo Samoata. Samoata also forced a fumble which was recovered by Anthony Lombardo.
Cannella threw for 189 yards on 14-for-28 passing and had a 5-yard keeper for a touchdown to pull OCC to within 24-19.
J.P. Segura earned the respect of the Griffin defense, rushing for 114 yards on 19 carries, while receiver Kaleb Stamps caught a team-best four passes for 75 yards for the Pirates.
The Griffins will take their winning record on the road next week as they travel to Simi Valley to take on Moorpark College. The Raiders traveled to Hemet to take on Mt. San Jacinto and lost 60-30 to the Eagles last Saturday. Kickoff is scheduled for 4:00 p.m. at Griffin Stadium. 
On defense, lineman Joe Carroll led the Pirates with five solo tackles and added a sack, while Charlie Iafeta had three tackles, one sack, and a fumble recovery.
SUMMARY
GRIFFINS 31, PIRATES 26
Orange Coast (0-3)....... 7 6  6 7 - 26
Grossmont College (2-1).. 7 3 14 7 - 31
1st Quarter
GC - Keiyon Holloway 8 run (Jorge Aguilar kick)
OC - Kaden Baptista 38 pass from Brandon Cannella (Leo Ogawa kick)
2nd Quarter
GC - FG Aguilar  27
OC - Nathan Lyken 57 interception return (kick blocked)
3rd Quarter
GC - Dillon Gebase 70 pass from Elia Kirisimasi. (Jorge Aguilar kick)
GC - Keiyon Holloway 76 run. (Jorge Aguilar kick), 8:45 left
OC - Brandon Cannella 5 run (kick blocked), 1:39 left
4th Quarter
GC - Gus Espiritu 16 pass from Elia Kirisimasi (Jorge Aguilar kick), 10:47 left
OC - TD pass (Leo Ogawa kick), 1:10 left
---
Elsewhere
San Diego Mesa 33, East L.A. 31 (2 OT)
MONTEREY PARK — It looks like the 1980s are alive and well at San Diego Mesa College, when anyone could complete a pass into the end zone.
Three different arms for the Olympians completed scoring passes down the stretch, as Mesa rallied for a narrow 33-31 double-overtime triumph over the East Los Angeles Huskies.
Mesa quarterback Gunnar Gray connected with Antoine Sullivan on a 7-yard TD pass with 4:07 remaining, then Anthony Gilpin fired a 2-point conversion pass to send the contest into extra time.
Neither side scored in the first overtime, but in the second period, Gray couldn't find a receiver, so scrambled 12 yards for the go-ahead score.
In an interesting strategy change, Mesa elected to go for a 2-point conversion, which isn't mandatory until the third extra session. This time, it was Timieone Jackson completing the pass for an 8-point lead.
East L.A., now forced to go for two points after reaching the end zone on a Terrance Gipson 22-yard run, failed on their potential game-tying pass, giving Mesa its third straight victory of the season. East L.A. falls to 1-2.
Mesa remains unbeaten despite a sub-par passing day overall for Gray. He completed just 19-of-39 passes for 129 yards with a par of interceptions but did gain his only TD pass in the game's late stages to keep the club's winning streak alive.
Josh Butler was Mesa's leading rusher with 61 yards on 12 carries, including a score. The other Mesa TD was also on the ground by Daniel Latanca.
Almost 50 years ago, Mesa had a string of four quarterback gain JC Grif-Wire All-America honors for its then-unique, all-out, double-slot passing attack. Included were two citations for Steve Fairchild (Patrick Henry), who later became head coach for Colorado Stats and was an NFL offensive coordinator with the St. Louis Rams (12-4 record in 2003) and Buffalo Bills.
Mesa begins a 2-game homestand next week, hosting Long Beach (2-1) on Saturday (Sept. 24), then Palomar (Oct. 1).
Beach is coming off a narrow 31-28 last-second win over Chaffey, scoring 14 unanswered fourth-period points to rally from a 28-17 deficit. The game-winning score came on a 23-yard pass with just two seconds left in regulation.
Palomar 17, Southwestern 0
ESCONDIDO — The defense for Palomar College limited Southwestern College to a mere 78 yards in total offense, allowing the Comets offense enough time to score in a 17-0 blanking of the Jaguars at Escondido High School Stadium.
The defense yielded just five first downs (plus three more by penalty), including just one through the air, in the school's most dynamic effort in years.
Meanwhile, the offense of Palomar (2-1) bounced back from an awful showing in Week 2 — they scored just 3 points against Golden West — by posting 278 total yards.
The lone score of the first half saw Dorian Richardson bust through the line on a 12-yard run midway through the first quarter.
Landon Ogles made it 10-0 on a 31-yard field goal in the third period. Then in the final minutes, .Luke Armstrong collected a 5-yard pass from Kiah Reid (15-24-2, 107 yards).
The Comets defense registered three interceptions, including Jaydon Bowen, Masato Thompson, and Monty Hunt. Luke Sevier also recovered a fumble.
Southwestern's defense also performed well in a losing effort.
Elijah Williams recovered a Jags fumble and returned it 31 yards, while linebacker Michael Harrington was the runaway leader in tackles with 10 stops. There were also interceptions by Gabe Baptista and Ulrich Naki.
Next week, both schools face tough opponents at home. Southwestern (0-3) hosts Central Division-leading Cerritos (3-0), while Palomar gets College of the Canyons.
Southwestern hopes to avoid being shut out in consecutive games for the first time since last season when they got blanked by Golden West (45-0) and Fullerton (31-0) in consecutive weeks.
— Compiled by Nick Pellegrino