Vaqueros win Valley title, Burner trophy
Updated: November 2, 2022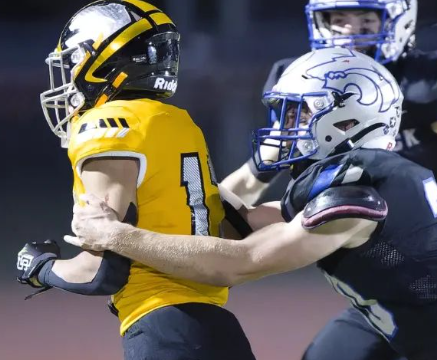 El Capitan's Julian May runs with the ball against West Hills. / Vic Marano
View this post on Instagram
2022 EAST COUNTY PREP FOOTBALL
El Capitan 42, West Hills 13
EastCountySports.com
LAKESIDE — The El Capitan Vaqueros won their first official Grossmont League championship since 2014 by defeating the visiting West Hills Wolf Pack, 42-14, on Friday night.
El Capitan finished the regular season 6-0 in Grossmont Valley League play (8-2 overall), besting Santana (5-1) and the Wolf Pack (4-2) in the Grossmont Valley League standings this season.
El Cap also regained possession of the Tony Burner Memorial Trophy, as sophomore Brandt Barker passed for 330 yards and five touchdowns.
Three of the TDs were scored by junior Chance LaChappa, as the Vaqueros pulled away in the second half from a 14-10 halftime lead.
LaChappa had six receptions for 148 yards.
"Brandt's my guy," LaChappa said of the quarterback. "We're always bonding. We've played together since Pop Warner. Everything is clicking and it's opening things up for our offense. We're getting better and better each week."
Julian May scored two touchdowns, including a 70-yard reception, while teammate Andrew Conyers caught a 14-yard score.
Conyers turned in one of the biggest plays of the game with a 62-yard reception which set up a Vaquero touchdown.
"The wide receivers are making great plays," Barker said. "If we didn't have this offensive line, I don't know what we would do."
El Capitan's offensive line, including Devin Marsh, Bradley Larson, Dustin Goldbold, Daniel Vicaldo, Daniel Shields, and Jackson Wittenberg kept West Hills' vaunted defense from disrupting the Vaqueros' red-hot offense.
May had 150 yards of total offense, which included three receptions for 102 yards.
"We knew what has been on the line these last two games," May said. "These last two weeks, the practices have been harsh but it paid off. We were going on all cylinders tonight."
Angel Diaz, a senior, rushed 13 times for 62 yards, while junior Davion Phillips had 60 yards on just four carries.
Senior defensive star Austin Cordiero and an interception and 50-yard return. He also led the El Capitan defense with 14 tackles, including eight solo.
Junior Gavin Ames added 13 total tackles, including five solo.
Senior Dominic Denha added 12 total tackles on the night.
El Capitan senior placekicker Laila Rodriguez converted all six of her point-after opportunities. She finished the regular season making 38-of-40 PATs.
West Hills (6-4), the defending league champion, led 7-0 on the first series when punter Tyler Haley took off by design and scored on a 59-yard run.
Haley also kicked field goals of 22 and 37 yards.
With the Senior Night victory, the Vaqueros secured a first-round home playoff game in the upcoming Division III playoffs by capturing the league championship outright, earning the No. 7 seed.
The Vaqueros will host the 10th-seeded Morse Tigers (6-4) on Friday here in Lakeside.
LaChappa had scoring receptions of 21, 30, and 68 yards. His second touchdown catch, which gave the Vaqueros 28-10 lead midway through the third quarter, was a diving catch in the back right corner of the end zone.
West Hills quarterback Alistair Ayersman passed for 124 yards on 11-of-20 passing in emergency duty after the Wolf Pack starter injured his ankle following a team dinner on Thursday night.
Although El Capitan won the Grossmont Hills League back in 2014, the Vaqueros also claimed a share mythical championship from the 2020 spring season, as they finished tied with Santana at 3-1.
West Hills was playing for a share of the title, which would've caused a three-way tie atop the final standings, along with Santana.
The Pack's Diego Calderon had 68 yards of total offense, including three receptions.
West Hills juniors Nate Stevens (48 yards) and Alexander Grubbs (22 yards) also reeled in three passes from Ayersman.
Stevens finished with 83 tards of total offense.
The Wolf Pack advanced to the postseason in Division III, earning the No. 11 seed. West Hills will travel to take on the San Pasqual Golden Eagles (7-3) on Friday night.