East County Notepad: XC, Football, Volley
Updated: November 8, 2022
2022 LOCAL COVERAGE
ECS staff report
EL CAJON — News and notes from around the East County:
Football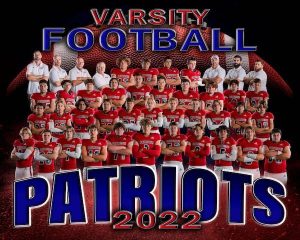 Christian High School's CIF San Diego Section  Division II football game has found a home.
With Valley Stadium occupied by top-seeded  Granite Hills for its own Division II  contest against La Jolla, the Patriots' contest against Mira Mesa will be held at Priest Field at El Cajon Valley High.
Attention, Patriots fans: The ECVHS facility holds only half the number of fans at Valley Stadium, so be prepared to arrive early to secure seating.
In addition, Foothills Christian will meet St. Joseph at Vista HS, while the Brawley at El Centro-Central game will be held on Thursday (Nov. 10).
---
Girls Volleyball
Three members of the Grossmont Hills League have advance to the CIF State Championships in the South Regional.
On Tuesday (Nov. 8), two-time GHL titlist El Capitan, which reached the CIF San Diego Section Division I semifinals, earned the longest trip of the group, going to Westlake Village to meet powerful Oaks Christian.
Meanwhile, both GHL teams which tied for second place — Helix and Granite Hills — also gained regional berths.
Helix, the CIFSDS Division III titlists, will travel to Woodland Hills to meet Taft. The host Toreadors are one of the state leaders with 43 victories this season.
Granite Hills gained the shortest trip, going to "Surf City" in Orange County to meet Huntington Beach-Marina.
---
Boys Beach Volleyball
OCEAN BEACH — The new Helix boys beach volleyball team captured the crown in the inaugural Grossmont Conference season.
"It was officially a club sport," said head coach Isabel Lopez-Fletes. "But we won the league and made it to the playoffs."
The Scotties defeated Sage Creek in the quarterfinals before falling to Poway in a Final Four match-up.
"We had two teams play in the gold division (of the individual competition," added the coach. "Lincoln Wirschem and Stephen Trainor were one team. Nathan Phaymany and Christian Chestnut were team two (in pairs)."
Wirschem and Trainor lost in the semifinal and played for third place.
"They post against a pair from San Dieguito Academy, then lost to a pair from Francis Parker, so it was all against beach-area schools," added Lopez-Fietes. "So we did extremely well in the Gold Division for an inland school."
Among 32 teams, the top 16 advanced to Gold play, while the others went to Silver and Bronze play. To advance, Noth pairs of Scotties went undefeated on the first day of the two-day competition, held in Ocean Beach.
---
Girls Cross Country
SANTEE — In the closest meet this century, El Capitan clipped Steele Canyon by one point, 37-38, to capture the Grossmont Conference girls cross country championship. The meet was held Saturday (Nov. 5) at West Hills.
And what a "chase" it was.
The medalist was Amber Chase of the champion Vaquuerods. She covered the 2.6-mile layout in 16:03, defeating hase Diffenbaugh of the Cougars by 11 seconds.
The 1-2 finish could be considered the dividing factor, or one could also look at the 3-4-5 finishers to determine the team titlist.
El Capitan finishers place 1-3-9-10-14, while Steele Canyon went 2-5-8-11-12, as El Cap's fifth-place finisher, Jillian Rudolph, nipped Lacey Oliver of Santana for the decising point.
The balance of the top five featured Samantha Mauzy of El Cap (third, 15:19), Santana's Ella McDonald (fourth, 1:23), and Shelby Coleman of Steele (fifth, 16:24).
In team results, Valhalla was third despite just one Top Ten finisher in junior Trinity Solomon (seventh). All five Norsemen are underclassmen, making them a major threat in 2023.
Full Girls results HERE.
---
Boys Cross Country
SANTEE — Grossmont High, the lone East County school to capture a CIF San Diego Section team championship in 2021, will again be among the favorites after the Foothillers boys took last Satirday's (Nov. 6) conference meet, held at West Hills.
In a 3.0-mile race dominated by seniors, Ian Rosen was the individual meadlist with a time of 15:30, outlasting teammate Russell Blakely by seven seconds.
The Hillers took three of the top four spots onthe podium, along with four of the top seven finishers, taking the team competition with 33 points. SteeleCanyon placed second (51 points), followed by Santana (81).
Full Boys results HERE.
---
Pro football camp
CHULA VISTA — HUB Football will host its first Pro Free Agent camp in San Diego since announcing a new Scouting Data Partnership with the USFL
The camp will run this Sunday (Nov. 13) from 9 a.m.-to-2 p.m. at Southwestern College's DeVore Stadium.
More than three doezn professional free agents, many of whom have spent time with NFL and other professional teams, while others include former collegiate players looking to land their first shot at making a professional roster.
For further information, contact HUB Football at www.hubfootball.com.
Compiled by Nick Pellegrino