Timberwolves down Sultans In opener
Updated: November 15, 2022
2022-23 EAST COUNTY BOYS PREP BASKETBALL
ECS staff report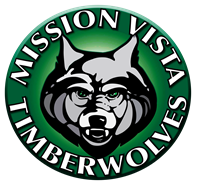 SANTEE – In a highly contested game for the most part, the visiting Mission Vista Timberwolves who made the trek all the way from Oceanside would pull away for a 70-56 victory over the Santana Sultans in opening night action on Monday evening.
The Timberwolves were led by a trio of double-digit scorers on the evening including Logan Tadano and Jake Henderson who each scored sixteen points on the evening. The other Timberwolf to pour in double-digits was Chaise Fowler who poured in twelve points including six in the pivotal fourth quarter.
Early on the Sultans use a 9-0 run with a little over three minutes remaining in the first quarter to lead 9-3 and would later match a 5-0 run by the Timberwolves with a 5-0 run of their own to lead 16-11 and would lead 25-23 at the end of the first quarter.
Despite the high-scoring first quarter by both teams things in the second quarter would all of a sudden turn as the Sultans would outscore Mission Vista 7-4 to lead 32-27 at the break. Both teams couldn't buy baskets in the second quarter leading to the low-scoring output.
Mission Vista would outscore the Sultans 38-29 in the second half.
Leading the way scoring-wise for the Sultans was Dainian Keokham with fourteen points. Other Sultans scoring in double-digits were Jeffrey Van Oostende with eleven points and Lucas Thomas who poured in twelve points.
Santana will travel on Thursday evening in a 7 pm tilt against the Canyon Hills Rattlers where they will look to get the new era under first-year head coach Mark Burton who had been a longtime assistant in the Sultans program in the win column with his first-ever varsity victory.