Cuyamaca soccer fights to the end
2022 COMUNITY COLLEGEMEN'S SOCCER
CCCAA Playoffs – Second Round
ECS staff report
FULLERTON — Cuyamaca College fought until the bitter end, registering a late goal in added time. However, third-seeded Fullerton had already scored twice in the second half to topple the Coyotes, 2-1, in the second round of the CCCAA State Men's Soccer Championship.
The second round of the South Regional is For Cuyamaca, the deepest any No. 19 seed has ever advanced since the current postseason formula was instituted near the start of the century.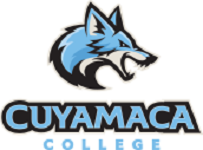 With Cuyamaca pressuing the Fullerton fullbacks in front of the net, a back-pass surprised the Hornets goalie, resulting in an own goal in the 91st minute.
However, goals five minutes apart by Fullerton's Kevin Manzo and Misael Gonzalez were enough to advance to the third round.
Cuyamaca concludes its season with just three losses, finsihng with a 111-3-8 mark, including an 8-1-3 record to finish second in the Pacific Coast Athletic Conference.
Fullerton (14-4-4 overall) will host No. 6 Long Beach Cityon Tuesday (Nov. 22) at 2 p,m,
160 total views, 1 views today