Blackmon, Hawks hang with UCSB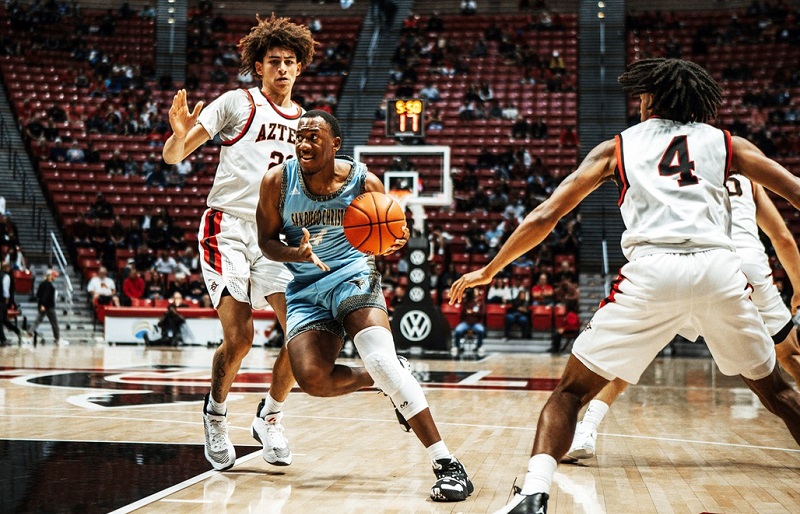 The Hawks' Ryan Blackson drives against San Diego State in action earlier this season / SDSU courtesy photo
2022-23 SAN DIEGO CHRISTIAN COLLEGE MEN'S BASKETBALL
ECS staff report
GOLETA, Calif. — The UC Santa Barbara mens basketball team is off to its best start this century, moving its record to 7-2 following Monday's (Dec. 12) 81-68 decision over San Diego Christian College at the Thunderdome.
But just how good are the Gauchos, a member of the Big West Conference?
The starting unit may be ripe to take a conference title, but if UCSB needs to go to the bench, they may be in trouble.
After the Gauchos mounted at early 26-8 advantage, the Hawksout-scored UCSB by five pointsw over the final 29 minutes in falling by just 13 points — the closest San Diego Christian has ever come to toppling anNCAA Division I opponent.
When a major college programhosts an NAIA schol, the game counts against its record — UCSB in now 7-2 overall — but not against the small school. Thus, the Hawks remain at 2-4, with the final of six contests against D-1 school slated for later this week when they met another Big West foe, CSU Fullerton at historic Titan Gym.
After Santa Barbara took a quick 26-8 lead, the margin reached 26 points before the Hawks took over against the Gauchos reserves.
The standout of the second half was Hawks guard Ryan Blackmon, who also came off the bench to tally all of his 10 points in the closing 15 minutes.
Blackmon, a junior transfer from Sacramento State (out of Culver City High), started the rally with a 3-point shot, followed by another triple from Greg Chew, the Hawks' leading scorer with 21 points.
Also reaching double figures for SDCC were  Ausage Siamua (14 points) and H Josh O'Campo (13).
Befpre SDCC goes to Fullerton on Dec. 19, the Hawks return to conference action this Saturday (Dec. 17) at Vanguard University in Costa Mesa.
Notes: After Blackmon transferred out of Sacramento State, he was replaced by Zach Chappell. The "Chappell Show" was named last week's National Player of the Week by College Insider magazine.
243 total views, 2 views today