Gallery: Boys Hoops – Hillman df. Hillers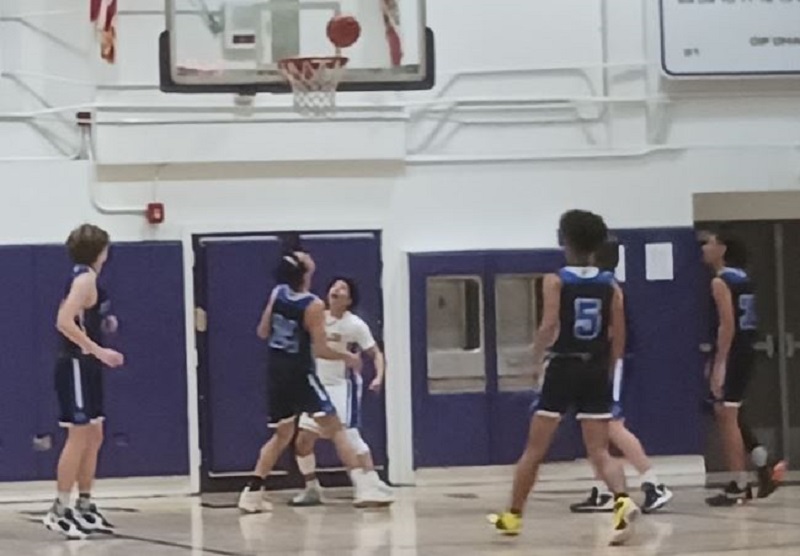 2022-23 EAST COUNTY BOYS PREP BASKETBALL
Photo Gallery
West Hills (55) vs. Grossmont Foothillers (46)
Santana Tournament
Mon., Jan. 2, 2023
ECS staff report
SANTEE — A simple formula was needed to claim victories in Monday's (Jan. 2) opening round of the Santana High tournament.
Just three ingreients constitute a winning mix: wear your road uniform, score exactly 55 points, then almost shutout the opposition in the second quarter.
West Hills started the session with a comfortable 55-46 triumph over grossmont.
Meanwhile, Valley Center avenged an earlier setback to Santana, topping the Sultans, 55-36.
Pack Attack
West Hills (12-2 overall), which is off to the best start in school history, started slowly following an 11-day layoff to upstart Grossmont.
The Foothillers grabbed early leads of 8-5 and 10-7 before the Pack made several changed on defense. The moves led to a 16-0 run in holding the youthful Hillers to just six points in the second quarter.
The shutout streak covered a span of 7:20.
Junior forward Vince Hillman tallied 11 of his game-best 18 points in the first half, leading to a 27-16 advantage at the break.
Included was Hillman's game-tying, 3-point shot to start the game-breaking scoring streak, followed by a go-ahead trifecta by Jordan Dunlop to take the lead for keeps.
Grossmont (1-13), which hasn't won since nipping Pacific Ridge on opening night, stayed close behind 17 points by Elijah Quintero.
For West Hills, which went unbeaten in Deceber (6-0), now has won 8 straight with 13 additional points by Zeid Salem. The senor clinched the victory by draining six consecutive foul shots in the closing minutes.
Role reversal
Also following the coincidental formula to victory was Valley Center, which stopped Santana, 55-36, after earlier falling to the Sultans by a near-identical 56-38 count on Nov. 30.
The Jaguars (9-4) limited Santana to just a single bucket in the second period.
Santana (7-6) saw its two-game win streak snapped after a 17-day layover.
Compiled by Nick Pellegrino