Griffins post 60 in half, outlast Coyotes
Updated: January 16, 2023
Grossmont's Samuel Stewart IV heads to the hoop / Photo by P.J. Panebianco (@vanillagorillaphotography)
UPDATED with PHOTOS
2022-23 COMMUNITY COLLEGE BASKETBALL
ECS staff report
FLETCHER HILLS — Trailing by nearly 30 points at one point, Cuyamaca College stormed back with a huge second-half effort, yet fell short in the final seconds to cross-town rival Grossmont College, 85-82, in Friday's (Jan. 13) Pacific Coast Athletic Conference men's basketball game at Grossmont.
The host Griffins posted a massive run of 23 straight points to mount a massive 60 points in the first half — the second-highest total of the season — including 13 buckets from beyond the arc, taking a 26-point lead into the break.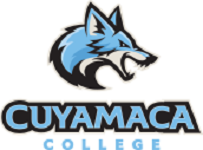 Cuyamaca rallied to within three with nine seconds to play. However, the Coyotes were unable to stop the clock with a foul ,or registered a steal, as Grossmont ran off the closing seconds.
Cuyamaca (2-15 overall, 0-5 PCAC) continues its lengthy losing stretch in conference play. Since the 2009-10 season — the year before most current high school seniors began grade school — the Coyotes are now 21-81 (.206) against schools in San Diego and Imperial counties.
Meanwhile, Grossmont (7-10, 2-4 PCAC) saw five players score in double figures, including impressive totals by Griffins reserves.
Brandon Tully came off the bench to register a team-high 18 points, Spencer Hall added 12 points,one short of his career high.
Among the starters, Tre Edmond scored 13, Calvin Payne added 12, and DeAndre Allison had 11 in his first start of the season.
Allison, a sophomore guard, was the leading scorer at Mabel O'Farrell Charter (located a few blocks from Morse High) as a senior in 2019-20.
In the free-for-all, first-half  scoring effort by the Griffins, Samuel Stewart IV, one of the team's top point producers, was limited to 4 points. However,he was still a heavy contributor with a career-high 16 rebounds to ignite the fast-break offense in the first half.
In fact, Grossmont finished with an amazing total of 70 rebounds, the school's most this century and the most since Grossmont Hall of Fame forward Juan Espinoze starred for the G-House in the mid-1980s before playing two seasons for San Diego State.
Cuyamaca's five starters totaled just 37 points, but the bench made the contest interesting in final minutes.
Xavier Rubio (Eastlake) come off the bench to tally a game-best 21 points, .The lone Coyotes starting in double figures was Sergio Franso with 14.
Grossmont opens a 3-game road trip on Monday, playing at MiraCosta College in Oceanside, then at Mesa on Friday.
Cuyamaca hosts Southwestern on Monday at 5 p.m. on American Civil Rights Day (aka Dr. Martin Luther King Jr. Day) , then heads to Imperial Valley on Wednesday.
Women
There is nothing to report.
Grossmont College announced earlier in the week that the Griffins would not play this week because of a variety injuries and a player with COVID-19, reducing the roster to just six players.
Meanwhile, Cuyamaca's home game on Friday (Jan. 13) was forfeited. No further details were made available by staff members from the Coyotes.
---
Photos by Vanilla Gorilla Photography (on Facebook)