Las Matadores' Hurst reaches 1,000 points
UPDATED
2022-23 EAST COUNTY PREP GIRLS BASKETBALL
By Nick Pellegrino
ECS Senior writer
SPRING VALLEY— The winners of 22 consecutive league girls basketball titles — a CIF-San Diego Section record — there's no doubt that Mount Miguel High head coach Robbie Sandoval has produced some of the best players ever to take the court in the region.
Another of Sandoval's "Las Matadores" officially joined the list of greats by reaching an important milestone on Tuesday (Jan. 17).
Senior guard Zanna Hurst became the 10th player in school history to achieve 1,000 career points in a 78-29 triumph over visiting Helix.
Hiurst collected a game-best 26 points against the Highlanders in the Grossmont Hills League triumph, giving her 1,005 points in 98 career varsity contests.
In addition, so[sophomore Helen Rosales posted 20 points and senior Jennifer Moreno  had 19.
Hurst also owns 299 points this season – a career-high with at least 10 regular season outings (plus any CIF playoffs games) still to play.
With the historic scoring achievement, Hurst joins a list of former Mount Miguel standouts to wear the Black & Red. Included are a long list of East County Players of the Year: Sylena Peterson (2019), Camera Douglas (2018), Satera Bates (2016 & '17), Zaria Branch (2015), Deijah Blanks, (2014), Shay Young (2012),anielle Miller(2011), Y'vonte Neal (2010), Danesia Williamson (2008 & '09), Jerica Williams (2005(, Christine Fitzgerald (2002 & '03), and Kim Martin (2001).
Young is the school's career and (1,816) single-season (818) scoring leader.
Sylena Peterson holds the single-game mark with 45 in 2019-20, followed byJennifer Mereno (43 vs Morse, 2029-21) and Danielle Miller (40 vs Pacific Palisades, 2010-11).
And those were just the Players of the Year; the list of other greats is even more extensive, with such standouts as Kayla Henry and Genevieve Costello from the 2003-04 All-East County first team.
Update: With her 19 points against Helix, Moreno now hos 1,530 career points.At her current scoring rate of  19.4 points-per-game, she is on track to place third in all-time scoring by a member of the Matadors. To have a shot at Young's career record will depend on the number of postseason games.
Moreno already holds the Grossmont Conference record for most points by a freshman, compiling 694 points (22.4 average) in the 2019-20 season.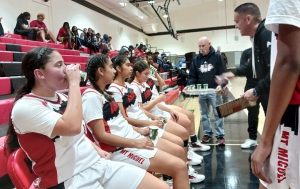 190 total views, 1 views today