Bobcats fire first no-hitter since '06
Updated: February 2, 2023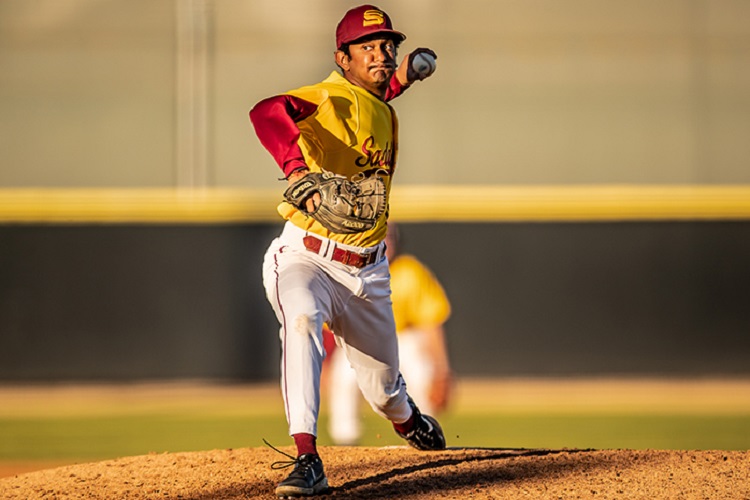 Courtesy, Saddleback College
2023 GROSSMONT COLLEGE BASEBALL
Courtesy, Saddleback College
MISSION VIEJO – Saddleback College utilized four pitchers to combine on a no-hitter to stop visiting Grossmont College, 6-0, in Tuesday's (Feb. 1) non-conference game. It was the first no-hitter by the Bobcats since the program was known as the Gauchos some 17 years ago in 2006.
Saddleback was coming off of a disappointing performance at College of the Canyons on Saturday and many wondered how the pitching staff would respond.  The Bobcats were sensational, recording just the second-known no=hitter in the history of the program.
Saddleback started Dylan Singh, who gave up a pair of walks and left after the fourth inning with the game scoreless.  The Bobcats then inserted Nathan Helman, who proceeded to strike out three straight Griffin batters while pitching two scoreless innings.  Saddleback then went to Dylan Blakey, who gave up a pair of walks but kept Grossmont hitless through two innings of work.  The Bobcats then turned the ball over to Tommy Di Landri, who closed out the game by striking out the final two batters.  In total, Saddleback pitching struck out 11 Grossmont batters and only allowed one runner to reach third base.
Saddleback scored what would turn out to be the game-winning run in the bottom half of the fifth inning when Michael Davinni had a sacrifice fly to score Jack Collins for a 1-0 lead.  The Bobcats would add another run in the sixth inning when Ben Castelli hit the team's second home run of the season for a 2-0 advantage.  Saddleback added four insurance runs in the bottom half of the eighth inning, taking advantage of four walks from the Griffin pitching staff.
The combined no-hitter was the first since Dan Goldberg through a no-hitter for Saddleback in 2006.  The program has had a handful of close calls in the past decade, including a pair of one-hitters during the 2013 season.
From Grossmont
Grossmont (1-1 overall) came out in the top of the first inning with a Zavien Watson walk followed by a Brodie Romero hit by pitch to put runners on first and second. Sadly, that was as good of a rally as the Green and Gold would get. 
"We played good," said head coach Randy Abshier. "Considering we haven't been on the field to practice yet this season. But the guys battled." 
Saddleback (2-1) pitching was dominate as they sat down 16 straight Griffins. 
Grossmont will be back on the road tomorrow as they travel to the High Desert to take on Victor Valley College (0-1) at 1:00 p.m. Thursday.