Hawks grab opener, but ghosts reappear
Haks catcher Talyn Lerma was out of time, attemtping to turn-and-tag before the b all arrived as La Sierra dcored the walk-off, gaming-winning run inGame 2 / La Sierra cellphone
2023 SAN DIEGO CHRISTIAN COLLEGE WOMEN'S SOFTBALL
ECS staff report'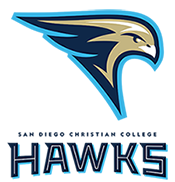 RIVERSIDE – The San Diego Christian College women's softball team opened the 2023 season with a victory, but an old habit from the previous campaign continues to haunt the Hawks.
For some reason, SDCC found difficulty in the seventh inning, with the old aversion  coming back to torment the Hawks in both games of Friday's (Feb. 3) double-header.
The Hawks captured the season opener, 6-1, but lost the shutout in the seventh. Then in the night cap, host La Sierra — an Adventist university — tallied twice in the seventh to walk-off the Hawks, 4-3.
Game One
Hawks sophomore catcher Hailey Morgan-Voyce drove in three runs, while senior shortstop Emily Lonetree recorded two RBI, as SDCC cruised in the opener. BOXSCORE
Both players recorded a pair of basehits each,along with two additional teammates — senior second baseman Alicia Corona (Hilltop HS) and sophomore designated player Serena Shine — to fuel a 10-hit attack.
\Morgan-Voyce started the scoring with a a sacrifice fly in the second before SDCC blew the contest apart in the later innings.
In the fourth , following a lead single by Corona, Lonetree followed with a 2-run home run for a 3-0 lead.
An inning later, the Hawks doubled the cushion on Cornoa's run-scoring single, then Morgan-Voyce slugged a 2-run double over the head of the centerfielder.
Meanwhile, Hawks pitcher Kaitlyn Bailey carried a 4-hit shutout into the seventh, but an one-out error led to an unearned run. Bailey finished with 6 strikeouts.
Game Two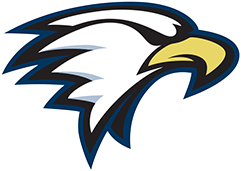 San Diego Christian retired the first two batters in the bottom of the seventh, but the Golden Eagles escaped with a remarkable rally to salvage a split of the twinbill.
An error started the rally, then the flood gates opened as the Hawks were unable to garner the final out, as the winning run also came home on an error.
San Diego Christian registered all of its run in the second, then La Sierra answered with two runs in the fourth.' BOXSCORE
The first six Hawks batter in the early rally did damage to chase the Golden Eagles starting pitcher.
After the first three batters reached base to load the bases, freshman Chloe Wilson (Patrick Henry) drilled an RBI single to left, Ada Neu received an RBI on a fielder's choice, then sophomore Maya Abrego doubled to left for a 3-0 advantage.
Lerma and sophomore right fielder Marley Rimoldi (Steele Canyon) had two hits each.
San Diego Christian (1-1) returns to action next Friday for their home opener entertaining University of Saint Katherine of San Marcos for the San Diego County small-college championship, to be held at Santee Sportsplex USA. The doubleheader starts at noon.
71 total views, 1 views today