Another local Div. I basketball program
Updated: February 28, 2023
LOCAL COVERAGE  / MEN'S COLLEGE BASKETBALL
ECS staff report
LA JOLLA – Long before former University of Michigan head coach Steve Fisher came to town to turn the San Diego State men's basketball team into a Top 25 program, the staff of the Aztecs athletic department made several attempts to transform SDSU into "more than a football school."
One such attempt was the introduction of the Cabrillo Classic tournament, which was conducted at the then-named San Diego Sports Arena decades before the current Viejas Arena was even a dream.
The Cabrillo Classic was a nice solid event, but really gained national attention one year when enough money was raised to entice head coach Dean Smith and his North Carolina Tar Heels to town to play the Aztecs. This was during the heyday of Carolina basketball when Smith's ballclubs were always nationally ranked.
Sure, the Tar Heels won (103-92, on Dec. 29, 1988), before a sell-out crowd,  with the Aztecs gaining the touch of the national spotlight they deeply desired.
In 2023-24
Turning the clock forward to the 2023-24 season, the new Division I program at UC San Diego will also have national television cameras pointed in their direction when the Tritons host the inaugral Rady Children's Invitational College Basketball Tournament
The announcement was made by Mark Neville, CEO of Sports San Diego,which also produces the Holiday Bowl college football game.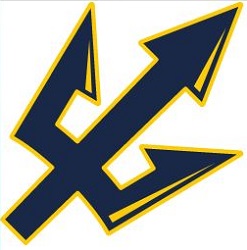 The two-day event, slated for Nov. 28-29, 2023 (Thanksgiving Day and Friday),  on Fox television, will feature four top-flight Division I ballclubs — the Oklahoma Sooners (Big 12)., Seton Hall Pirates (Big East), Iowa Hawkeyes (Big 10), and the USC Trojans (final season in the Pac-10).
All contests will be played at UC San Diego's LionTree Arena  (formerly RIMAC Arena).
Unlike other events, UC San Diego will not be playing in the event, just hosting to allow the nation know about its program, which will soon became a full-time NCAA Division I member with full eligibility for the NCAA Championships.
Trivia
Just like other small and mid-size West Coast universities like Pepperdine, Loyola Marymount, Occidental, San Francisco, Santa Clara and others, did you know UC San Diego once fielded a varsity  football team.
In 1968, the Triton played an 7-game schedule — only two at home La Verne and Cal Western; thefuture USIU)  — and lost them all, including a game to Cal Tech at historic Tournament Park in Pasadena. The Engineers ended a 34-game losing streak that stretched back to their 1964 season
Don't worry: UCSD wasn't the poorest football team in America that season. While San Diego State went 9-0-1 as an major-college independent, Cal Poly Pomona went 0-10.
At least the Tritons were never shutout.
The UCSD football field was located across the street from the current varsity swimming pool, just over the bridge on the west side of Interstate 5 at Scripps Hospital.
The field  was also the home for San Diego Chargers training camp for a few years.