Back-to-back blanks by Monte Vista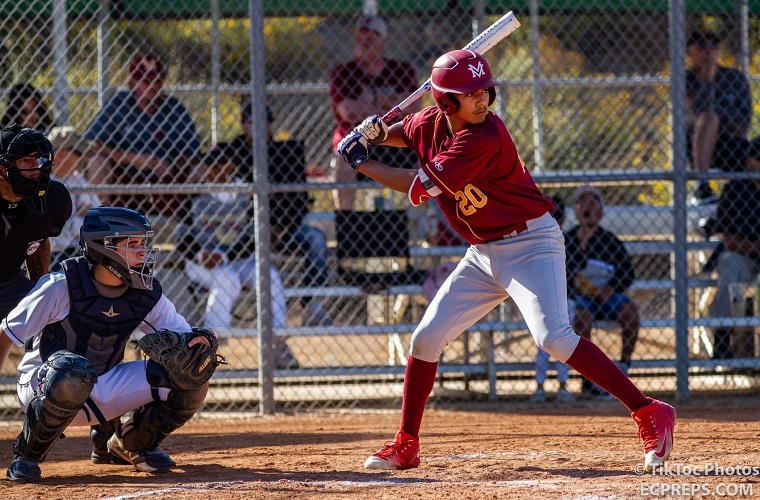 CES file photo circa 2022
2023 EAST COUNTY PREP BASEBALL
ECS staff report
EL CAJON – It only makes sense when it comes to weather: the farther south one is located, the better the chances of avoiding the rain and playing a scheduled contest.
On Thursday (Mar. 2), with most of the East County again losing contests due to rain or wet grounds, the southern-most games were played — and both were shutout victories by local ballclubs.
Monte Vista 2, Mater Dei Catholic 0
SPRING VALLEY — There are two ways to post a shutout.
In the opener, one Monte Vista pitcher dominated in a complete-game effort by spinning a 3-hitter. On Thursday (Mar.2), Monte Vista needed to utilize a pair of pitchers — juniors Gavin Daley and Caleb Taa-Jones — in a combined 6-hitter, but the results were the same.
The Monarchs extended their shutout string to 14 straight innings after blanking visiting Mater Dei Catholic, 2-0. The triumph gives the Monarchs a fast 2-0 start, moving them into position to match their best start in more than a decade (3-0 in 0211).
Similar to David Rodriguez's showing against San Diego, Daley did even better by yielding a single hit but needed to come off the contest following four innings. Among the 12 outs he recorded, nine came on strikeouts in posting a 1-hitter.
Meanwhile, Taa-Jones found the going much tougher, yet still came through with similar results. He allowed five hits over the final three innings but garnered the save by keeping Master Dei Catholic off the scoreboard.
Tea-Jones finished with a pair of strikeouts, even though the Crusaders stranded two batters in all three innings.
In another similarity to the opener, Monte Vista scored all the runs they would need by the conclusion f the second inning.
After retiring Monte Vista in order in the first, Mater Dei Catholic pitching was way too careful with the heart of the Monarchs batting order, as cleanup batter Justyn Stine was walked, Daley was struck by a pitch, then Jacob Schweizer singled to load the bases. All three are juniors.
MDC thought they would escape by a fielder's choice grounder resulting in an out at the plate, then a line drive to left field forced a Monarchs runner to stay at third base.
However, Taa-Jones, the No. 9 batter, and leadoff batter David Aceron both walked to force in runs for the lone scoring in the contest.
Daley finished with two of Monte Vista's five hits.
The victory may not have been exciting, but it still puts Monte Vista in a position to equal their best start since 2011 when they host San Ysidro on Friday at 3 p.m.