Five weeks later, Knights 'Play Ball'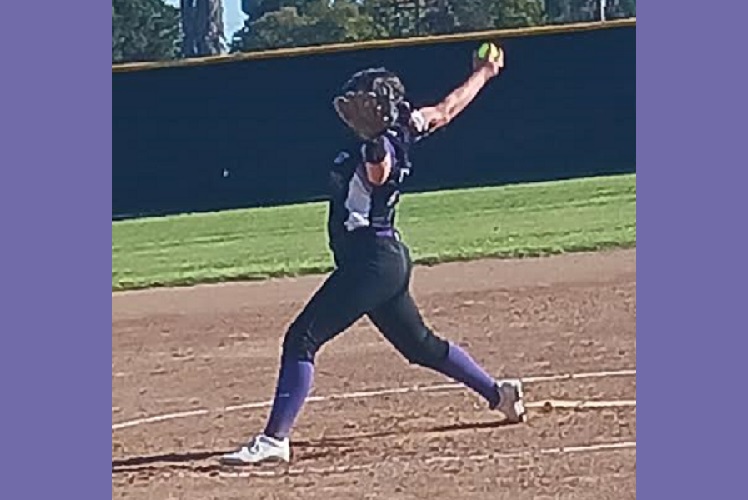 2023 EAST COUNTY PREP SOFTBALL
By Nick Pellegrino
ECS Senior writer

SPRING VALLEY – Following the gambit of this country from est to west, the plot for this story wouldn't be a story at all if held north of the Mason–Dixon line, the upper Midwest or in the Rocky Mountains.
However, in weather-friendly San Diego Count, it's an entirely different story.
With the recent rash of rain over the past month — and more on its way this Thursday –outdoor  high school spring sports are littered with asterisks, with dozens of contests whipped out by cancellations, postponements or suspension are they were started.
Little-by-little, schools are catching up after finding dry (or minimally damp) fields to play on — except one.
The single most-challenged program in the San Diego Section is the softball team from Foothills Christian High in El Cajon, Calif. On Monday (Mar. 27), exactly five weeks after regular season contests were allowed to be played, the Knights finallystarted More importantly, finished) their first ballgame, taking a road victory from Mount Miguel High, 7-2.
There were some bumps and bruises along the way, with the lack of game or practise time available as both sides are far from mid-season form. Still, just to be out on a warm afternoon was a welcome change from gloomy conditions or being stuck in the confines apce in claustrophobic batting cages.
"I've never seen anything like it beforem" sais sixth-year head coach Jay Strandberg. "We tried to start some games — we even were deep into the third inning against La Jolla Country Day — but then the rain woyld come and he would have to stop the game."
Which led to one rule violation which does not effect club and travel ball teams, but is against National High School Sports Federation policies.
"We have a pitch use a towel to wipe off the ball," noted Strandberg. "But the umpire called an immediate timeout and charged us with a balk."
"We were told you can only do that in club ball."
Now that the season is now underway for every school in a metropolitan area — some schools in the back country like Julian and Mountain Empire intentionally wait until April before starting their seasons in softball and baseball — the players for Foothills Christian hope they can even qualify for the postseason.
"You need to play a minimum number of games to qualify for the playoffs and right now we're one above the cut-off," added the coach "So we can't afford to have any more rain-outs, but I understand Thursday's game is already in jeopardy."
Missing CIF action would be disheartening to a ballclub which shared the Pacific League title with Tri-City Christian in 2022, dropping just a single regular season contest,
."All I know is, we finally got to play today," said Knights pitcher Emma Romeka. "We haven't even practiced much because it's been raining and out field's been flooded."
"At least we're going to make upsomr of our erlier games, like the game with La Jolla Country Day will be continued in the second week of April during spring break."
Once Foothills Christian went through the batting order once, it became easier to swing the bats,
"Our team is definitely growing, getting better and beter with each practice."
Romeka was charge with two runs, but oth were unearned, She also struck out 11 Matadors batters.
"Emma was throwing well for her first game," noted catcher Reese Winchester, who is also a sophomore. "We started slowly and had trouble swining, but then we made the adjustment to Mount Miguel throwing outside and scored some runs."
Both ballclubs tallied a pair of unearned runs in the third inning, but the Knights bounced back with two more runs in the fourth, then three more in the fifth to claim the victory.
Foothills Christian (1-0 overall) saw three of its first four batters — center fielder Kenzie Gomez, shortstop Gabby Wolford and Romeka — collect two hits each. Meanwhile, Winchester, batting third, registered one hit, but it drove in a pair of runs.
Romeka's first hit was an RBI double in the fourth to give the Knights the lead for keeps at 3-2, then reachede third base and scored ons dropped third strike for a 4-2 advantage.
Added Winchester, "We're getting stronger and stronger."
Foothills Christian is slated to travel to North County to meet Maranatha Christian on Thursday, then host Francis W. Parker on Friday at Town Center Community Park in Santee on Friday. Both are slated for 3:30 p.m.
For Mount Miguel (1-3-1), had shortstop Klarissa Soto and catcher Monica Santiago each bat 1-for-2 and scoring each of the Matadors runs.
The Matadors open Grossmont South League action on Wednesday, going to West Hills in a 4 p.m. first pitch.
---
244 total views, 1 views today