Softball Shocker: Hawks blank H.I.U.
2023 SAN DIEGO CHRISTIAN COLLEGE WOMEN'S SOFTBALL
ECS staff report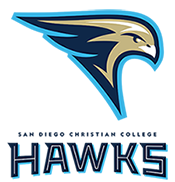 SANTEE – Hope International Uniuversity, ranked among the Top 10 teams in the NAIA, saw uts lead in the Golden State Athletic Conference take a hit.
On Monday (Apr. 3), after the Royals easily beat San Diego Christian College, 65-1, in the first game of a GSAC doubleheader, were shocjed in the second game when the Hawks ripped the Royals, 6-0.
Hope (23-5overall) dropped to  dropped to 11-3 in GSAC play, but then received an even bigger shocker. Second-place Jessup University lost both games of a doubleheader over the weekend, dropping 2.5 games behind HIU.
Meanwhile, San Diego Christian )(7-15, 4-10 GSAC) moved into seventh place and within a game of Ottawa (Ariz._) for the final berth to the GSAC Tournament.
Game Highlights
Hawks pitcher Kaitlyn Bailey, who started the season as the ballclub's No. 2 pitcher, may now be the ace after firing a 1-hit shutout at the Royals at Sportsplex USA.
Bailey struck out eight batters without a walk, facing just one batter above the minimum. The lone Hope hit to avoid a perfect game was a single by leadoff batter Emma McCraw, the third baseman.
Even more surprising, it was the bottom of the SDCC batting order which produced the runs: right fielder Andrea Thompson and left fielder Serena Shine drove in two runs each.
95 total views, 1 views today