Another Mujica mark, but Eagles fall via Otay Ranch walk-off
Another Mujica mark, but Eagles fall on walk-off to Otay Ranch
2023 EAST COUNTY PREP SOFTBALL
By Adam Paul
CHULA VISTA – Milestones are more to be celebrated in a victory. but unfortunately, that wasn't the case as the Otay Ranch Mustangs edged the Granite Hills Eagles with a walk-off run in the seventh inning to pull out the victory, 6-5.
Down to their final at-bats,  the Mustangs needed a hero and one would emerge in Nat Lozano, who singled in the game-winning run to prevail on Friday (Apr.7),
The loss prevented a celebration by  Granite's Sofia Mujica, with her two home runs on the day, has now become only the third player in CIF San Diego Section history to hit 40 career home runs.
Overall for her career,,  Mujica now has 41 which ties both Katiyana Mauga of Mira Mesa (2010-13; who went on to star at the University of Arizona) and is tied for the all-time career homer list, and Trina Harrison, who first set the mark from 2004-08 at Oceanside and went on to play at Cal State Fullerton.
Mauga also owns the PAC-10 career mark while with the Wildcats aqnd was selected to the conference's all-decade team.
Game review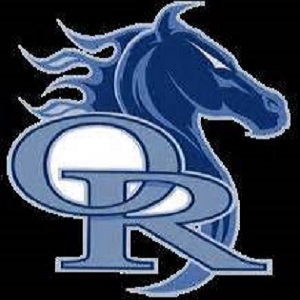 Despite being outhit 13-8, the Mustangs would take advantage of opportunities which also included a pair of walks in the bottom of the seventh inning in the victory.
Early on the Eagles took all the momentum as they would push across a pair of runs in the top of the first inning thanks to Makayla Tileia and Kamryn Flath hitting back-to-back run-scoring doubles.
Unfortunately, the momentum would be taken back by the Mustangs who behind multiple hits in the bottom of the third inning would take a 4-2 lead.
Granite Hills (9-3) though would scratch back a run in the top of the fourth inning courtesy of Sofia Mujica who belted a two-out solo shot to center field for her eighth blast of the year to pull them within 4-3.
A couple of innings later Mujica again in the top of the sixth inning would cause some more damage as she lined a shot over the center field fence for her ninth of the season to again pull the Eagles within a run, 5-4.
The Eagles would later in the top of the seventh down to their final out tie the game at 5-5 thanks to Jenna Haynal who singled to center that allowed Flath to come around from second base to plate.
After one quick easy out for the Eagles trouble brewed as Eagles starter Peyton Wells would walk the next two batters which would set up the game-winning hit.
Tileia would start for the Eagles going three innings giving up four runs on five hits and striking out one, Wells would take the loss as she tossed three and third innings giving up two runs on three hits and striking out two.
Alexa Munoz of the Mustangs garnered the win going seven innings, giving up five runs on thirteen hits while striking out two.
With the victory, Otay Ranch wins their sixth game in a row and improves to 11-3 overall.
Helix 10, Our Lady of Peace 0 (5 inn.)
LA MESA – Helix senior Lauren Farace powered the victory charge with her three hits and four RBI, powering the Highlanders to a convincing five-inning, run rule- shortened contest over the Our Lady of Peace Pilots, 10-0, on Friday (Apr.7) in non-league play.
Helix would scatter nine hits and take advantage of three errors by the Pilots in the victory as a reio of Scotties would finish with multiple hits on the day.
Kamryn Evans would drive in a pair of runs with a couple of hits, including a two-run double in the third inning.
Besides Evans, Angel Riggins who had a pair of hits would also score three runs, while LaNiah Broom would drive in two runs as well.
Not only did the offense overwhelm the Pilots, so did Hwlix pitcher Katelyn Woodland in the circle.
In her five-inning complete game, Woodland stifled the Pilots for nine punchouts while shutting them out on five hits.
Helix improves to 7-7-1 overall on the season; OLP fell to 7-4.
Elsewhere
Mount Miguel 13, Kearny 3 (5 inn.)
SPRING VALLEY – When one thinbk about Mount Miguel softball and the term "run rule," many believe it's just another loss for the Matadors.
Not in Friday's (Apr. 7) non-league affair at historic Trude Field.
Mount Miguel posted a season-high 13 runs, including four markers in the home-half of the fifth inning to invole the dreaded run rule, giving Los Matadores a comfortable 13-3 decision over the Kearny Komets.
MMHS pitcher Kylee Perkins scattered six hits while striking out seven Komets batters in her complete-game outing. She was cushioned when her ballclub's offense mounted an early 6-0 advantage.
On offense,, Mount Miguel found four players registering a multiple-hit outing.Heading the list was Sami Jelowdar, who batted 3-for-4 and scored each time she was on base.
Adding two hits each were Ysabell Hernandez, Klarissa Soto and Savannah Carranza.
Hernandez also collected three RBI and now owns a season-long batting average of .500. Hernandez also scored three times, tying for game-honors with teammate Sami Jelowdar.
Carranza also also hitting .500, but only has 10 official trips to the plate. Meanwhile, Soto belted a run-scoring triple inher performance for the improving Matadors.
Mount Miguel (2-4-1 overall) seeks to equal their 2022 mark of 8 run-rule victories. Kearny slipped to 3-7.
= ECS Senor eriter Nick Pellegruino contributed to this report.
239 total views, 1 views today