Valhalla's Ibrahim spins 1-hitter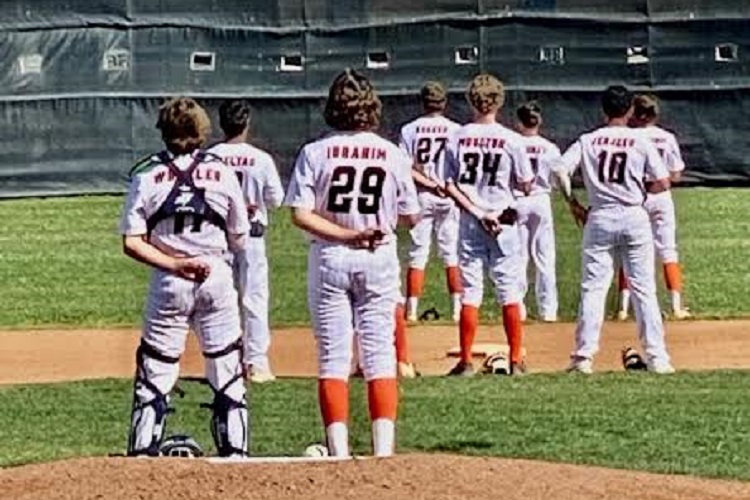 Valhalla Norsemen standing for National Anthem / VHS parent courtesy photo
2023 EAST COUNTY PREP BASEBALL
By Nick Pellegrino
ECS Senior writer
RANCHO SAN DIEGO – In a preview of the Grossmont Valley League baseball championship for 2024, the '23 pennant race remains far from decided when two of the league;s top underclassman pitchers did battle Tuesday (Apr. 19), with Valhalla jumping back into the chase by blanking previously undefeated Monte Vista, 4-0.
Valhalla sophomore pitcher Matt Ibrahim fired his thid 1-hitter of the season, only yielding a sun-blinded double to Jacob Schweizer in the second inning in what otherwise could;ve been a no-hitter under different weather conditions.
Ibrahim struck out six Monarchs batters in his six innings in out-dueling Monte Vista left-hander Gavin Daley, his club ball teammate for SDS/Mizuno club baseball.
"Gavin played with us last summer, so we all know him," said Ibrahim. "He's a good dude, super cool, and everyone on our team knows he's a really good pitcher."
The difference came inthe first inning, when Ibrahim was able to spot his locations early, while Daley needed a frame to fine his location. Thus, a pair of early walks and a hit batter, followed by an error, led to two quick runs.
In high school baseball, it may sound like like a strange judgment, but the contest was then over.
Ibrahim utilizes four pitches to confound Monte Vista, which found it difficult to advance baserunners throughout the contest
"The have a fastball — mainly a two-seamer –along with a curse, slider and spliter," he added. "That gave Monte Vista the same problem we had with El Capitan — we couldn't find a way to advance runners."
Valhalla opened GVL play a victory, then were surprised by El Cap and were already in a must-win situation since there are only 12 league ballgames,so every loss is critical to avoid. Thus, they enjoyed this bounce-back triumph.
"We just weren't able to execute with runners on base against El Capitan," Ibrahim added. "We did a much better job on that today whenever we had opportunities with runners on base. We stuck to our game plan we've had all seoason."
When Valhalla posted a pair of additional runs in the fourth, — again set-up on a pair of walks – the Norsemen strongly believed they were on their way.
"In most of our games, whenever we get ahead, we have the defense and the pitching to hold teams down. We just sya in lock-down (mode) for the whole seven innings."
Ibrahim has now been involved inthree 1-hitters this season. He tossed a complete-game one-hitter against Clairemont, then was one of several pitchers to do the same against Mount Miguel.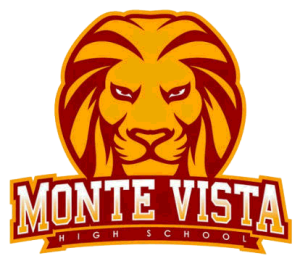 For Monte Vista, despite the steback, the Monarchs remain in competition for the program's first league title this century.
"We told the kids at our very first meeting the season that it's been since 1997 since we've won league and that is out goal," said head coach Jessie Burns, the former El Cap standout when the Vaqueros captured their last CIF championship in the final year with Steve Vickery as head coach in 2013. "The kids voted and said they would put the work in to do it."
The culture of the roster is remarkably different — for the good — than in recent season.
"We biggest adjustment is to be aggressive and start early in games," he dded. "We're a pretty young team with only four seniors, so we should continue to improve."
Burns believes Daley could be one of the front-runners to contend for a GVL crown.
"When he can command his pitches, he's pretty much unhittable," he noted. "After the first inning, he was able to find his rhythm."
Valhalla (11-5 overall, 2-1 GVL) only finished with three hits off Daley, but were aided by six walks and a hit batter.
Monte Vista (9=8, 2-1 GVL) remains just a half-game behind El Capitan, which has a bye.
Scoreboard
Grossmont Hills League
Granite Hills 7, Helix 1
Grossmont 8, Steele Canyon 7 (walk-off)
Bye – Santana
Non-League
Santana 4, at Westview 3
Grossmont Valley League
Valhalla 4, Monte Vista 0
Mount Miguel at West Hills, no report
Bye – ECVHS, El Capitan
Eastern League
Christian 10, Clairemont 2
Scripps Ranch 8, at Coronado 5
Bye — La Jolla
Western League
Patrick Henry 12, at Point Loma 9
Cathedral Catholic 4, Madison 1
Bye – St. Augustine
Summit League
Bayfront Charter at Mountain Empire, no report
428 total views, 2 views today