CIF SOFTBALL PLAYOFFS: Schneider's 7 RBI Helps Sultans Punch Championship Ticket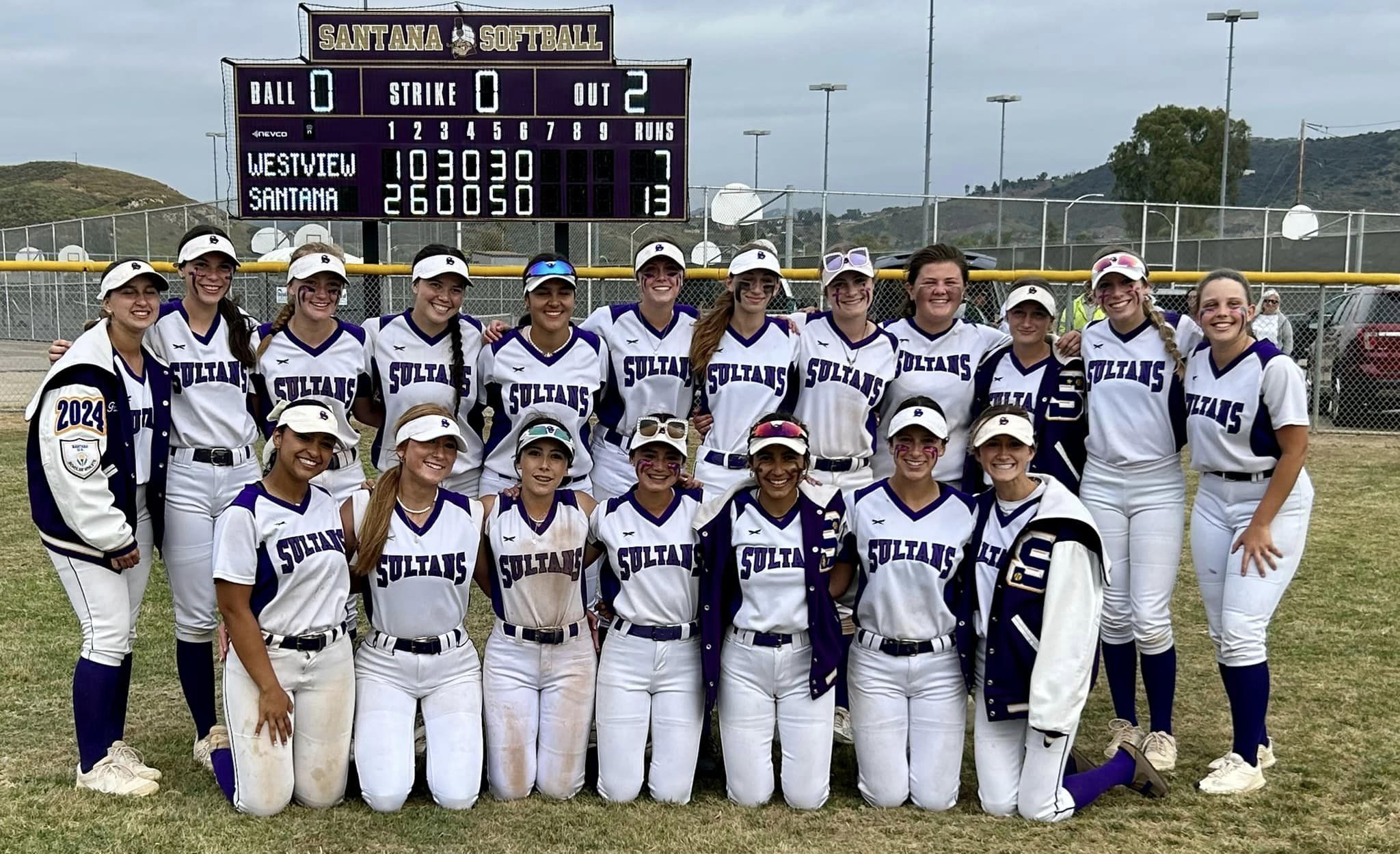 Photo Courtesy of Scott Schneider
2023 EAST COUNTY PREP SOFTBALL
By Adam Paul
CIF SAN DIEGO DIVISION II SEMI-FINALS
#1 Santana 13, #8 Westview 7
SANTEE – Playing a heart-pounding dramatic semi-finals elimination game is a part of the journey for the Santana Sultans. It was no different this time around, except the Sultans would score some insurance runs as they pulled away to claim the victory over the Westview Wolverines on Wednesday (May 24) in front of a packed house to punch their ticket to the championship game.
The last time they made the CIF Division II Championship back in 2017, Santana would play a heart-pounding semi-finals elimination game in which they won 5-4 over the Del Norte Nighthawks in a contest that would see a game of inches come into play. After the dramatic victory, the Sultans would go on to defeat league rival Steele Canyon 7-4 to claim the CIF Division II Championship.
Fast forward to the now (2023), and the way things were going, the Sultans looked like they would win the contest in a shortened mercy rule game. However, it would be far from that.
Santana, who won the previous day's game by a score of 10-0 in five innings, would trail 1-0 on a solo shot by the Wolverines after a half inning of play.
Nevertheless, the momentum would quickly swing to the Sultans as Emma Schneider (3-3, 2 R, 7 RBI, 2B, 3B, HR) would have herself a monster of a game, as she drove in 7 RBI and came oh-so-close to hitting for the cycle. She started out with a two-out solo blast to deep over the center field fence for her eighth of the year. The Sultans would add another run on a ball hit by McKenna Miller (1-4, RBI) that was misplayed, which allowed Delaney Smith to plate giving them a 2-1 lead.
The offense of the Sultans would continue its momentum in the second inning, as they would take advantage of numerous opportunities, starting with a misplayed bunt by Sara Spry (2 R, RBI, SB) that scored Vanessa Ryan (3-4, 2 R, 2B) to make it 3-1.
Later in the inning, Schneider would double to right field, clearing the bases and scoring Kylee Aziz (RUN), Spry, and Taylinn Warren (RUN) to extend the lead to 6-1. An RBI single by Miller and a Kaitlyn Ruckle (1-4, R, RBI) fly ball out allowed Anabella Heguy (1-2, R, RBI) to tag up from third, giving them an 8-1 lead.
However, Westview, who had not been able to take advantage of their own opportunities, would do so in the third inning, cutting the deficit in half.
Slugger Aleya Colon belted a three-run home run over the left field fence to pull them within 8-4.
The Wolverines would keep the pressure going in the top of the fifth inning, thanks to multiple base hits that would score three more runs to cut the deficit to 8-7. But that would be the closest they would get, as Kyleigh Aasen would strike out the next two batters to end the inning.
Santana knew they needed to do something, so they got back to business in the bottom half of the inning.
Back-to-back base hits by Ruckle and Ryan, followed by a walk to Kaitlyn Ours, would load the bases.
The following batter, Spry, after working the count in her favor, would eventually draw the walk to score Ruckle. A couple of batters later, Schneider, who had already homered and doubled, would once again come thru on a 3-2 count as she laced a ball to left field for a bases-clearing triple to put the Sultans up 12-7 She would eventually come in to score on a base hit by Heguy to complete the scoring.
Despite a couple of base hits in the seventh inning, Aasen would eventually get the final batter to fly out to Delaney Smith in left, who squeezed the ball for the final out.
Kyra Olsen started for the Wolverines and would take the loss. The righty surrendered three hits and four runs in her inning of work.
Dawson picked up her ninth and possibly biggest victory of the year, as she allowed four runs on six hits over three innings of work while striking out two. Aasen came in and finished things off, allowing three runs on nine hits over four innings of work, while striking out two.
The Wolverines with the loss see their season end with an overall record of 16-12-1.
Santana sees their winning streak move to four games in a row and improves their record to 21-8-1 overall.
The Sultans will now move on to the CIF Division II Championship game to be played on Friday (May 26) at San Diego State University slated for a 4 PM start time against the #3 Holtville Vikings.
Santana and Holtville have only played once since the MaxPreps era started for softball in 2005, and that was in 2015 in which the Sultans claimed an 11-0 victory.
Holtville will be looking for another CIF championship as they were last in the championship game back in 2021 and beat Bayfront Charter 13-7.
Santana, on the other hand, has claimed six CIF championships, winning in 1984, 1990, 2004, 2008, 2013, and 2017.
753 total views, 75 views today