RedHawks run into resurgent Raiders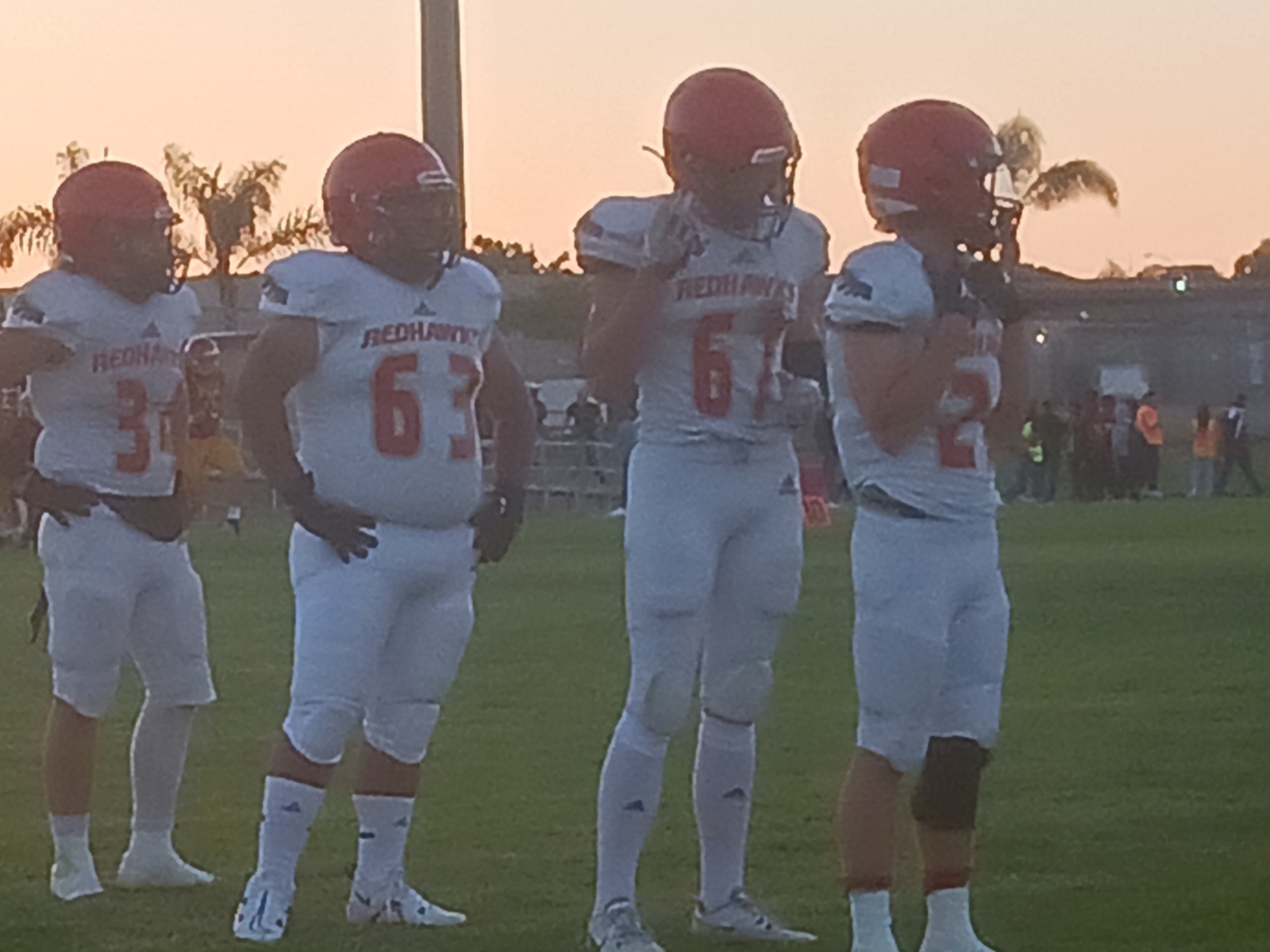 Mountain Empire players on Thursday night. / staff photo
2023 EAST COUNTY PREP FOOTBALL
NESTOR – The Southwest Raiders earned an opportunity to open the season with a 3-0 mark for the first time in more than a decade, out-lasting visiting Mountain Empire, 20-6, in Thursday night (Aug. 24) football at the nation's most southwestern-located school among the conterminous 48 U.S. stats.
Southwest, a traditional ground-oriented program, surprised many with a larger portion of short passes to maintain ball control throughout, including a time of possession advantage of 16:01 to 7:59in the second half.
In 2012, the Raiders opened the football season with a 3-0 record, yet finished the season at 3-7 overall for a school more concerned about futbol rather than the American gridiron version.
In fact, the last (and only) time Southwest ever posted a 4-0 start came in 1990, a streak that included major historical upsets of Lincoln (16-15) and Bonita Vista (21-14)
Meanwhile, Mountain Empire (0-2) showed vast improvement from its Week 1 setback to Hoover — the Cardinals (1-1) fell to San Ysudro earlier in the day — despite being out-manned by a 2:1 ratio in the battle between CIF Division V programs.
The Raiders and RedHawks continued to exchange punts throughout the first half before the hosts broke through on a short 42-yard for the first of consecutive touchdowns in the second quarter.
On short scoring drives both set up on punt returns that crossed the 50-yard line, quarterback Connor Davis tossed the ball just enough to keep RedHawks defenders honest.
"That's a big difference since last season," said Davis, a junior. "We used to just run the ball, but with this new dimension in our offense, we hope to more games this season."
Culumating the TD marches was a 31-yard Davis pass to the left corner of the end zone on the opening snap of the second quarter a 7-0 lead.
A rushing TD made it 13-0 (kick failed) before Mountain Empire hit the scoreboard.
With 27 seconds left in the half, following a 29-yard run off left tackle, Mannix  Gonzalez capped the drive on a short rush.
Although official statistics were not immediately available following the contest, Gonzalez, a senior, went well over 100 yards on the ground.
RedHawks coaches altered its offense to confuse the Southwest linebackers, leading to a score.
In the second half, despite the keep-away attempts by Southwest, the RedHawks received strong individual defense plays.
Included was a sack of Davis by Omar Acevedo, then a run blitz for a loss by a linebacker.
However, the RedHawks stalled four times by failing to convert in fourth down, three times on the Southwest side of the field.
Mountain Empire returns home to open September with a home game against border rival Holtville, starting at 7 p.m.
Southwest goes for its third-ever 3-0 start hosting Kearny at 6:30 p.m. also on Sept. 1.