Scotties, Eagles win; Sultans win in OT
Updated: September 18, 2023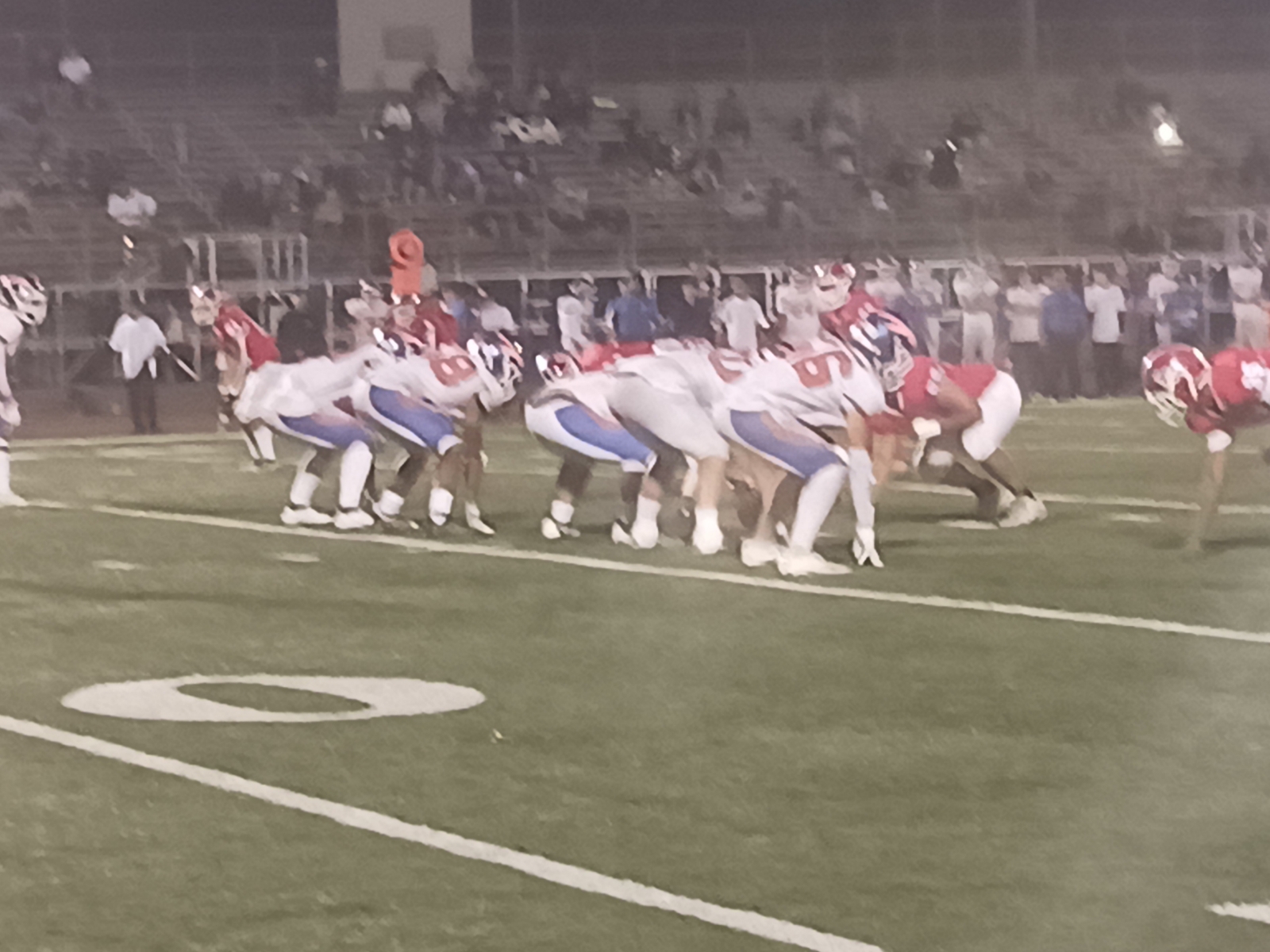 El Cajon Valley lines up against Clairemont. / Nick Pellegrino
2023 EAST COUNTY PREP FOOTBALL
HELIX 35, CATHEDRAL CATHOLIC 21
ECS staff report
CARMEL HIGHLANDS –This year's Helix Highlanders are apparently not to be denied in the fourth quarter.
Buoyed by a long, 48-yard kickoff return to close the third quarter, the Helix Highlanders registered a pair of unanswered touchdowns by running back Kevin Allen III in the final quarter, the Scotties' defense performed a flawless fourth quarter in topping host Cathedral Catholic, 35-21, in a battle of CIFSDS powerhouses at Manchester Stadium.
Helix held a precarious 20-14 late in the third period thanks to a pair of field goals by Joshua Hossmann Lees, but the Dons took a 1-point lead on an 80-yard drive, capped by a 1-yard plunge by Jack Stevens.
However, the Highlanders bounced back to grab the lead for keeps by dominating the final 12 minutes.
A quick, 2-minute drive saw Allen III score from the Dons' 5, with a 2-point pass giving Helix a 35-21 cushion.
On the ensuing possession after the Helix defense forged a 3-and-out, a long punt return to the Dons-39 saw the Scotties' Allen III again score on a 17-yard burst with less than five minutes remaining.
It was Helix's first road win in the series in nine years.
Allen III, a senior, rushed for 212 yards.
Helix (5-0) has been money in the fourth quarter, putting the necessary pressure to dominate and win convincingly.
GRANITE HILLS 34, CENTRAL 6 – The Eagles were strong and impressive in a win over the Spartans on the road.
Central was equal to the task in preventing big gains from Granite Hills.
Instead, however, the Eagles asserted their will over the long haul, turning in consistent yardage-churning scoring drives.
Max Turner of the Eagles rushed for 109 yards and two touchdowns.
Isaiah Jackson added a rushing touchdown for Granite Hills and he also had team-highs with five catches for 62 yards.
Sophomore Tristan Diaz and senior Josh Zander had touchdown receptions for the Eagles.
Zachary Benitez threw for 184 yards and two touchdowns for fourth-ranked Granite Hills.
Damarrion White led the Eagles with five solo tackles, including a sack.
Junior Parker Vance recorded an interception for Granite Hills.
STEELE CANYON 26, VALHALLA 12 – After scoring on punt returns of 72 and 71 yards last week, the Cougars' big-play man Nico Jara returned a free kick 75 yards for a touchdown after Steele Canyon recorded a first-quarter safety on a bad punt snap.
Johnathan Sablan had two rushing touchdowns for the Cougars and rushed for 162 yards.
Jara also had an interception as Steele Canyon retained possession of the Jamacha Helmet.
Junior Evan Hanulak caught a 10-yard touchdown pass from Braxton Estes for Valhalla (2-3) in the first half.
SANTANA 21, EL CAPITAN 14 (OT) – In a see-saw affair that saw the game tied twice plus a pair of lead changes, El Capitan forced overtime with a touchdown early in the fourth quarter.
However, Santana recovered a late fumble, then responded in the first extra session with a 3-yard Jayden Goldman pass to Trent Taylor to stun the Vaqueros, 21-14 in overtime, in Friday's (Sept. 15) game at El Capitan Stadium.
Goldman passed for two touchdowns to Taylor for Santana (4-1).
The pair also had an 8-yard touchdown late in the second quarter to tie the game at 7-all.
Santana's Michael Valenzuela had a 65-yard touchdown on a pass reception from Goldman in the opening minutes of the third quarter.
El Capitan (3-2) tied the game with a rushing touchdown early in the fourth quarter.
The Vaqueros had the game's first score on a 39-yard interception return by GT Taylor.
EL CAJON VALLEY 35, CLAIREMONT 7 – Paris Dixon had a 31-yard touchdown on a pass reception after the Chieftains spoiled the Braves' shutout bid with a touchdown in the fourth quarter.
El Cajon Valley (4-1) rushed for 287 yards and four touchdowns on the night.
El Cajon scored on a 1-yard run in the first quarter by Darick Dubose.
The Braves extended their lead to 28-0 with three rushing touchdowns in the second quarter.
Dubose had a 17-yard touchdown run in the second quarter and a 5-yard touchdown run in the second quarter.
BISHOP'S 24, MOUNT MIGUEL 13 – The Knights brought the Matadors back down to earth with the road victory in Spring Valley.
Mount Miguel (4-1) got a 65-yard pass reception for a touchdown by Jeremiah Castillo from quarterback Matthew Barton in the second quarter with 9:39 to play before halftime, which tied the score at 7-all.
Mount Miguel also scored on a 35-yard pass completion from Barton to Delontay Williams.
Bishop's (1-3) outscored the Matadors 17-6 in the second half.