Ali shows final trick in All-Star game
Barajas is MVP in OT at EastCountySports.com event
By James McHugh
© East County Sports.com
RANCHO SAN DIEGO (3-28-15) — IBRAHIM ALI had one final trick up his sleeve as he closed the door on his high school days on the court, an all-star game MVP. Ali picked up the game honors after his 33 point performance on Friday night (Mar. 27) propelled the East County East team over the West 104-102 in overtime. RICARDO BARAJAS picked up the game MVP honor for the West which was much more balanced on the stat sheet, finishing with 23 points, 11 rebounds.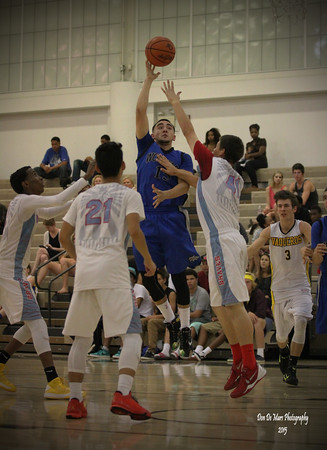 In overtime Ali drove the lane and drew a foul with seven seconds to play (not an easy thing to do in an all-star game), then coolly sank both free throws. Steele Canyon's AARON PISIONA was not awarded the same gratitude at the other end of the floor, fighting through a slew of tough contact before a game tying effort fell just short. Pisiona was a consistent staple on the boards throughout the night for the West and a late consideration for game MVP on the West side, finishing with 12 rebounds.
Head Coach MARTY ELLIS of El Cajon Valley captained the East victory and managed one final win out of most of his graduating seniors. Monte Vista's DEVRON YOUNG dazzled with his quickness and poured home 19 points for the West while DONNELL PAYNE of Mount Miguel and TARIQ TILLMAN of Steele Canyon helped the West maintain the lead for most of the game. Payne scored 14 points while grabbing 12 rebounds and Tillman scored 17, including the game's first seven points while representing the Cougars. Valhalla's JAKE BASSETTE and JACOB HAMMETT took the floor as members of the same team with their league rival Braves, one of the greatest aspects of the all-star experience. The Norsemen were tough on the boards as usual, but Hammett's three point shooting thrust him into the spotlight.
Hammett and Mount Miguel's NATE GILBERT were the finalists in the three point contest, each draining 13 shots in their opening round performance. In the final showdown Gilbert still continued to drain the long range shot, but Hammett defeated him 12-9 to take the three point championship.
ANTONIO READ was Granite Hills' lone representative in the game and provided some excitement by draining a three in the final thirty seconds which propelled the game into overtime. CAMERON HENDERSON had one of the flashier passes of the night, connecting with Pisiona in the first half on a behind the back no look assist that drew some noise from the crowd, in the end though, it was the East prevailing in the extra period.
East: El Cajon Valley – Ibrahim Ali 33 (11 reb, 2 ast, 2 stl), Syon Hicks 12 (4 reb, 1 ast, 1 stl), Brandon Rumley 6 (3 reb, 1 blk), Drake Afaisen 8 (5 reb, 1 ast, 1 stl, 1 blk); Monte Vista – Devron Young 19 (9 reb, 3 ast, 3 stl, 2 blk), Adam Wallace 6 (6 reb, 1 ast, 1 blk); El Capitan – Brian Ballo 6 (8 reb, 2 stl, 1 blk), Ryan Smith (5 reb, 4 blk); Santana – Ryan Bratlien 3 (1 reb), Austin Miller (2 reb, 1 ast, 1 stl); Valhalla – Jake Bassette 2 (4 reb, 1 ast), Jacob Hammett 2 (5 reb, 3 blk, 3 stl, 1 ast); Granite Hills – Antonio Read 7 (2 reb, 1 stl, 1 ast).
West: West Hills – Ricardo Barajas 24 (11 reb, 1 stl, 1 ast), Sahil Alami 6 (8 reb), Issa Ghandour 9 (6 reb, 3 stl), Thomas Reaney 2 (3 reb, 1 stl); Steele Canyon – Tariq Tillman 17 (5 reb, 1 stl, 1 blk), Aaron Pisiona 14 (12 reb, 3 stl, 3 ast); Mount Miguel – Donnell Payne 14 (12 reb, 1 ast, 1 stl), Nate Gilbert 7 (8 reb, 1 ast); Grossmont – Cameron Henderson 5 (7 reb, 4 ast), Deshan Hillman 5 (5 reb).