After MLB draft comes signings
MLB FIRST-YEAR PLAYER DRAFT
Say hello to San Diego's newest millionare
By Bill Dickens
© East County Sports.com
EL CAJON (6-18-15) — Two East County standouts have signed professional baseball contracts.
Slick fielding shortstop KYLE HOLDER, a product of Grossmont College and
the 30th overall pick of the New York Yankees, accepted a $1.8 million dollar signing bonus. That's a healthy vote of confidence offered by the Yankees for Holder.
Meanwhile, UCLA right-handed pitcher CODY POTEET, a product of Christian High who was selected in the fourth round, signed with the Miami Marlins for $488,700.
Final day of the MLB Draft sees four more drafted
By Bill Dickens
© East County Sports.com
EL CAJON (6-11-15) — Four more East County athletes were selected in the third and final day of the Major League Baseball free agent draft on Wednesday (June 10).
Longtime East County baseball standout FRANK CALIFANO, a product of Steele Canyon, has been a record breaker at Youngstown State University
(Ohio). The junior southpaw was drafted as a centerfielder by the Chicago White Sox with the 562nd pick in the 19th round.
Other East County athletes selected in the final round include Granite Hills third baseman JORDAN VERDON, who was the 719th pick in the 21st round by the New York Mets.
The list continues with El Capitan-Southwestern College graduate KEVIN GINKEL, who was taken as the 771st pick in the 26th round by the Boston Red Sox.
Not to be overlooked was ROBBY NESOVIC, a 6-foot-4, 210 pound corner infielder off the UC Santa Barbara campus in the 27th round by the Atlanta Braves. In his last season with the Gauchos he batted .342 with 40 RBI.
Nesovic played 3 years of varsity baseball and basketball for the Grossmont High Foothillers. As a pitcher in his junior year he posted a 1.02 ERA with an 11-0 record and hit .418 with 6 HRs. He helped Grossmont to 3 league championships and a CIF Section championship his sophomore year.
Under the leadership of MICKEY DEUTSCHMAN, Nesovic was a standout pitcher-infielder for the San Diego Stars semi-pro baseball team.
"We just try to make ballplayers. That's all we care about," said Deutschman. "Nesovic could make it as a pitcher or an infielder."
During the 40-round draft, seven East County baseball players heard their name called. KYLE HOLDER went to the Yankees in the first round; pitcher CODY POTEET was selected in the fourth round by the Miami Marlins; catcher JESSE JENNER was the seventh round choice of the St. Louis Cardinals.
Poteet and Jenner both go on day two of the MLB Draft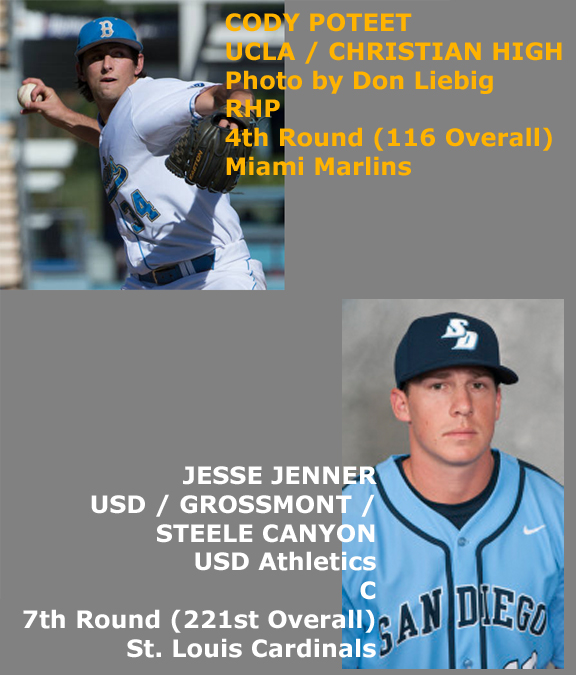 © East County Sports.com
EL CAJON (6-10-15) — When CODY POTEET was a freshman at Christian High in 2009, he was one of the hardest throwing pitchers in San Diego County. Strikeouts was the name of his game as he registered 78 punchouts in 71 innings en route to a 9-1 record as a freshman. That was the spark of a bright future.
Poteet eventually received a scholarship to UCLA for the last three seasons.
The junior right-handed pitcher was selected on day two of the 2015 Major League Baseball Draft on Tuesday (June 9). The 6-foot-1, 188-pound Poteet was selected by the Miami Marlins as the 116th overall pick in the fourth round.
Poteet set career-bests in wins and ERA this season at UCLA, posting a 7-1 record with a 2.45 ERA in 27 appearances (13 starts). His 68 strikeouts ranked second on the team and he held opposing batters to a .230 average over 73.1 innings. A two-time Pac-12 All-Academic honorable mention selection, Poteet has racked up 14 wins in his career at UCLA and currently ranks second on the team in career starts (39).
A Bonita native, Poteet was previously selected out of high school in the 27th round of the 2012 MLB Draft by the Washington Nationals.
JESSE JENNER CLIMBS LADDER
Former Steele Canyon High and Grossmont College standout JESSE JENNER, a senior catcher at the University of San Diego, was selected by the St. Louis Cardinals with the 221st pick in seventh round of Tuesday's (June 9) second day of the 2015 MLB Draft.
Jenner, an All-WCC selection the past two seasons, posted a .314 batting average in 2015 with two home runs and 27 RBI, while playing exceptional defense (.995 fielding percentage).
Jenner, who resides in Jamul, batted .348 in his junior season, his first with the Toreros. He began his career at Cal State Fullerton, then transferred to Grossmont College, before winding up at USD for his final two years.
The final day featuring rounds 11-40 will be tomorrow, June 10, beginning at 9:00 a.m. PT. The final day can be watched live on MLB.com.
Holder Drafted in First Round by Yankees
Photo courtesy of USD Athletic Communications.
© East County Sports.com
SAN DIEGO (6-9-15) — University of San Diego junior shortstop KYLE HOLDER, a product of Grossmont College, was selected in the first round, No. 30 pick overall, in the 2015 Major League Baseball Draft by the New York Yankees.
Holder is the seventh San Diego student-athlete to capture West Coast Conference Player of the Year honors since 2007 and the third consecutive.
Named to the 30-player Golden Spikes Award Watch List, Holder hit .387 with 13 doubles, two triples, one home run and 19 RBI during league play. The junior shortstop turned in a .976 fielding percentage, committing just three errors in 127 chances and contributed to 10 double plays during WCC games. Overall, Holder hit .348 with 78 hits, 14 doubles, two triples, four home runs, and had 31 RBI.
Holder is also currently a semi-finalist for the Brooks Wallace Award, which honors the nation's best collegiate shortstop.
If he elects to sign, Holder could make up to $1-million dollars signing bonus.