Foothills' Leaf decommits from Arizona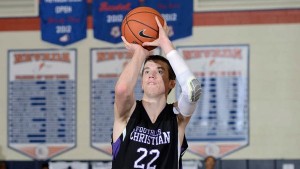 Foothills Christian's T.J. Leaf has backed off his verbal pledge from Arizona, decommitting from the Wildcats on Thursday night.
Leaf, who originally committed to Arizona in November, will reopen his recruitment and immediately become one of the most coveted players in the class of 2016.
Leaf, who averaged 27.4 points and 14.2 rebounds for Foothills Christian last season, is rated as a top-10 prospect in his class by several college basketball recruiting polls. He's a 6-foot-9 1/2 power forward, who also took visits to UCLA, Michigan and Florida before committing to Arizona. Duke was also showing interest.
Leaf was Arizona's only commitment in the class of 2016.
Leaf went public with his decision to decommit and praised Arizona coach Sean Miller and his staff for their recruitment of him.
Thank you to Arizona for the opportunity to play for an outstanding program but I've decided to reopen my recruitment pic.twitter.com/YMynXuhD6o

— TJ Leaf (@Tyleaf_22) August 7, 2015
Leaf spent the past couple of weeks playing for the Israeli national team during the U18 European Championships, winning MVP honors after averaging 16.1 points and 8.4 rebounds in nine games, despite losing a division final game to Sweden by one point.
His travel team program Compton Magic has strong ties to the Bruins. Teammate Ike Anigbogu is a UCLA commitment, and point guard teammate Jaylen Hands of the 2017 class is considered a heavy UCLA lean.
"This was very sudden," Compton Magic AAU coach Etop Udo-Ema said. "When we were in Atlanta (for the adidas Uprising Championships), he was all in. I had long conversations with him and he was completely in."
According to Udo-Ema, Leaf's decision was mostly about making sure he made the right decision.
"The one thing T.J. said to me is that he needs to be 100% certain of his choice," he said. "That's the best way I can relay his stance."
Udo-Ema has already heard from a long list of major programs.
"Everybody," Udo-Ema said. "I just got off the phone with John Calipari. I've talked to Kentucky, Kansas, Michigan, Indiana, California, Oregon, everybody. I have a lot of phone calls to return."
"I'm sure (UCLA) is interested but the question is do they have a scholarship," Udo-Ema said. "I haven't talked to them yet. I'm sure they're going to be interested obviously."
Even though UCLA is a likely player in this recruitment, Udo-Ema says the fact that Leaf is a Compton Magic kid doesn't give the Bruins any advantage.
"UCLA hasn't had a Compton Magic guy in uniform since Arron Afflalo," he said. "They have some Compton Magic commits, but they haven't had a Compton Magic guy in about 11 years. They haven't had anyone in their uniform that has worn our uniform since Afflalo."
Udo-Ema says that Leaf will go through a whole recruiting process before making another decision.
"I can tell you this, he's taking all of his visits," he said. "They're absolutely wide open. Every school in the country is going to recruit this kid. He's going to take a hard look at multiple schools."
Further speculation indicated that Leaf may be considering turning pro immediately and playing one season in Israel, his natural-birth country, before returning to enter the NBA Draft in June.