Helix looking for OPEN title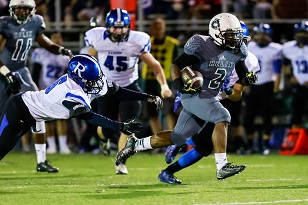 DonDeMars Photography
This is the eighth of a 13-part series that will take a look at each football team that East County Sports.com covers.  Each day, we will look at a different school, leading up to the final preview which will be published on the day that most of the teams in East County have their scrimmage leading into the 2015 season.  This edition we look at how the Helix Highlanders will attempt to get back to the OPEN championship game.
By Chris Davis
© East County Sports.com
LA MESA (8-16-15) — If you say the word "Oceanside" near any Highlander, you will get a death stare.  The Highlanders are not big fans of the Northernmost coast city in San Diego County.  Of course when you face a team like Oceanside and have a 1-6 record against the Pirates in the Championship game since 2004, and 2-7 overall in the same time frame you're not going to be big fans of that school or team.
To be fair though as coach TROY STARR points out, "We suffered two catastrophic losses on the offensive line prior to the Oceanside game."
The good thing for Helix is that they have quite a bit of returners coming back from last year's OPEN Division runners up squad.
Roster breakdown:
Quarterback:  By one publication MICHAEL AUSTIN is the best quarterback in the San Diego Section.  Warming up in the wings is Valhalla sophomore transfer CARSON BAKER, who is described as a pure passer by Starr.
"He's improved over the summer," Coach Starr said about Austin, his starting QB.
Running backs:  NATHAN STINSON (1,386 yards, 19 TD's in 12 games) is as Coach Starr says, "In my personal opinion the best back in the county."  Stinson, even with all the accolades that he has been honored with, has at least one big question mark.  Can he take a team and put them on his 5-foot-6, 180-pound back?  With all the weapons that Helix possesses, that could be a hard question to answer. When you have JIHAD WOODS, who racked up 134 yards on 27 carries and four touchdowns in what was an injury-shorted season last year, it adds promise to the running game.
"After the first couple of games last year he might have been the best player in the county," Starr quipped about Woods.
Wide receivers:  MEKHI STEVENSON and his 22 catches for 395 yards and four touchdowns in eight games returns and ascends to the top spot on the depth chart.  RASHAD SCOTT is a talented sophomore, SCOTT YOUNG will switch over to the offense this season.  ZEKE NOA will move from the backfield last year to a wide out this season.
"Mekhi needs to improve his game, but we are expecting big things out of him," uttered Starr.
Offensive line: BLAYKE DE LA ROSA returns to anchor the line.  Surrounding him will be four new players.
"The offensive line is a bit of a concern right now," conceded Starr.
Defensive line: FORREST HANLON (Sr., 6-2, 240) has heard from multiple schools that want to offer a free education.  LOPAKA ROJAS (6-1, 295, So.) is battling for playing time.
"Forrest is a grown man and has been a starter since he was a freshman," declared the eighth year head man.
Linebackers: Woods, Noa and TYLER CLANTON are solidly in the starting rotation.
"Jihad, Zeke and Tyler all had a great spring and summer," Starr stated.
Defensive backs: EVAN PERKINS returns after his sophomore season.  Young will resume his duties as the strong safety, the rest of the secondary is a battle that is continuing during camp.
Special teams: AUSTIN ROWLEY will continue his duties as kicker and punter at Tennessee State University.  KEATON CHASE is going to step into the punting role for the Highlanders.
"He (Rowley) kicked balls off in front of 10,000 people, so he is a proven guy," Starr expressed.
Schedule:
Saturday, August 29th, will see the Highlanders face Scottsdale, Arizona's Chaparral High at Cathedral Catholic at the unusual time of 2 p.m.
After their first bye week, Eastlake will travel to Jim Arnaiz Field.  The Titans won the Metro-Mesa League last year before bowing out in the first round of the OPEN Division.  The third game of September will be a major OPEN Division battle of North vs. South when Cathedral Catholic comes to La Mesa.
October opens with a road date at Southwestern College's Chet DeVore Stadium to take on Bonita Vista.  Week seven will see the opening of Grossmont Hills League action at Steele Canyon.  The third week of October will be a classic East County rivalry game as it is for the Claymore Sword as Mount Miguel travels to their neighbors.  October 23rd will have Helix travel to Norseman Stadium for a contest with Valhalla. Halloween Eve is rivalry week as it is time for The Musket against what could be considered "Big Brother" (Grossmont being the oldest school in the GUHSD and Helix is labeled as School #2).
The last week of the regular season will be Homecoming against El Capitan.
"The CIF championships have lost their glory nowadays, but the OPEN Division championship and the Division II championship are legitimate championships," Starr expressed.