Foothills Christian changing gears for football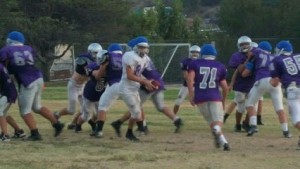 NOTE: This is the ninth of a 13-part series that will take a look at each football team that East County Sports.com covers.  Each day, we will look at a different school, leading up to the final preview which will be published on the day that most of the teams in East County have their scrimmage leading into the 2015 season.  This edition we look at how the Foothills Christian Knights will transition from 11-man to 8-man football.
By Chris Davis
© East County Sports.com
EL CAJON (8-17-15) — When a team goes 0-10, they usually take a month or two to figure out what exactly went wrong.  Well, Foothills Christian did exactly that.  What it came down to was a lack of players, so the Knights along with about nine other teams in the CIF-San Diego Section decided, let's try eight man football.
The main differences between eight and 11 man football is that obviously there are three fewer players, but the field is about 12 yards (six on each side of centerline) narrower.  The CIF-SDS has decided that all 11 teams will continue to play on a full 100 yard field so as to keep the option of field goals still available.  Listen to Coach REY LYYJOKI explain the differences between eight and 11 man football here.
Roster breakdown:
Quarterbacks: Coach Lyyjoki was able to talk DANIEL HOFFMAN into coming out for football.  Hoffman comes from the Knights Basketball (guard) and baseball (outfield) teams.  Hoffman was on the football team last year as a wide receiver, but they have moved him under center this year to take advantage of his throwing power.  Also in the quarterback group is WYATT BASSON, ELI HALE and STEVEN LEONCINI.
"We have the opportunity to get Daniel familiar with the smaller field this year to better prepare him for his senior season next year," Coach Lyyjoki said.
Running backs: Hale along with NATHAN HAMILTON will be a couple of the options out of the backfield.
"Eli maybe a slightly smaller than what you would normally want at running back, but he has such a huge heart and he has the speed and agility," the second year head coach said.
Wide receivers: Graduation has hit this grouping pretty hard.  Three players from the 2014 squad have departed campus.  CONNOR GEORGE is a senior that has come more from a basketball background, but has the height that could be a problem for opposing defenses.
"We've got a couple of freshmen to come in, we're going to see how they do catching under pressure," the coach said.
Offensive line/Tight ends:  In eight man football, much like arena football, you only have a three man line, as coach said "the size of the pocket goes from the size of a Cadillac to the size of a Yugo."  Two returners from last year are ANTHONY MALCUIT and ISAIAH BARTALOME who are both in the 6-1, 285-300 range.
Defensive line: ILYJAH BARTALOME was real good at making opposing linemen frustrated last year.  Also joining Bartalome on the line is NOAH HAMILTON who has been putting up some big numbers in the weight room.
"Ilyjah has a lot of smarts and speed," Coach said.
Linebackers: With the loss of three of the players that were playing both ways, the Knights have zero experience in the linebackers.
"We are looking for not just a hitter, but someone that can direct," coach said of his line backing corps.
Defensive backs: Again, not much returning experience here.  Basson and GARRETT BACNKHEAD are both 5-10 guys that have speed.  GERRIT BARNHILL looks like he might be able to cover the deep portion of the field for the Knights.
"We some height, now we just need to teach them how to read the receiver," said Lyyjoki.
Schedule:
With only 11 teams in San Diego it is relatively hard to find opponents within a short distance.  Up in the Southern Section in Los Angeles there are over 40 teams that play eight man, some even have eight man junior varsity squads.
The season opener will be in Wildomar (near Lake Elsinore) against Faith Baptist Academy.  The Swordsmen have only been playing football on the eight man level (and overall) for only three years, but last year they went 6-3 and didn't make the six team playoffs.
September will open with another road trip, this one much closer to Ocean View Christian which is down in Imperial Beach/Nester.  Week three of the season will be the first week that school will be in session and what better time to have the home opener against Julian?  The 18th of September will see the Knights heading North to San Pasqual Academy.
Due to a lack of teams, the Knights will have back to back bye weeks.  So that will give the team to work on a few more plays.  Play will resume on October 16 when Ocean League play begins with The Rock Academy at home.  Week nine of the season has the Knights back out on the road as they head to Chula Vista to take on Calvary Christian Academy.  The final week of October has a matchup against the San Diego Jewish Academy at home.
November will see the Knights finish the season with a road contest at Calvin Christian in Escondido.
If you like high scoring games that seem to also be close scoring, go check out a game if you have the opportunity.
NOTE: Training camp video is from 2014 season.