Hawks blank Cal Tech, continue shutout streak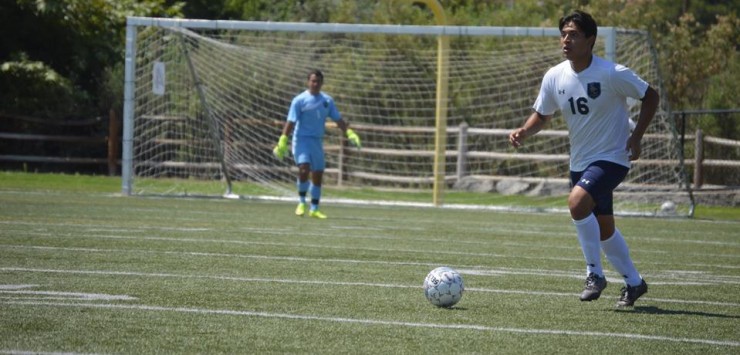 San Diego Christian 5
VS
California Institute of Technology 0
Special to EastCountySports.com
SANTEE, Calif. – In the first two games for the San Diego Christian Men's Soccer team, they have outscored their opponents 8-0. That total grew by five as they defeated Cal Tech 5-0 on Saturday to improve to 3-0 on the season.
The Hawks registered 24 shots but couldn't find the back of the net until the 36th minute into the game.
Joseph Fortini (JR/Santee, CA) streaked down the left side and passed it to a charging Borja Suarez (JR/Barcelona, Spain) who placed it to the left of the goalie for a 1-0 lead. A minute later, Alex Saliba (SR/Rio De Janeiro, Brazil) had a good look to make the score 2-0 but his shot went just wide of the target as SDC held a 1-0 lead at the break.
Matheus Arrieta (SR/Rio De Janeiro, Brazil) made the score 2-0 as he took a pass from Patrik Borchmann (SR/Germany) and buried the ball in the net. In the 65th minute, the Hawks received a gift from the Beavers as an own goal from Cal Tech made it 3-0.
Suarez showed off his talent as he took a pass from Jose Valencia (SO/San Diego, CA) and back-heeled the ball into the goal from 15 yards out.
Jonathan Eloysio (JR/Rio de Janeiro, Brazil) capped all scoring in the 89th minute with a well-driven ball just below the crossbar from the top of the box.
The Hawks didn't allow a single shot from the Beavers. Ryan Huerta (SR) and Chandler Corzine (SR/Pine Grove, CA) held on to share the shutout.
SDC will be back on the field to take on La Sierra at home on Sept. 3 with kickoff starting at 2:30 p.m.
Cal Tech (0-1)
0
0
0
SD Christian (3-0)
1
4
5
Santee, CA
Scoring Summary
Period
Time
Player
1
35:47
SUAREZ, Borja (SD Christian)
2
55:36
ARRIETA, Matheus (SD Christian)
2
64:38
TEAM (SD Christian)
2
82:12
SUAREZ, Borja (SD Christian)
2
88:17
ELOYSIO, Jonathan (SD Christian)
| Cal Tech | Indv. Leaders | SD Christian |
| --- | --- | --- |
| None | Goals | #7 SUAREZ, Borja – 2 |
| None | Assists | 3 Players – 1 |
| None | Shots | 4 Players – 3 |
| #1 JD Feist – 6 | Saves | None |
| Cal Tech | Team Statistics | SD Christian |
| --- | --- | --- |
| 0 (0) | Shots (on goal) | 24 (11) |
| 6 | Saves | 0 |
| 11 | Fouls | 11 |
| 2 | Corner Kicks | 6 |
| 1 | Offsides | 4 |