Flexible Highlanders heading to Wazzu
2015 EAST COUNTY PREP FOOTBALL
By Bill Dickens
© East County Sports.com
LA MESA (09-01-15) — Helix Highlanders' MASON VINYARD, a 6-foot-5, 220-pound wide receiver-tight end has committed to Washington State.
His teammate, inside linebacker JIHAD WOODS previously committed to the Pac-12 Cougars of Washington State this spring. Three months later the 5-foot-11, 215-pound linebacker has no regrets about selecting WSU and remains firmly locked into his decision.
Vinyard turned down offers from SDSU and San Jose State to accept the Big 12 bid from WSU. During his junior season he had 25 receptions for 353 yards and 4 touchdowns. As a senior with the Highlanders this season, Vinyard has been tabbed as a rush linebacker when he arrives in Pullman.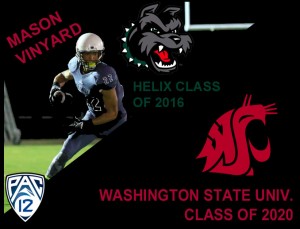 Woods also received offers from San Jose State after he committed to WSU. There is now more focus on his senior season at Helix High School. Last year the three-star prospect struggled with nagging tendon and muscle injuries throughout his junior season.
Woods decided to try yoga this summer to counteract the tension put on his muscles by playing football. Just three days a week of yoga has already worked wonders for Woods, who has seen improvements in several aspects of his game during summer workouts.
"I feel great. With all the training I've been doing I feel this will be my best season yet," said Woods on his summer workouts and his health heading into his senior season. "I've been doing conditioning, speed drills and stretching to prevent injury. I've also gotten into yoga and it really works. It's helped tremendously. Last season I suffered from tight muscles and that really physically limited me. Now that I'm actually working to loosen these muscles I already feel the difference."
This is pretty good news for the Highlanders, where throwing the football has become a secondary thought.
#Wazzu has landed a pledge from three-star Mason Vinyard from La Mesa (Calif.) Helix. Huge steal, great at SC camp pic.twitter.com/do1UTNi6Bg

— Adam Gorney (@adamgorney) September 1, 2015