Patriots' power, speed give Pack lesson at home
Updated: September 5, 2015
Tammy Ryan
By Bill Dickens
© East County Sports.com
SANTEE (9-5-15) — There are those in the Inland Empire that believe that Christian High is the second best team in East County. Of course there's no proof to that, but the Patriots came out and pulverized West Hills 44-23 in Friday night's (Sept. 4) non-league contest.
This is a team with speed, size and an aggressive defense. Those ingredients have hoisted the Division II Patriots into the San Diego Section Top 10.
"They have a tremendous offense," said West Hills coach CASEY ASH. "And their defense was able to stop the ball."
The 2-0 Patriots used their blazing speed to blow past the Wolf Pack. Running back ADRIAN PETTY rolled up 114 yards on 22 carries, but his big knockout punch was an 84 yard punt return for a touchdown.
"No doubt, our speed allowed us to control the game," Petty said.
In terms of his punt return, Petty said, "It was open so I took it and ran."
Petty played double duty.
"I love playing defense almost as much as I love carrying the ball," he said.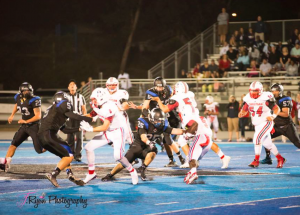 Christian quarterback DAVID TODD JEREMIAH completed 15 of 26 passes for 241 yards and 4 touchdowns in the Patriots' romp. His aerials included four passes for 109 yards, including a 71-yard touchdown toss to NICK SEXTON.
Sexton got crushed on a pass over the middle by a Wolf Pack gang in the second half, but miraculously held on.
"I got smacked pretty good but that's why I signed up to play this game," Sexton said. "Every play is physical to physical."
Sexton finished with four catches for 109 yards.
Hard-nosed running back JOEY MORONES caught a 43-yard touchdown pass for the Patriots.
BENJAMIN (THEO) GOODWIN caught the Patriots' final touchdown on a 32-yard aerial from Jeremiah.
Double threat BRANDON HESTER made a touchdown-saving tackle by chasing down the Wolf Pack's JOVAN BEA, who was headed for paydirt after a 57-yard gain but was dropped at the 5-yard line.
"I saw him break for the open and get free," Hester said. "So I went after him and managed to catch him with a layout tackle."
Hester scored the Pats second touchdown on a 12-yard pass from Jeremiah in the beginning of the second quarter.
NATE CAZARES kicked a 32-yard field goal and was 4-5 on PATs – one spoiled on a bad snap – for Christian.
West Hills quarterback SPENCER MOYER accounted for 173 yards, including one touchdown pass and one score on the ground.
Bea rushed for 88 yards on 6 carries. He caught 3 passes for 39 yards for the Pack.
JUSTIN HANCOCK hauled in a 17-yard pass from Moyer in the fourth quarter.
CJ ERWIN got West Hills on the board with a 32-yard field goal with 3:32 remaining in the first period.
After falling to 0-2 Ash has hardly given up the fight.
He said, "Christian is a really good team; we're working on becoming a really good team."
---