Braves open season with road shutout of Aztecs
Updated: September 5, 2015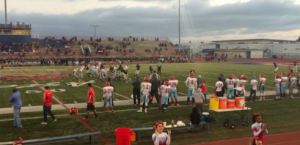 EastCountySports.com staff report
SAN DIEGO – With a bye to open the season, El Cajon Valley had an extra week to think about season-opening opponent Montgomery.
However, the Braves looked as if they had prepped for this game all summer, as they were more than ready in a 28-0 win over the host Aztecs.
NATHAN MCCULLOUGH ran for 150 yards and three touchdowns and the Braves' defense held Montgomery to just 51 totals yards, dealing the Aztecs their second-straight shutout.
McCullough had runs of 7 and 13 yards in the first half, as the offensive front of MUHAMAD TAHIR, ADEL MORALES, ANDREW KANA, TYLER PANNEL and JEREMIAH VALDEZ.
McCullough carried the ball 25 times to shoulder the load, while Charles Smith had six carries for 80 yards. Tyson Smith was 4-for-14 for 85 yards.
Pannel, also an outside linebacker, blocked a punt, had two fumble recoveries and three sacks.
MLB FAAMAMA LAUIFI had a strong defensive game, while Cana was a standout on the defensive front, according to Braves' head coach PARRIS PISIONA.