Fearless Forecaster Week Three
Updated: September 11, 2015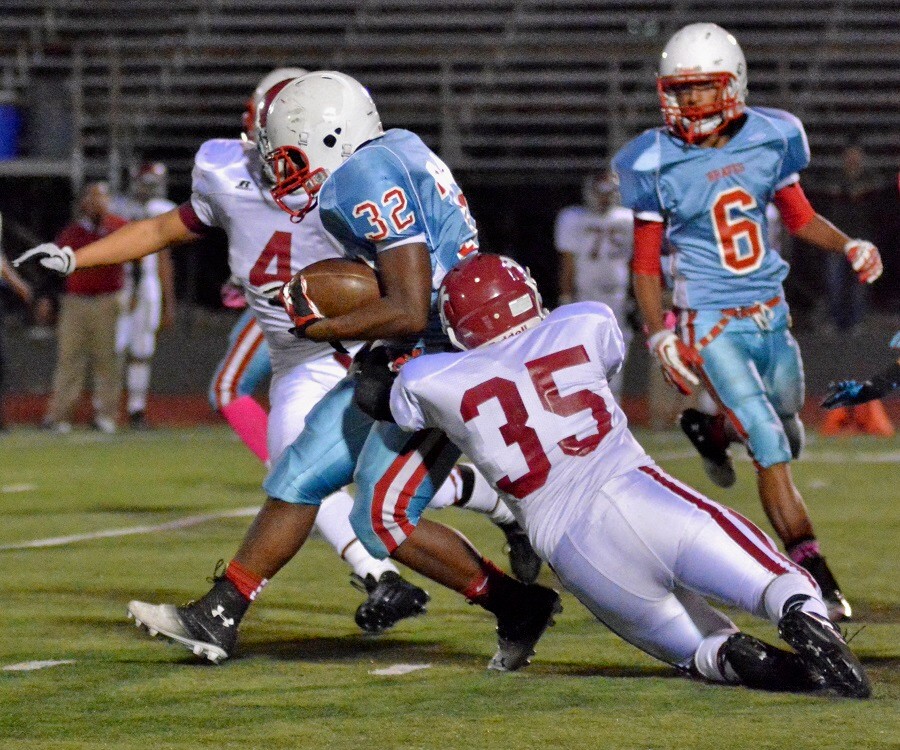 EL CAJON VALLEY RB NATHAN MCCULLOUGH (EastCountySports.com photo)
2015 FEARLESS FORECASTER
Week 3
By Bill Dickens
© EastCountySports.com
EL CAJON (9-10-15) — El Cajon Valley, under new head coach PARRIS PISIONA, will attempt to make it back-to-back victories to open the season for the first time since 2012, when the Braves host University City on Friday (Sept. 11) in a non-league encounter.
The Braves are coming off a 28-0 skunking of Mongtomery, while the Centurions of University City split their first two games, rocking Del Norte 34-14 and falling to Mission Bay 43-13.
"We'll be playing a very organized, disciplined team this week," Pisiona observed. "They run a lot of stunts on defense and probably about 50-50 on offense run and pass."
El Cajon Valley's NATHAN McCULLOUGH, East County's leading rusher averaging 187 yards per game with 3 touchdowns, will spearhead the Braves' offense.
"He doesn't have breakaway speed but he's a tough runner between the tackles," Pisiona noted.
Defense may be the key for the Braves, who look to tackles TYLER WILLIAMS, ANDREW KANNA and middle linebacker FAAMAMA LAUIFI. TYSON SMITH will also serve as the Braves' quarterback and free safety.
The Braves have never beaten University City in three tries, including a 35-7 loss last year . . . University City 28-14.
EASTLAKE (1-1) at HELIX (0-1), 7 – Following a 23-19 loss to Scottsdale Chaparral and coming off a bye, No. 3 ranked Helix will open its home season against No. 8 ranked Eastlake in a non-league battle of Top 10 teams Friday (Sept. 11) in La Mesa.
The Highlanders had difficulty getting their offense in gear against the Arizona outfit. They must do a better job of breaking loose running back NATHAN STINSON, who rushed for 103 yards on 21 carries. More than half those yards came on a single carry of 52 yards.
The Scotties must pick up the passing game of quarterback MICHAEL AUSTIN as well, who completed only 9 of 21 passes for 81 yards.
Eastlake will give the ball to RB Traylon Reed, who rushed for 297 yards and 4 touchdowns on 40 carries in a 14-13 loss to La Serna and a 34-28 win over El Toro.
These two teams have split two previous meetings and this one should be just as close . . . Helix 17-14.
MOUNT MIGUEL (1-1) at OTAY RANCH (1-1), 7 – For the second year in a row it seems like Otay Ranch should be in the Grossmont Conference.
For the third week in a row the Mustangs will meet an East County opponent when they host the Mount Miguel Matadors in a non-league game on Friday (Sept. 11).
Otay Ranch edged Valhalla 14-7 in week one and dropped a 28-27 decision to Grossmont last week.
Mount Miguel coach SHAUN McDADE believes those are building blocks for his Matadors, who crushed Chula Vista 44-24 in week one, and then submitted to Poway 24-6.
The Mustangs quarterback Oscar Limon completed 18 of 131 passes for a TD and also rushed for two scores.
Running the ball is Mount Miguel's forte.
"The best days are still ahead for the Matadors," said McDade. "We'll probably go with both ANTOINE HAMILTON and ANTHONY GILMORE in the backfield at the same time. Hamilton is an up-the-middle guy and Gilmore is a side-to-side guy."
The duo have combined for 256 yards and 4 touchdowns.
This will be the fourth meeting between these two teams and the Mustangs own a 2-1 edge. But the Matadors have an excellent chance of balancing the books  . . . Mount Miguel 21-18.
CHRISTIAN (2-0) at SALESIAN (2-0) (Los Angeles), 7 – Although there are games with national impact throughout the state this weekend, this is a game that can't be overlooked when Christian visits Salesian Friday night (Sept. 11) in Los Angeles.
"They have a lot of skill guys," said Patriots offensive coordinator and assistant head coach DAVID BEEZER of the Mustangs. "They're a big play bunch."
Such is the same for the Patriots who have beaten their opponents 81-44. Salesian clipped Pasadena Muir 34-14 and La Canada 27-0.
Quarterback DAVID TODD JEREMIAH directs the Patriots attack, having completed 34 of 52 passes for 548 yards and 7 touchdowns.
Of course this is no one-man show. Running back ADRIAN PETTY has 35 carries for 196 yards and a touchdown. He's also a definite threat on the return team.
This will be the first meeting between these two teams, so the coin is in the air . . . Christian 28-24.
STEELE CANYON (1-1) at GRANITE HILLS (1-1), 7 – This Friday night (Sept. 11) game shapes up as a quality face-off as the Cougars try to cage the Eagles at Valley Stadium.
As close as this game is on paper, history favors Steele Canyon, which has won 8 of the 10 previous meetings. That shouldn't carry a lot of meaning when these two teams collide.
MALCOLM ANDERS will lead Steele Canyon's ground assault with 210 yards and 2 TDs on 27 carries, with help from PIERRE ALEXANDER (10 carries for 83 yards and 2 TDs).
The Eagles have scored 46 points in their first two games, led by running back LYNDON FRANKLIN who rushed for 165 yards for one touchdown on 26 carries. THOMAS YOUMOG added 26 carries for 94 yards and a score.
Granite Hills' passing unit has been shared by two quarterbacks, FRANKIE LUCATUORTO and JACOB SIEGFRIED.
The Cougars are not a pass-happy outfit, as indicated by THOMAS FISHBURNE, who completed 13 of 24 aerials for 177 yards.
Forget about history . . . Steele Canyon 26-21.
CASTLE PARK (0-1) at SANTANA (2-0), 7 – Not many expected Santana to come out of the chute as fast as it has, but the 2-0 Sultans are no joke, outscoring its first two opponents 113-19.
Running back BOBBY WALLACE has bolted for 291 yards and 4 touchdowns on 29 carries, while quarterback FRANKIE GUTIERREZ has scampered on 19 carries for 159 yards.
But Gutierrez is a double threat. He's completed 14 of 16 passes for 258 yards and 4 TDs.
Castle Park has scored only six points in its only game, but should be no match for the Sultans . . . Santana 28-6.
EL CAPITAN (0-2) at WEST HILLS (0-2), 7 – These two victory hungry teams will collide in a non-league game at West Hills Friday night (Sept. 11), with each team looking to break into the win column.
The Vaqueros, of course, are used to riding high on the hog, having fallen just 10 yards short of capturing a state championship a year ago. So it's definitely been an uphill struggle for them as they try to regain their footing in a rebuilding year.
STEVEN HOSAKA will carry the load for the Vaqueros, garnering 113 yards on 18 carries.
West Hills, on the flip side, counts on quarterback SPENCER MOYER, who has rushed for 158 yards and a touchdown on 23 carries. Moyer has also completed 13 of 52 passes for 149 yards and 2 touchdowns.
Never mind the fact that the Vaqueros have buried the Wolf Pack 96-33 over the past two years. This one's a coin flip . . . West Hills 21-16.
MONTE VISTA (0-2) at PATRICK HENRY (1-1), 6:30 – The Monarchs will attempt to regroup after suffering a 40-0 pasting by Steele Canyon. The Monarchs, however, a week earlier put on a good show against Hoover before falling 37-26.
Monte Vista is a ground-based offense led by KYLE AGAPE, who rushed for 85 yards on 25 carries. JACCOB JARDIN ran for 7 carries on 39 yards and a TD, and JALONTAE JONES rushed on 15 carries for 76 yards.
Patrick Henry lost to Granite Hills 36-21 in the opener, but rebounded to beat Hilltop 40-14 last week.
Monte Vista quarterback TRE OWENS completed 7 of 13 passes for 99 yards and a touchdown against Hoover in game one.
Patrick Henry's John Demos has completed 22 of 60 passes for 533 yards and 7 touchdowns. Receiver Kreig Corkhill has caught six passes for 231 yards and 4 touchdowns.
The nod goes to . . . Patrick Henry 28-13.
MOUNTAIN EMPIRE (0-2) vs. CALIFORNIA MILITARY INSTITUTE (0-2) at Perris, 6 – In a battle of winless teams, the Red Hawks have to believe they have a shot at a victory against CMI in Perris on Friday (Sept. 11).
The Roughriders were crushed by Aquinas in the opener 84-14, but rebounded to lose by only 20-16 to Marshall of Pasadena.
Running back JAMES WILL carries the load for Mountain Empire with 37 carries for 215 yards and 2 touchdowns to spark the Red Hawks.
This should turn into a scoring free-for-all . . . Mountain Empire 37-34.
8-man
JULIAN (1-1) vs. FOOTHILLS CHRISTIAN (1-1) at Jr. Seau Field, 7 – Quarterback DANIEL HOFFMAN is the ringleader for Foothills Christian with 30 carries for 326 yards and 6 rushing touchdowns .
This should be another shootout for these high-scoring teams, as it will be every week . . .  Foothills Christian 42-41.
Grossmont and Valhalla both have byes this week.
Fearless Forcaster Record
Weekly:  7-3 (.700)
Season:  15-8 (.652)