Henry rushes roughshod over Monarchs
Updated: September 12, 2015
EastCountySports.com staff report
SAN DIEGO – The visiting Monarchs could not overcome their sputtering offense and lack of depth as they succumbed to Patrick Henry (2-1) in Friday's (Sept. 11) non-league encounter on the Patriots' soil, 48-7.
Monte Vista's lone score came on a 56-yard touchdown pass from quarterback DENNIS DAHLIN to TRE OWENS, enabling the Monarchs to avoid the shutout, that made the score 38-7.
The Monarchs trailed 45-7 at halftime and played with a running clock for the second week in a row.
"We're having real trouble stopping people," said Monte Vista coach RON HAMAMOTO. "But the bottom line is, I hope our kids don't quit on us. It's tough. We keep improving and I think we'll be okay in a week or two."
The Patriots got off to a quick start on Friday, leaving a path of Monarchs in their wake.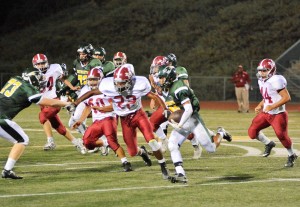 Zaryan Cook rushed for 28 yards on the first play from scrimmage near mididld, then four plays later John Demos hit Dominick Shivels with short pass for an 8-yard score just two minutes in.
Izay Williams had a knock-down sack on the ensuing possession, then Andrew Hertach had a fumble recovery for a short field.
Cook then had an 11-yard touchdown run, as part of three first half touchdowns for the senior.
Shivels added an explosive punt return off a bouncer to make a 67-yard highlight-reel score shedding a handful would-be tacklers. Then he turned the trick again for a long score on a short flare to the right that he turned into a 71-yard score.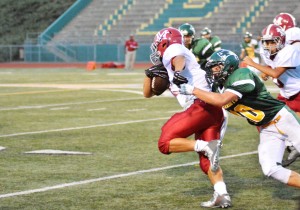 ---