San Marcos gets physical with Hawks in 2-0 win
Updated: September 12, 2015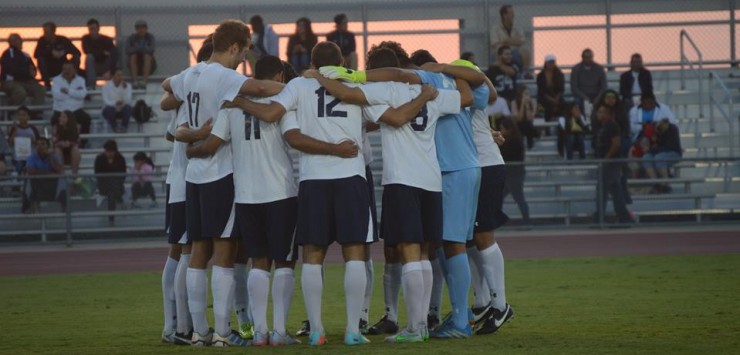 San Diego Christian

California State University-San Marcos
Special to EastCountySports.com
SANTEE – The San Diego Christian Men's Soccer team was on the other end of a physical non-conference battle with Cal State San Marcos falling 2-0 Saturday morning.
The game witnessed 39 fouls and nine yellow cards.
With the loss, the Hawks fall to 4-2 after winning the first four games of the season. The Cougars improve to 2-1-1.
Borja Suarez registered the first shot in the game but his attempt was saved by the CSSM keeper, nine minutes into the game.
But three minutes later, the Cougars found the back of the net to take the 1-0 lead. Danny Guzman took a rebound shot from Zech Olow, took a few dribbles and slotted it home.
The Hawks couldn't get much going on offense before the half heading into the break trailing 1-0. SDC tallied six shots in the first half, so did the Cougars.
In the first four minutes of the second half, the physical play dominated the flow of the game as both teams combined for four yellow cards.
Pedro Henrique tallied two shots in the second half as the Hawks looked to tie the game at 1-1 but both of his attempts were not on frame.
In the 75th minute, the Cougars doubled their lead as a cross from the right side found Eddie Guerra. Guerra took two touches and his shot went past SDC Ryan Huerta.
Huerta finished the game with two saves and two goals against.
The Hawks look to get back to their winning ways on Wednesday as they host Providence Christian. Kick off is scheduled for 12:30 p.m.
MEN'S SOCCER – 

SAT, SEP. 12, 2015 AT 5:30 PM 
Final
1
2
F
Cal State San Marcos (2-1-1)
 1
 1
 2
SD Christian (4-2)
 0
 0
 0
Scoring Summary
Period
Time
Player
1
12:43
Guzman,Danny (Cal State San Marcos)
2
74:36
Guerra,Eddie (Cal State San Marcos)
| Cal State San Marcos | Indv. Leaders | SD Christian |
| --- | --- | --- |
| 2 Players (#8,#12) – 1 | Goals | None |
| #7 Olow,Zach – 1 | Assists | None |
| #12 Guerra,Eddie – 5 | Shots | 2 Players (#10,#11) – 3 |
| #1 Sherwood,Landon – 4 | Saves | #28 HUERTA, Ryan – 2 |
| Cal State San Marcos | Team Statistics | SD Christian |
| --- | --- | --- |
| 10 (4) | Shots (on goal) | 12 (4) |
| 4 | Saves | 2 |
| 24 | Fouls | 15 |
| 3 | Corner Kicks | 3 |
| 4 | Offsides | 1 |