Lawrence throws four touchdowns in first USD start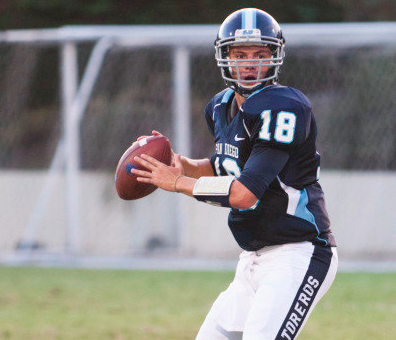 USD QUARTERBACK ANTHONY LAWRENCE LOOKS DOWNFIELD ON SATURDAY
2015  4-YEAR COLLEGE FOOTBALL
By Bill Dickens
© East County Sports.com
EL CAJON (9-13-15) — It was another big day for East County athletes in the college ranks on Saturday (Sept. 12).
The highlight of the afternoon was the passing of University of San Diego's redshirt freshman quarterback ANTHONY LAWRENCE, a product of Grossmont High, who completed 20-of-34 passes for 254 yards and 4 touchdowns in his first start for the Toreros. USD drubbed Western New Mexico 45-21 in that game.
Former West Hills kicker Daniel McManus was 6-for-6 on extra-point conversions for the Toreros, while also booting a 33-yard field goal. The sophomore played in three contests last season, but Saturday's points were the first of his collegiate career.
Former Steele Canyon star XAVIER GOODLOE had eight tackles for Western New Mexico in the contest, as well. Former West Hills kicker JOSH MCINTIRE had three extra-point conversions for UWNM, while also booting four punts for a 33.1-yard average.
Elsewhere, former Helix running back MICHAEL ADKINS stormed for 119 yards and a touchdown in Colorado's 48-14 victory over the University of Massachusetts.
Another former Highlander, corner JIMMY PRUITT, had a tackle and an interception in San Jose State's 37-16 loss to the Air Force Academy.
Meanwhile Nevada defensive end IAN SEAU out of Grossmont College logged 4 tackles and a sack as the Wolfpack succumbed to Arizona 44-20.
At the big house in Michigan, Oregon State true freshman quarterback SETH COLLINS out of Granite Hills, gave the Beavers a 7-0 lead two minutes into the game with a 21-yard touchdown pass.
QB Seth Collins (Granite Hills HS/Oregon State) starts his first road game with a TD pass at the Big House. https://t.co/MPzibINMY1

— Bodie DeSilva (@SDPreps) September 12, 2015