Former Eagle Cardona no factor in Pats' debut
Updated: September 11, 2015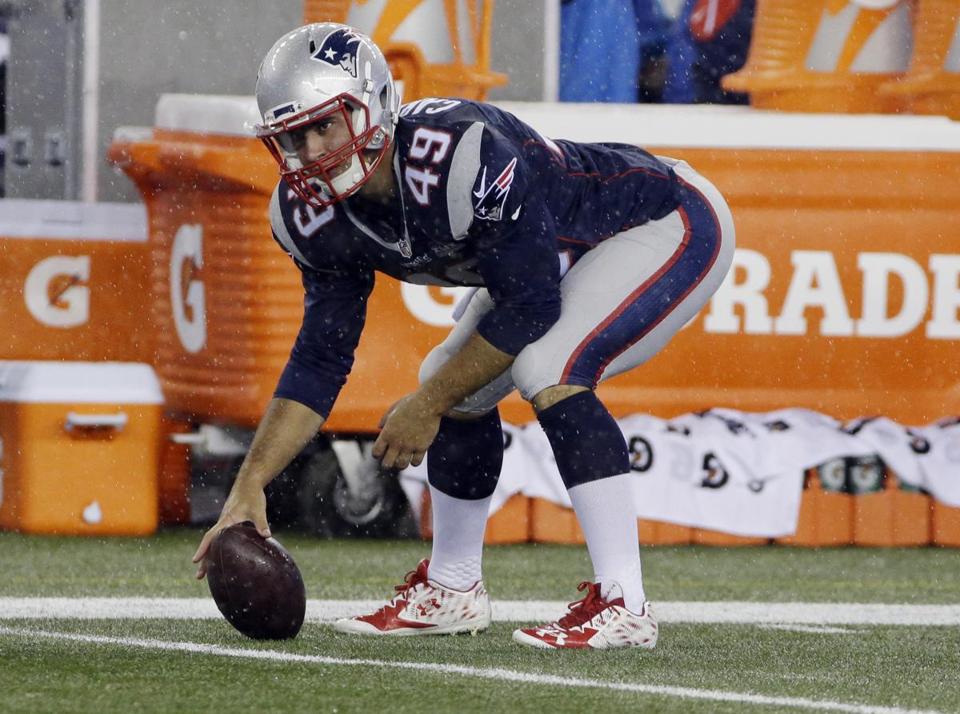 El Cajon's Joe Cardona warms up in a pre-game drizzle Thursday night.
From staff and wire reports
FOXBORO, Mass. – Former Granite Hills High lacrosse star JOE CARDONA made his NFL debut for the world champion New England Patriots on Thursday night, and, as usual, his presence was hardly noticed.
Ask any long snapper and they'll tell you, that is just the way they like it.
Cardona was on-and-off the field for just seven plays in Thursday night's nationally televised season-opener, as the Patriots defeated the Pittsburgh Steelers, 28-14, at Gillette Stadium, including all four of New England's new 33-yard point-after conversions and a successful punt snap deep in the Pats' own end while a heavy rain fell during the fourth quarter.
Cardona, 23, is a graduate of the U.S. Naval Academy and is also an officer in the U.S. Navy. He was hired by the Patriots to do one thing and do it well. Chances are, he will likely succeed. The question is, however, will it be as a military officer or an NFLer at one of the least appreciated positions in the game.
The 6-foot-3-inch, 245-pounder played college football for Navy and two years at Granite Hills. But he isn't a long-shot player just trying to hold on to his pro football dreams by becoming a long snapper.
The former Eagle enters the professional ranks as the highest-drafted long snapper in NFL history. He is only the fourth player designated as a pure long snapper ever to be drafted.
After leaving Granite Hills, Cardona attended the Naval Academy Prep School in Newport, R.I., for one year before enrolling in the Naval Academy, where he majored in economics.
At Navy, he was a four-year starter in football as a long snapper, where he was not charged with a single bad snap.
During his four years at Navy, the Midshipmen compiled a 30–21 record, including four wins over arch-rival Army, and played in three bowl games, including last Decemeber's memorable Navy win over San Diego State in the Pointsettia Bowl at Qualcomm Stadium.
Cardona was the only the second freshman to start in program history and established himself as one of the nation's top long-snappers on both punts and field goals.
His Naval assignment has been delayed until after the 2015 NFL season so that he will be able to play in the NFL – at least this year.
The Patriots officially signed Cardona to his rookie contract on June 4, 2015.
The structure of his contract is unusual, reflecting the uncertainty of his availability in future seasons.
It makes it difficult for NFL teams to commit to Navy players because of their service commitments. After graduating, all service academy members must do either five years of active duty or, in some cases, can do two years of active duty plus six years in the reserves.
However, the game's top players at the position often have extremely long playing careers compared to their every-down counterparts. And a quality long snapper is one of the most difficult positions to fill. The Patriots smartly knew what they were getting by drafting a likely sure thing down the line with Cardona, in the the usually after-thought special teams position.
A position where weakness comes often shown as glaring when poorly executed.
Cardona's signing bonus of $100,000 is less than the expected bonus of about $190,000 expected for his draft slot, but he can earn $100,000 in roster bonuses if he is on the 53-man roster or an injury list at any point in 2015, 2016, and 2017 seasons. Cardona reportedly got a bonus of $17,500 by making the 53-man season-opening roster.
Cardona was the Grossmont Conference Player of the Year in lacrosse as a senior in 2010. Patriots' coach Bill Belichick has an serious affinity for the sport.
In April, the Patriots made him the first Navy football player taken in the draft in more than 20 years. Cardona is just the sixth Navy player to be drafted since the merger.
Cardona spent the spring balancing his job with the Patriots with his commitment to the Preparatory School, helping the school get ready for this year's incoming class.
It made for some busy days as he balanced his duties to the service with his duties to the Patriots.
"I have a lot of people supporting me. Since graduation I've had a lot of busy days, been showing for work every single day, whether it be here or down in Newport," he told the Boston Globe during training camp. "I'm working and it's just great to be here.
"I'm definitely used to longer hours, but that's just a product of the environment that I've been around for the past five years. It's made the transition to being here a little bit smoother."
Cardona was the only long snapper invited to the Combine in February and a participant in the Senior Bowl (he needed special permission from the Navy to take part in both).
Cardona will be New England's snapper this year. The team did not re-sign Danny Aiken, who held the job for the last four years.
Calling the experience of being with the Patriots "surreal," Cardona put off his post-graduation leave until now, so he could focus on training camp. He likely will return to work once the regular season begins; fullback Kyle Eckel, the last Navy player on New England's roster, also had an assignment at the prep school in Newport, and traveled there on the team's off days to fulfill his obligations.
"As of right now, there's a lot of people supporting me. My command in Newport is super supportive of me, the Patriots are supportive of being flexible, and it's been evident through OTAs and everything," Cardona said. "So as far as I can tell, everything seems smooth and I just have to show up and do what I'm told, do my job, and we'll see what comes of it."
As a Navy Prep graduate, he is enjoying interacting with the current generation of students coming through the school.
On the field, there has been an adjustment, as kicker Stephen Gostkowski and punter/holder Ryan Allen work with Cardona.
"He's come in and worked hard and done well with us, and that's what training camp is for, to go through the ups and downs, the bumps," Gostkowski said. "They try to tire you out and wear you out mentally and the coaches are doing a good job of doing that to him. He's handling it well so far and we're just excited to form a lot of chemistry and make a lot of kicks and keep special teams doing really well."
While the snapper's post-academy plans included, at different points, becoming a Marine or heading to Norfolk, Virginia, for assignment with the surface fleet, he ended up serving at the Prepatory School in Newport, about an hour from the Patriots' home in Foxborough, Mass.
Belichick's father served as an assistant coach in Annapolis for more than 30 years. Cardona even has managed to have a couple of conversations with Belichick about lacrosse.
Navy grad & #Patriots LS Joe Cardona spoke last night @ a vigil for servicemen killed in Tenn: http://t.co/ieqmTVelCA pic.twitter.com/06CCDQwuAw

— New England Patriots (@Patriots) July 27, 2015