FEARLESS FORECASTER Week 4
Updated: September 17, 2015
Helix's Jihad Woods returns an interception against Eastlake / EastCountySports photo
2015 FEARLESS FORECASTER
Week 4
By Bill Dickens
© EastCountySports.com
LA MESA (9-17-15) — The Helix Highlanders have never been known for playing a weak schedule, and this year is no exception.
Next up in challenges for the No. 2 ranked Highlanders (1-1) is a non-league bout against No. 8 Cathedral Catholic (1-2) Friday night (Sept. 18).
One thing for sure about this game is it will draw a capacity crowd to Jim Arnaiz Field in Benton Hart Stadium for the 7 p.m. kickoff.
Another point to anticipate – it should be a shoot-out.
Helix's focal point is running back NATHAN STINSON, who is being recruited by Northern Arizona, Idaho and Southern Utah. The 5-foot-6, 180-pound bullet has bulled for 271 yards and 5 touchdowns on 32 carries.
Quarterback MICHAEL AUSTIN has zeroed in on 15 of 36 passes for 211 yards and 2 touchdowns.
"We're a work in progress," said Helix coach TROY STARR. "We have a solid starting group but we need to develop reserves."
The Highlanders cohesive defensive unit is led by defensive end MASON VINYARD, linebacker JIHAD WOODS and strong safety SCOTT YOUNG.
Helix leads the all-time series 31-23, but this game is up for grabs . . . Helix 21-17.
STEELE CANYON (1-2) at RANCHO BUENA VISTA (0-3), 7 – Probably the toughest challenge against Rancho Buena Vista will be the drive to North County for Friday's (Sept. 18) non-conference encounter against the Longhorns.
"Well, like everybody else we had to practice in the rain, so I don't know if that was a plus or a minus," said Steele Canyon coach SCOTT LONGERBONE.
The Cougars will have four sophomores on the varsity starting lineup.
"That just shows you where we are," Longerbone said. "We're a youthful team trying to do on-the-job training."
Sophomore THOMAS FISHBURNE directs the Cougars offense, having completed 19 of 42 passes for 267 yards and 2 touchdowns.
On the defensive side, which may be the Cougars' stronghold, is the play of free safety of NY JOHNSON, strong safety COLTON LARCEVAL and middle linebacker MIKEL OLIVER.
"RBV plays all-power football," said Longerbone. "They run two backs, power I and no spread stuff."
So this one should be another donnybrook, but give the nod to . . . Steele Canyon 21-19.
GROSSMONT (2-0) at HILLTOP (2-1), 7 – The Foothillers are poised for a blowout victory Friday night (Sept. 18) as they invade Hilltop High for a non-conference encounter.
The Hillers are seeking their third straight win as they look to senior running back JAKE HARR, who has rushed for 242 yards and 2 touchdowns on 25 carries.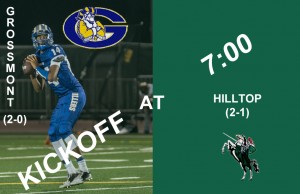 Grossmont quarterback JARED REDFIELD is ready to uncork his passing game against a soft Lancer secondary. In his first two games he has completed 17 of 43 aerials for 203 yards and 2 touchdowns.
Linebackers JOSH McFAUL, NATE TIAPULA and defensive back ALEX LILLIARD are the building blocks to the Grossmont defense.
Given all the factors, this should be ugly . . . Grossmont 38-7.
MAR VISTA (3-0) at VALHALLA (1-1), 7 – When this game was scheduled it didn't look that attractive, but now it shapes up as a Top 20 duel Friday night (Sept. 18) at Valhalla.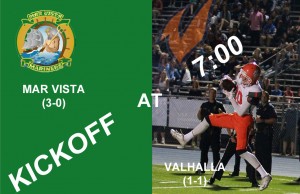 The Norsemen split their first two games, stumbling to Otay Ranch 14-7 but bounced back to beat Granite Hills 17-10.
Valhalla will look to quarterback PHILLIP NASEH who has clicked on 34 of 59 passes for 378 yards and 2 touchdowns. He's the leader of the Norsemen band.
Linebacker LOGAN BAKER gears up the Norsemen defense with 17 tackles in two games, while CADE BAKER logged 7 stops.
This game should turn out to be a battle . . . Valhalla 22-20.
MONTE VISTA (0-3) at MOUNT MIGUEL (1-2), 7 – In the mythical battle for the Spring Valley championship, host Mount Miguel figures to balance its record at the expense of crosstown rival Monte Vista in Friday's (Sept. 18) non-league encounter.
The Monarchs edged the Matadors 31-28 a year ago, but don't look for a repeat performance this time around.
Mount Miguel counts on the running tandem of ANTOINE HAMILTON (32-195, 3 TDs) and ANTHONY GILMORE (28-100, 1 TD) to control the game and should be able to do so against Monte Vista, which has struggled at offense all season.
The Monarchs should be able to pick up the pace behind quarterback DENNIS DAHLIN, who is off to a slow start due to injury.
Monte Vista's TRE OWENS reeled in 3 passes for 82 yards and a touchdown against Patrick Henry. He'd been playing quarterback while Dahlin mended from an early season injury, now he's accustomed to playing his normal position of wideout.
Mount Miguel leads the all-time series 31-23, but should have little trouble extending its advantage en route to claiming the city crown . . . Mount Miguel 27-7.
WEST HILLS (1-2) vs. LA JOLLA (1-2) at Mission Bay, 5 – West Hills' offense should get rich at the expense of the Vikings in Friday night's (Sept. 18) contest at Mission Bay at 5 p.m.
The Vikings are surrendering 33.7 points per outing, while West Hills is producing only 14 markers per game. So that hardly makes the Vikings a heavy favorite given the schedule of the two teams.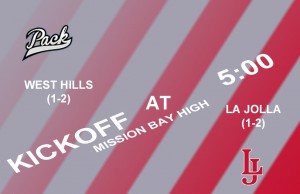 The Wolf Pack counts on double duty quarterback SPENCER MOYER, who has passed for 304 yards and 3 touchdowns, and rushed for 188 yards and one score on 33 carries.
The Pack's TAJ BROOMFIELD ranks among the top receivers in East County with 12 catches for 138 yards and one score.
This is one of the longest running non-conference encounters West Hills has compiled. The Wolf Pack leads the Vikings 6-5 all-time. Last year's game was a cliffhanger as the Pack squeezed out a 26-24 victory . . .  West Hills 22-17.
EL CAJON VALLEY (1-1) at KEARNY (1-2), 6:30 – The fighting Braves need to shore up their secondary if they are to be successful Friday night (Sept. 18) against the Komets.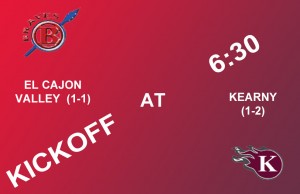 Quarterback Lerone Randle leads a longball aerial pursuit for Kearny, having completed 19 of 48 passes for 403 yards and 6 touchdowns. Treshaun Gray is a deep threat, averaging 22.7 yards per catch for the Komets. Frank Gallaway spearheads the Kearny running game with 306 yards and a TD on 39 carries.
NATHAN McCULLOUGH, East County's leading rusher with 371 yards and 4 touchdowns on 37 carries, guides the Braves' offense.
The versatile SMITH brothers – TYSON and CHARLES – are threats on both sides of the ball for El Cajon Valley.
This should be an offensive shootout . . . Kearny 28-26.
MONTGOMERY (0-3) at SANTANA (2-1), 7 – The high flying Sultans are one of the highest scoring teams in the San Diego Section, averaging 50.3 markers per game.
Field general FRANKIE GUTIERREZ, the heart and soul of the Santana offense, has completed 39 of 59 passes for 657 yards and 7 touchdowns. He's also rushed for 199 yards and 5 touchdowns on 34 carries. He should have a field day against Montgomery, as should the rest of the Sultans.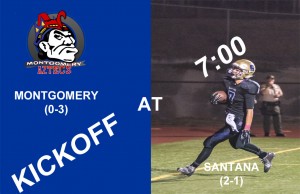 Senior receiver ADAM CHILDRESS topped East County with 14 receptions for 223 yards and 4 scores.
Running back BOBBY WALLACE has rushed for 336 yards and 5 TDs on 47 carries to give Santana a bit of a balance.
Montgomery cannot match up with the Sultans in any phase of the game . . . Santana 49-6.
PATRICK HENRY (2-1) at EL CAPITAN (0-3), 7 – The Vaqueros will test their treading on a new turf Friday night (Sept. 18) as they engage Patrick Henry in a non-league home opener.
Although the defending Division II Southern California Regional champions have staggered out to three tough losses, this year's youthful El Capitan team is better than its record indicates.
The Vaqueros lost their opener to Madison 44-7 due to a 35-point second quarter. The following week El Capitan led Mater Dei 14-0 only to have its offense stall in a 28-14 loss to the Crusaders.
In a sloppy game last week they fell to West Hills 6-0.
It's time for El Capitan to break out, and the Vaqueros could do just that against a Patrick Henry team that has posted two soft victories in three starts.
Vaqueros quarterback PHOENIX CATES, who has completed 42 of 80 passes for 453 yards and 2 touchdowns, leads the offense.
Middle linebacker CHANCE COLSON is the cornerstone of the El Capitan defense with 35 tackles in three games.
Look for this to be the upset of the week . . . El Capitan 17-14.
TRI-CITY CHRISTIAN (0-2) at MOUNTAIN EMPIRE (0-3), 7 – The Red Hawks of Mountain Empire hope a little home cooking on Friday (Sept. 18) might break them crash into the win column.
Junior VICTOR PARRA directs the Red Hawks attack, having completed 26 of 59 passes for 375 yards and 2 touchdowns.
Senior receiver ALEX TORRES is averaging 24.2 yards on 9 receptions.
JAMES WILL anchors the Mountain Empire ground forces, having piled up 292 yards and 2 touchdowns on 57 carries.
Middle linebacker BLAKE JARRELL cements the Red Hawks defense with 27 tackles to date.
Tri-City Christian has been outscored 82-12 in its first two games against quality competition, but look for the Red Hawks to come out on top . . . Mountain Empire 27-22.
GRANITE HILLS – Bye
CHRISTIAN – Bye
Fearless Forcaster Record
Season:  20-13 (.650)
Weekly:     5-5 (.500)