Underdog suits Vaqueros just fine on new home turf
TRyan Photography Photo
By Bill Dickens
© East County Sports.com
LAKESIDE (9-19-15) — El Capitan opened its refurbished field on Friday (Sept. 18) and upset Patrick Henry 28-6 in the process.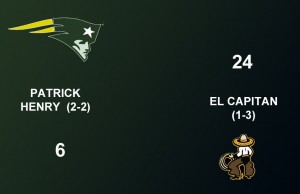 The Vaqueros garnered 314 yards, snapping a three game losing streak to send the 2-2 Patriots packing.
El Capitan quarterback PHOENIX CATES hit wide receiver JAVIER VIDALEZ with a 40-yard bomb for the touchdown down the right side, as Vidalez made a John Stallworth-like leap way above his closely-guarding defender, before coming down inside the 10-yard line and spinning in off the opponent.
El Cap led 7-0 after the first quarter.
Later, JONATHON SUMMERS threw a slotback option pass to Vidalez, who easily slipped behind the biting defenders for a 64-yard touchdown completion for a score to give the Vaqueros a 14-0 lead at halftime.
Vidalez finished with 3 catches for 124 yards, including a pair of scores.
Summers was a triple threat in that he caught 3 passes for 29 yards and completed one pass for 64 yards. He rushed for 4 yards on a pair of carries and returned punts for 9 yards.
Not to be overlooked for the Vaquero were interceptions by DEVIN DULAY and COLLIN LOVATO.
On the Vaqueros' third score, sophomore CONNOR ROOSA picked up a bulk of the load and finished the game rushing for 98 yards on 15 carries.
El Capitan drove into Henry territory, as Cates floated a well-designed screen to the left against the over-pursuing line, then he moved along with help from his blockers for a 19-yard gain.
Roosa got the call again on a handoff that he barreled in from 7-yards out behind his hard-pushing line of ROMAN VILLA, DANIEL BRISTOL, ROBERT McDONOUGH and DOMINICK SALAZAR to make it 21-0 after three periods.
Cates finished with 7 for 15 passes for 114 yards but suffered 3 interceptions.