Rustlers round up Griffins in Top 15 defensive feature
Updated: September 27, 2015
2015 GROSSMONT COLLEGE FOOTBALL
 17
 7
By Bill Dickens
© East County Sports.com
EL CAJON (9-27-15) — Grossmont College, led by sophomore linebacker NICK GALATIS, turned in a superlative effort on defense, but the Griffins offense could not keep up as visiting Golden West College claimed a 17-7 National Southern Conference victory in Saturday's (Sept. 26) opener at Mashin-Roth Field.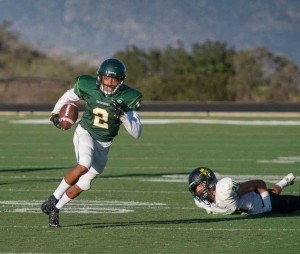 The No. 6 ranked Rustlers cashed in on two touchdown passes of 21 and 11 yards from Adam Vance to Jordan Veasy. Humberto Maciel added two extra points and a 31-yard field goal for Golden West.
Grossmont (2-2, 0-1), which stumbled throughout the game, avoided the shutout on a 5-yard touchdown run by THOMAS McDONALD with 4:56 remaining.
After McDonald scored, the Griffins had eyes for a comeback.
Grossmont used an 8-play drive to the Golden West 32, but a fumble recovered by Nathan Jellicoe in the final minute sealed the victory for the Rustlers.
"It's pretty frustrating to lose a game like this when you know you played so well," Galatis said. "I know we need more offensive help to pull a game like this out."
A two-time National Southern Conference Player of the Week, the 6-foot, 225-pound Galatis is Grossmont's leading tackler, registering 9 against the Rustlers along with 2 sacks and a pass breakup.
"I used what I have (in terms of size)," he said. "I go out there to fight. As far as I'm concerned I'm unchallenged. I read my keys and stick my nose in there."
Galatis recognized that Golden West was running its offensive plays away from him.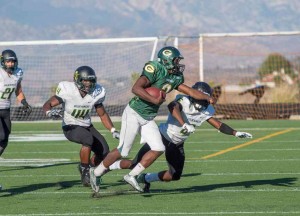 "I realized that right away," he said. "I read the quarterback's eyes and flowed that way. When you're trying to do that you have to read the block, shuffle, shuffle and make things happen."
Galatis was a non-renowned player at Clairemont High. He broke an ankle in his first year at Southwestern College, and then suffered a broken eye socket in the off-season transition to Grossmont.
"All the time out of high school my focus was to go to Grossmont College because I was aware that Grossmont has a better record of placing players at a four-year college. But I suffered so many injuries in high school I was afraid I couldn't make it at Grossmont, so I went to Southwestern. I'm glad to be back on my feet at Grossmont (being recruited by Fresno State, San Diego State and Oregon among others)."
Galatis' act was not solo, as RUEBEN LEASAU notched 8 tackles and forced a fumble for the Griffins. MAURICE CARNELL registered 5 stops and JORDAN ARNOLD logged 4 tackles and 3 sacks in Grossmont's defensive effort.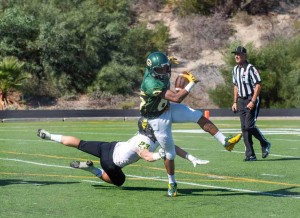 No. 6 Golden West (3-0) at No. 15 Grossmont (2-1)
at Mashin-Roth Stadium
EastCountySports.com preview of the game
SCORING
1
2
3
4
FINAL
Golden West (4-0)
 7
 3
 7
 0
 17
Grossmont (2-2)
 0
 0
 0
 7
 7
Grossmont College | Mashin-Roth
PRD
TIME
SCORING SUMMARY
GOLDEN WEST – GROSSMONT
1
05:38
Golden West – Jordan Veasy 21 yd pass from Adam Vance. (Humberto Maciel kick is good).
Drive: 4 plays, 45 yards in 1:31.
7 – 0
2
13:27
Golden West – Humberto Maciel 31 yd field goal.
10 – 0
3
08:55
Golden West – Jordan Veasy 11 yd pass from Adam Vance. (Humberto Maciel kick is good).
Drive: 13 plays, 85 yards in 6:00.
17 – 0
4
04:56
Grossmont – Thomas McDonald 5 yd run. (Jordan Reece kick is good).
Drive: 1 plays, 5 yards in 0:06.
17 – 7
GOLDEN WEST
STATISTICS
GROSSMONT
17
FIRST DOWNS
11
11
4
2
Passing
Rushing
Penalty
7
2
2
44% (7 of 16)
THIRD DOWN EFFICIENCY
18% (3 of 17)
0% (0 of 1)
FOURTH DOWN EFFICIENCY
25% (1 of 4)
300
TOTAL OFFENSE
255
69
4.3
Total Offensive Plays
Average gain per play
70
3.6
222
NET YARDS PASSING
190
22-32
6.9
3-18
0
Completions-Attempts
Net yards per pass play
Sacked: Number-Yards
Had intercepted
23-45
4.2
1-4
1
78
NET YARDS RUSHING
65
37
2.1
Rushing Attempts
Average gain per rush
25
2.6
7-297
PUNTS: Number-Yards
6-242
42.4
Average
40.3
22
TOTAL RETURN YARDS
101
0 0
1-14
1-8
Punt Returns: Number-Yards
Kickoff Returns: Number-Yards
Interception Returns: Number-Yards
4-21
4-80
0 0
9-98
PENALTIES: Number-Yards
13-120
2-2
FUMBLES: Number-Lost
4-2
1-4
SACKS: Number-Yards
3-18
1-8
INTERCEPTIONS: Number-Yards
0 0
33:03
TIME OF POSSESSION
26:57
Golden West

Grossmont

| PUNT RETURNS | NO | YDS | AVG | LG | TD |
| --- | --- | --- | --- | --- | --- |

| INTERCEPTION RETURNS | NO | YDS | AVG | LG | TD |
| --- | --- | --- | --- | --- | --- |
| Jared Wilson | 1 | 8 | 8.0 | 8 | 0 |

| INTERCEPTION RETURNS | NO | YDS | AVG | LG | TD |
| --- | --- | --- | --- | --- | --- |
OTHER INFORMATION
Location: Grossmont College
Stadium: Mashin-Roth