Red Hawks pummel Temecula Prep
By Bill Dickens
© East County Sports.com
PINE VALLEY (10-3-15) — The Mountain Empire Red Hawks overwhelmed the Temecula Prep Patriots, 44-0, heading into league play next week.
VICTOR PARRA hit JAMES WILL with a short pass in the left flank that was turned into a 28-yard touchdown race to the left pylon for a Red Hawks' touchdown.
"All three of Parra's completions went for touchdowns," said Red Hawks assistant coach DON ROLLINS.   
Parra would later hit WYATT MANN with a short pass near the line of scrimmage, but ended up as with a 65-yard scamper to the end zone to put Mountain Empire ahead, 14-0, into halftime.
BLAKE JARRELL led the Red Hawks' shutout effort on 'D', along with JOHNATHAN PENUELAS, JAMES UPTON, ERIC GUTIERREZ, SHAHIB VANN and MICHAEL STOGSDILL.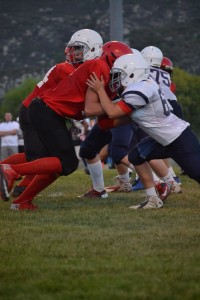 "We had several defensive linemen who made a bunch of tackles," said Rollins. "Jarrell logged 6, plus three tackles for loss, and Gutierrez, who returned from an injury suffered a month ago against Army-Navy, also made six tackles, with 5 for loss."
Parra would hit ALEX TORRES with a 80-yard bomb down the left side that Torres hauled in at around the 50 and jaunted home for an effortless-looking easy touchdown, as Mountain Empire led 23-0 at halftime.
Will had a 27-yard touchdown run in the third quarter and finished with four touchdowns on the night.
The Red Hawks' WYATT AGUILAR made a 26-yard interception and DALLAS PRINCE also picked off a pass for 40 yards.
Torres, Will and the rest of the specialists had it easy with the play up front of Hawks' linemen TYLER BATEMAN, CODY ALBERTSON and RICHARD LENNOX.
Mountain Empire travels to face Holtville in the Manzanita League opener next Friday (Oct. 9).