FEARLESS FORECASTER WEEK SIX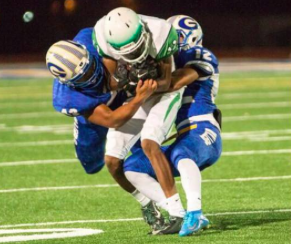 Photo by TRyan Photography
2015 FEARLESS FORECASTER
Week 6
By Bill Dickens
© EastCountySports.com
LA MESA (10-1-15) — Grossmont High coach TOM KARLO's style features the ball control offense mandated by a short passing game. However, this season he has turned the page for a little bit of a different look.
The 4-0 Foothillers have scored 7 touchdowns of 70 yards or longer.
"We haven't really set up any steady ball control rhythm," said Karlo, "because we've been hitting the big play."
Grossmont hopes to continue that style when it faces host Poway Friday (Oct. 2) in North County at 7 p.m.
Those who have been able to dial up long distance scores include receivers JAKE HARR (87 yds), KYLE PENEDA (80), JAILEN BAILEY (77), DOMONIQUE GUEVARA (74) and KHALEED DAVIS (70). Davis also has 2 punt returns of 82 and 81 yards for touchdowns.
"We have a good mix of underclassmen and seniors who have played before," Karlo noted. "We're starting 14 underclassmen."
It's a youthful offensive front for Grossmont that features only one senior in tackle CAMERON LISK. The other four starters are up from JV: JUSTIN SMITH, JAMES ROGERS, JOEY FENNICK and TOMMY MLYNIEC.
They played an integral role in Grossmont's churning out 566 yards in a 34-14 over Lincoln last week.
Junior quarterback HUNTER GAINES has earned the starting role for the Foothillers, having completed 34 of 52 passes for 749 yards and 8 touchdowns.
"We've used a couple of quarterbacks but we're going with the hot hand right now, and that's Hunter," Karlo added.
Not to be overlooked is the swarming Grossmont defense led by senior linebacker JOSH McFAUL, who has 46 tackles, including 11 for losses as well as 2 sacks. Defensive back RILEY HAVIRD has 35 tackles and an interception, and linebacker NATE TIAPULA has recorded 38 tackles and an interception.
Others who have caught Karlo's eye are defensive ends ELI QUINN (21 tackles, 1 FR and 1 sack) and ANDEW MINK (19 tackles and an FR).
These are two teams on the verge of cracking the Top 10. Look for the Foothillers to pull the upset of the week . . . Grossmont 21-16.
EL CAPITAN ( 2-2) at *GRANITE HILLS (3-1), 7 – It's doubtful the majority of the football players at El Capitan have seen many episodes of the TV show M.A.S.H.
Sure some may have seen the reruns, so they might get the idea of the show's focus. This was about a hospital unit which took care of injured soldiers in the field.
"We've had more injuries in the first five games this year than I've had in the last two years combined," said Vaqueros coach RON BURNER. "We've had broken arms, broken ankles and various other injuries.
"We haven't had the same group of offensive guys on the field at any time this year."
El Capitan will tackle Granite Hills at 7 p.m. Friday night (Oct. 2) and try to spoil the Eagles' Homecoming.
Transfer quarterback PHOENIX CATES directs the Vaqueros' offense, having completed 52 of 95 passes for 612 yards and 3 touchdowns. He has suffered eight interceptions.
The heart and soul of the Vaqueros' defense includes middle linebackers CHASE COLSON and JOSH BENSON, outside linebackers DYLAN HELMHOLZ and OSCAR VALENZUELA.
Upfront the defensive wall includes JASON MOORMAN and DEVIN DULAY. Securing the secondary are cornerbacks DOMINIC PETRICCA and SEAN DUNNE.
Defense is Granite Hills' forte as the Eagles have allowed only 67 points, which means the Vaqueros will be under pressure.
The Granite Hills charge will be led by defensive end JACOB BURTON (6-foot-6, 265 pounds), a major college prospect, who has logged 18 tackles, 4 for loss, 4 sacks and a fumble recovery. Defensive back RILEY REYES has 35 tackles, 2 sacks and one interception, while linebacker KELLEN GAIER has 38 tackles, 6 for losses.
Offensively the Eagles will look to their ground game led by THOMAS YOUMOG, who has logged 57 carries, 263 yards and 4 touchdowns, and LYNDON FRANKLIN who has recorded 48 carries for 256 yards and 2 touchdowns.
The Vaqueros have grounded the Eagles for the last three seasons by a composite score of 121 to 59.
They will be hard-pressed to continue their streak . . . Granite Hills 26-17.
WEST HILLS (2-3) at VALHALLA (3-1), 7 – Double threat quarterback SPENCER MOYER will attempt to keep the Wolf Pack in the running for playoff position when the Pack attacks Valhalla Friday night (Oct. 2) at 7 p.m.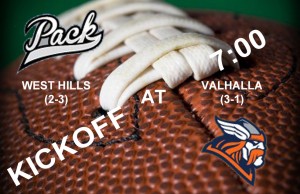 The 6-foot-4, 215 pound senior has completed 59 of 134 passes for 756 yards and 8 touchdowns. He has also rushed for 357 yards and 3 touchdowns on 58 carries.
Moyer's primary targets have been receivers TYLER SEPULVEDA (15-288, 3 TDs) and TAJ BROOMFIELD (14-212, 2 TDs).
Valhalla's shark-like defenders will present the Pack with major problems.
Linebackers LOGAN BAKER lead the herd with 36 tackles, 15 for losses as well as 4 sacks, while CADE BAKER (no relation) has logged 22 tackles, 4 for loss, 2 sacks and 2 interceptions.
Valhalla quarterback PHILLIP NASEH directs the Norsemen's offense and has completed 51 of 85 for 628 yards and 6 touchdowns.
Running back RAHSHAUN SHARPE has rushed for 223 yards on 39 carries for 4 touchdowns.
This has been a tooth-and-nail faceoff for most of its longevity. The Wolf Pack won 23-20 last year but will have a hard time repeating this time around . . . Valhalla 28-7.
HELIX (2-1) vs. BONITA VISTA (3-1) at Southwestern College, 7 – If you match up the records the Helix Highlanders should be facing a major challenge when they take on the Barons at Southwestern College Friday night (Oct. 2) at 7 p.m.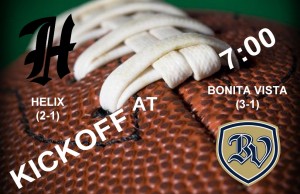 However, if you match up talent this game could be a blowout.
Quarterback MICHAEL AUSTIN has completed 28 of 58 passes for 435 yards and 4 touchdowns.
Running back NATHAN STINSON, the second leading rusher in East County, has carried 51 times for 468 yards (9.2 average) and 8 touchdowns.
Bonita Vista is led by a stout defense and the running game of Greg Bell, who has rushed 81 carries for 567 yards and 8 touchdowns.
Helix is averaging 37.3 points per game offensively while surrendering 12.3 ppg defensively . . . Helix 35-14.
SANTANA (4-1) at MAR VISTA (3-1), 7 – Santana's high-powered offense is receiving most of the credit for the Sultans' streak to a 4-1 record.
The triggerman for the Sultans is FRANKIE GUTIERREZ, who has completed 57 of 89 passes for 1014 yards and 12 touchdowns. He has also rushed for 9 touchdowns.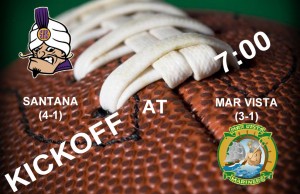 Gutierrez' top targets are receivers ADAM CHILDRESS who grabbed 18 receptions for 288 yards and 5 touchdowns, and AIDAN RASMUSSON who hauled in 15 catches for 327 yards and 3 touchdowns.
Mar Vista is averaging 42.8 ppg overall but got the door slammed in their face by Valhalla, limiting the Mariners to 3 yards total offense.
The defensive line looks to MATT HOMAN, who has rung up 38 tackles, 8.5 for loss, 5.5 sacks and a fumble recovery, and DOMENIC DEHOYOS (38 tackles, 5.5 for loss, 2.5 sacks and 2 FR).
It's a case of Santana has too much offense and too much defense, which gives the Sultans the nod . . . Santana 38-14.
ORANGE GLEN (4-1) at EL CAJON VALLEY (3-1), 7 – El Cajon Valley looks to improve its record to 4-1 as they host Orange Glen Friday night (Oct. 2) at 7 p.m.
Coach PARRIS PISIONA will depend on veteran brothers TYSON and CHARLES SMITH in the non-league encounter.
Defenders DAAMAMA LAUIFI has 38 tackles and a sack to his credit, while TYLER PANNEL has 30 tackles, 7 for loss and 4 sacks.
The availability of running back NATHAN McCULLOUGH is still up in the air. If he plays, look for the score to be . . . El Cajon Valley 38-13.
KEARNY (1-4) at MONTE VISTA (1-4), 7 – The Monarchs are riding the wave of their first victory over Crawford, 21-14 last week. 
Monte Vista and Kearny have the same records, but the Monarchs have the momentum.
"It's all about rebuilding for us," said Monte Vista coach RON HAMAMOTO.
The rebounding Monarchs hope to make it two in a row against the Komets . . . Kearny 14-13.
WINCHESTER TEMECULA PREP (0-2) at MOUNTAIN EMPIRE (1-4), 6 – Coming off their first win of the season the Red Hawks like to think they can make it two in a row against Temecula Prep om Friday's (Oct. 2) non-league encounter.
Running back JAMES WILL has carried for 94 times totaling 669 yards and 6 touchdowns.
Quarterback VICTOR TORRES has passed 43 of 94 attempts for 5 touchdowns.
Receiver ALEX TORRES has caught 13 passes for 347 yards and 3 touchdowns.
The Red Hawks figure to skate to two in a row . . . Mountain Empire 38-28.
Sat., Oct. 3
Non League
LA JOLLA (2-3) at CHRISTIAN (3-1), 7 – East County passing leader DAVID TODD JEREMIAH has connected for 59 of 96 aerials for 956 yards and 11 touchdowns and should pad his totals against La Jolla in Saturday's (Oct. 3) non league opener in El Cajon. 
Christian looks to ADRIAN PETTY to carry the offensive load, having rushed for 318 yards on 52 carries and 3 touchdowns.
It's all about the aerial game for the Patriots. THEO GOODWIN leads the receiving corps with 52 grabs for 318 yards and 3 touchdowns, while NICK SEXTON has 15 receptions for 369 yards and 3 touchdowns.
The Vikings have been capsized for seven times by the Patriots and don't figure to come up for air this time around . . . Christian 42-22.
STEELE CANYON & MOUNT MIGUEL – Bye
Fearless Forecaster:
Season: 37-17 (.685)
Last week: 9-2 (.818)