#LyonHearted Patriots rally to win for Jason
Updated: October 10, 2015
By Ramon Scott
© East County Sports.com
EL CAJON (10-10-15) — Christian High senior standout JASON LYON couldn't make it to Friday night's Patriot-clash between host Christian and visiting Patrick Henry in a City League opener at Valley Stadium.
However, following Christian's awesome 34-26 come-from-behind victory, it seemed pretty certain that Lyon's presence was felt – and made an impact – in the second half.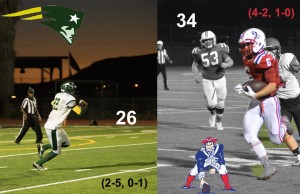 Christian trailed 20-7 at halftime, as the Patriots were seemingly in the ADRIAN PETTY-less doldrums they played in during last week's first loss of the season against La Jolla.
Christian's star running back was back in the lineup following a hamstring injury which sidelined him in the loss to the Vikings, but he made his impact early, as usual, on Friday night (Oct. 9), bursting for a 50-yard run with 2:03 left in the first quarter. He finished off the drive, then scored the game's first touchdown on a 15-yard run with :57.8 left in the first.
Patrick Henry, which has struggled most of the season, would score three-straight TDs with the help of its big-time playmakers, to take the lead into the locker room. Henry's star wideout Dezmon Patmon caught a leaping deep-back corner 19-yard pass and Dominick Silvels, who threw a TD pass in the first quarter, had a 74-yard touchdown run that sent Patrick Henry into a stunning advantage.
There is no denying the impact emotion has on team sports at all levels. With Lyon currently hospitalized, suffering from the effects of an inoperable brain tumor and his parents at his bedside just two weeks after he made an appearance here during a win over Imperial, the Christian High Patriots wore "LYONHEARTED" jerseys honoring their ill teammate in Friday night's contest. The phrase was emblazoned across the front of each player's chest. On the back, each player's name plate read, "LYON."
One look at a teammate across a silent locker room was probably all that it took at halftime.
The Christian Patriots came out a different team in the second half.
Henry quickly struck again with a 21-yard TD pass from Dominick Silvels to Zariyan Cook, as it looked like the visitors may have delivered the knockout blow to the emotional host Patriots.
However, Christian's DAVID TODD JEREMIAH combined with THEO GOODWIN on a 72-yard score just under four minutes into the second half to score to 26-13. Goodwin caught a short pass from his quarterback on an out-route, then turned up the left sideline to outrace the overmatched linebacker in a no-contest race to the end zone.
Then, Jeremiah, who was seemingly "off-the-mark" last Saturday against La Jolla, hooked up for another long score to NICK SEXTON for a 75-yard touchdown with 5:35 left in the third quarter closing the gap to 26-20. Sexton just ran by his defender and caught the perfectly-placed pass for the effortless-looking score.
JOEY MORONES shook off a nagging injury to lead the drive for the game-deciding score with a 6-yard touchdown run.
"It was an unbelievable effort by Joey and all of our kids for a fallen teammate," Christian offensive coordinator DAVID BEEZER said.
Morones added another score with 6:52 left in the game on a 5-yard run. Captain NATE CAZARES led the way on the scoring dive plays, along with COLE LEHTO and AUSTIN MANION.
Christian's JONATHAN STINE had a sack to close out the third quarter.
"This rivals winning a championship," said Christian coach MATT OLIVER.
"It was a great night for our team, to represent Jason and the Lyon family," said Jeremiah, who passed for 258 yards. "I am really close to Jason, we love and respect their family. We know he is there fighting, the least we can do is give 100 percent for him. That's what we did and we came back."
That's the saying at Christian High… "One-hundered-and-ten-percent… for HIM."
And barring God's miracle, the Lord can expect to one day get a great two-way player.
#LyonHearted
---