Grossmont big men up front about ups-and-downs
Grossmont College sophomore OL Anthony Gomez
2015 GROSSMONT COLLEGE FOOTBALL
By Bill Dickens
© East County Sports.com
EL CAJON (10-23-15) — Despite a disappointing season, Grossmont College boasts one of the biggest offensive lines in the state.

The Griffins, who average 6-foot-4 and 312 pounds per man, hope to flex their muscles in Saturday's (Oct. 24) National Southern Conference meeting against the visiting Fullerton Hornets at 1 p.m.
"We're pretty big, I'd say," noted 6-2, 325-pound sophomore left guard ANTHONY GOMEZ.
A two-year starter, Gomez – a product of Mar Vista High – said, "We've just been inconsistent. Our sophomore line guys are mobile but the freshmen are struggling."
Why is that?
It would be the absence of veteran line coach KEN WILMESHERR, who has suffered two surgeries which have kept him off the field all season.
"That's really hurt our offensive line," said Gomez. "More so the freshmen than the sophomores. No question the new kids have not learned to perfect their technique as fast as we did when we had Coach Ken."
Looking ahead to Fullerton, Gomez divulged the Griffins' (2-5, 0-3) blocking scheme.
"We expect them to do a lot of stunts," he said. "They are known for swarming to the ball – basically an attacking defense."
That could be painful for the Griffins, who have surrendered 23 sacks.
"Our job is to prevent the bull rush, be heads up and have a good punch," added Gomez, who is being looked at by Arizona State, recruited by Jackson State, Miss., Coastal Carolina and Cheyney University. "I need to stick to the script."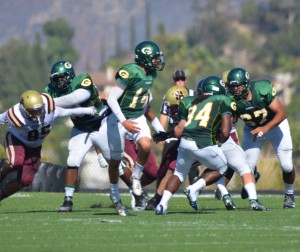 Lining up shoulder-to-shoulder with Gomez is 6-5, 335 pound left tackle JOVANN LETULI, 6-4, 305 pound center CALEB KINNIKIN, 6-2, 295 pound right guard DANTE OGBURN and 6-5, 290 pound right tackle ANGEL JUAREZ.
"Our attitude is we have to dominate the line of scrimmage, which we haven't done very well of late," Gomez continued.
Griffin Graffiti: The Griffins' second game of the 1962 inaugural season was televised by Los Angeles TV station KCOP Channel 13 . . . A week earlier the Griffins beat San Bernardino Valley College but had no luck in the telecast as Fullerton prevailed 22-0 . . . Fullerton leads the all-time series 17-5, including a 49-19 state playoff semifinal victory in 1969 . . . Griffins sophomore kicker JORDAN REECE, a product of El Cajon Valley High, has been named SCFA National Southern Conference Special Teams Player of the Week for his performance in the Griffins' loss at Saddleback. Reece kicked two field goals and launched four kickoffs for a 52.5 average . . . his field goals cleared 47 yards and 35 yards.