Opportunistic Galatis is state's leading tackler
Updated: October 27, 2015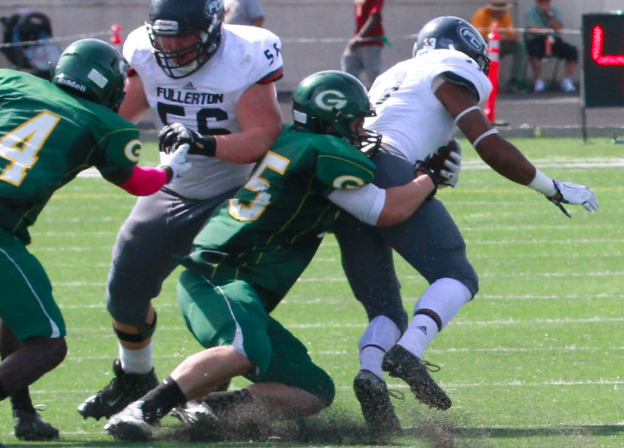 Grossmont College's Nick Galatis makes a tackle against visiting Fullerton last Saturday. / Don De Mars Photography photo
2015 GROSSMONT COLLEGE FOOTBALL
By Bill Dickens
© East County Sports.com
EL CAJON (10-27-15) — Grossmont College sophomore linebacker NICK GALATIS has risen to the state leader for tackles with 86 stops in eight games.
The 6-foot, 225-pound graduate of Clairemont High includes 44 solo stops and 9 tackles for losses in his statistics totals. He also has returned one interception for a touchdown, forced a fumble and recovered a fumble, but the story here focuses on his tackling drill.
He holds a three-tackle edge over Pasadena City College's Jayln Williams in the tackling derby.
Also on the tackling board is Damon Perez of Gavilan College with 81 stops in six games, Troy Lowe of Merced with 79 tackles in seven games.
There are two ways of looking at this:  totals and averages. Galatis is the only one who has played eight games, which gives him a 10.8 average. Colby Koste of Santa Ana also has a 10.8 average, but only 54 tackles in five games.
El Camino-Compton Center strong safety Victor Williams has recorded 64 stops in six games for a 10.7 average.
Given the fact that Galatis is the only player who has participated in all eight games this season, he is clearly the leader in Southern California tacklers. He has 32 more tackles than Koste.