Elusive win up for grabs Saturday for Griffins, Dons
Updated: November 6, 2015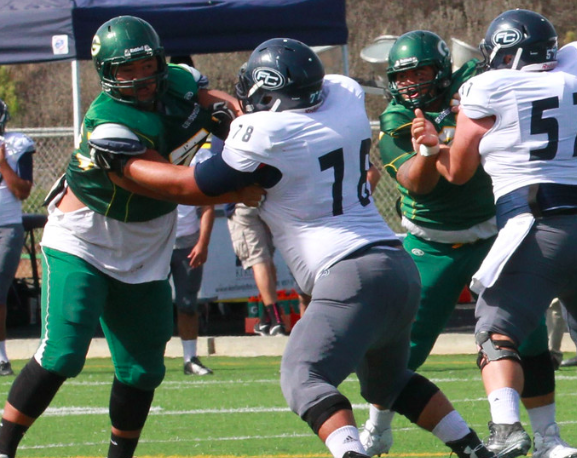 Don De Mars Photography photo
2015 GROSSMONT COLLEGE FOOTBALL
By Bill Dickens
© East County Sports.com
EL CAJON (11-6-15) — Forget about the playoffs. Don't look for bowl game invitations.

When Santa Ana visits Grossmont College at Mashin-Roth Field on Saturday (Nov. 7) there will be something at stake in the 1 p.m. encounter.
Both teams will be seeking their first National Southern Conference victory. The last time the Griffins (2-6) won was 51-0 over Pasadena on Sept. 12th.
Ironically, Santa Ana's (1-7) lone victory was 39-28 over Los Angeles Harbor on Sept. 12th.
So obviously both teams are hungry and both believe this is a game they can win.
The Griffins will look to quarterbacks MICHAEL CARRILLO (97-194, 1030 yds, 6 TDs) and TOMMY PISTONE (60-125, 726 yds, 6 TDs) to direct the sporadic Grossmont offense.
Versatile CHRISTIAN BROOKS (36 catches, 394 yds, 1 TD) and SERGIO BAILEY has grabbed 32 passes for 413 yards and 3 touchdowns.
Hard-nosed running back THOMAS McDONALD (68-448, 4 TDs) carries the load of the sputtering Grossmont running game.
On the defensive side linebacker NICK GALATIS ranks among the state's leaders and is sure to cross the century mark before the campaign ends. Lining up shoulder-to-shoulder with Galatis is sophomore JORDAN ARNOLD out of West Hills.
These two are the hub of the Grossmont defense.
Santa Ana counts on quarterback Jason Habash, who has completed 109-261 passes for 1154 yards and 9 touchdowns.
William Hanley carries the load for the Dons' running game with 561 yards and 6 touchdowns on 100 carries.
Griffin Graffiti: The best-selling DVD about the career of the late JOE ROTH is available for $14.99 at JoeRothfilm.com . . . Roth, a graduate of Granite Hills High, Grossmont College and Cal Berkley, was a unique individual both on and off the field. His quarterbacking skills on the field were unparalleled and the heart-warming documentary captures some of his best moments. Everybody who has seen the film, has loved it. He led the 1974 Griffins to a State Championship under coach DAVE JORDAN. . . Santa Ana leads the all-time series 9-6. . . Grossmont has defeated Santa Ana the last three in a row, including 30-23 last year. . . the last time the Dons dumped the Griffins was 52-43 in the 2010 US Bank Beach Bowl.