Mauling on Madison Ave.: Eagles on track for title
By James McHugh
© East County Sports.com
EL CAJON (10-31-15) — The battle for the Madison Cup started off well enough for El Cajon Valley. A successful onside kick recovery started things off for the Braves. Unfortunately it was all downhill from there as Granite Hills scored time and time again Friday (Oct. 30) before their home crowd on the Eagles' senior night. Once again the Madison Cup remains in the Eagles' talons after a 35-0 drubbing sent the Braves down the road in defeat.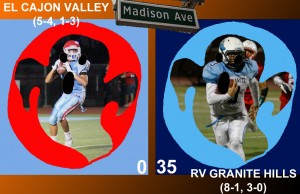 THOMAS YOUMOG was having a field day for Granite Hills in the first half, picking up 112 yards on the ground on 10 carries along with a single reception for 25 yards. Youmog continually bounced off Braves defenders as the Eagles managed to find the end zone on each of their four first half possessions.
Granite Hills quarterback JACOB SIEGFRIED didn't even attempt a pass until the Eagles' third possession of the first half. JACOB BURTON grabbed a 21-yard pass from Siegfried for the Eagles' lone passing touchdown in the first half. Siegfried finished the half 5-5 passing for 61-yards. Youmog accounted for two rushing touchdowns and GUSTAVO GUTIERREZ added the other ground score on a 1-yard run.
El Cajon Valley managed just 36-yards of offense in the first half. NATHAN McCULLOUGH was limited to 4-yards rushing in the half due in large part to big losses on two separate plays that saw a complete collapse of the Braves' offensive line.
Things didn't improve for El Cajon Valley after the break, with the exception of some gamesmanship and compassion from their Madison Avenue counterparts. Granite Hills used a slew of second string players for the majority of the second half while a running clock closed things out a bit quicker for the Braves.
Youmog added his third rushing touchdown of the night on a 2-yard dash early in the third quarter and then was quickly replaced to play spectator for the remainder of the evening. Siegfried joined Youmog on the bench after completing one of two pass attempts in the second half.
El Cajon Valley finally saw a beacon of hope when a late Granite Hills fumble was picked up by JUNIOR ROSAS at the Granite Hills 20-yard line. McCullough found the end zone a few plays later, but then, as if to add insult to injury, the play was negated due to a holding call on the opposite side of the line.
The Eagles win coupled with a nail biting victory for West Hills kept Granite Hills from wrapping up the Grossmont Valley League outright, but the Eagles are well in control of the crown heading into the final week of the regular season.